The Las Vegas Review-Journal has launched a massive three-part investigation into the strip club incident that cost Adam Jones a year of football and another man his ability to walk. Oh, the things we have seen ....
It's been more than two years since the brawl and later shooting at the Minxx Strip Club during the NBA All-Star Weekend 2007. How time flies, right? The Review-Journal has done a through re-investigation (the Sun has a nice package on it too) of the whole matter and while parts two and three are not yet online, it's a fun trip down memory lane. While mostly a recap and clarification of all the conflicting reports, the story does have "interactive multimedia timelines" and they did add this charming picture of the famous "making it rain" incident that started the whole thing. (Was it really Pacman who popularized that lovely phrase or do I just wish it was?)
Some other highlights from the Iliad-like retelling:
Jones, dressed in a white jersey-style shirt and wearing a large gold chain supporting a medallion depicting the "Pacman" video game character, had walked into the club with about $100,000 in cash inside a Louis Vuitton backpack. He exchanged $40,000 of that with a club manager for singles. This was in preparation for the celebrities gathering on stage to toss money into the air and in the general direction of dancers — a practice in the nightclub world known as "making it rain."
G/O Media may get a commission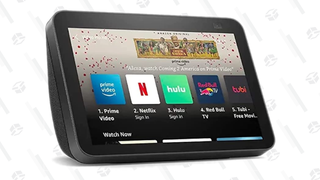 OK, I'm going to stop you right there. $40,000 in singles? Try to imagine that for a second. Then remember that after throwing the money at strippers, Jones and Jermaine Dupri were annoyed that women actually tried to pick the cash up off the dance floor. So classless! That led to the brawl (Jones allegedly punched a dancer) and we move on....
[Aaron] Cudworth, a 265-pound bouncer, muscled his way through the crowd toward Jones, only to find himself face to face with Jones' bodyguard, Reid, who weighed 400 pounds.

Club manager George Petraski later told police: "The bodyguard, I don't know what the hell he was doing. He was holding Pacman like somebody was trying to assassinate him."

As Cudworth wrestled with Reid, Jones bit him in the ankle. A woman in Zab Judah's group then smashed a glass bottle over Cudworth's head.

In his fury, Cudworth started calling Jones a racial epithet, according to Jones and others who were with him.

"Once we got outside, he started running his mouth and saying, 'I'm going to shoot you. I'm going to shoot you,'" Cudworth told police. "He kept putting his hands in his pants pocket or up front down by his pants. ... I could distinctly say Pacman was the one who threatened to kill me."
So you're saying things got out of hand after the racial slurs? Odd. However, the trial of the alleged shooter, Arvin Kenti Edwards, was set to begin this week—hence the refresher course; I'm sure there will be more about him in parts two and three—but has been delayed until next year. In addition to three counts of attempted murder, Edwards is accused of trying to extort Jones to keep quiet about the shooting after the fact. Of course, that does not explain what allegedly transpired between the two men just before the shooting or why Jones just can't break his addiction to strip club violence. Or how this doesn't involve Vegas' notoriously corrupt strip club-based government.
"I think he doesn't make the best decisions at times," Horvath said. "I can tell the difference between somebody who's had a father figure in their life all the time and somebody who hasn't. And I don't know, man. I wish he would have had one."
A bad night at the Minxx during NBA weekends [Las Vegas Review Journal; parts II and III later this week]
Trial delayed for alleged gunman in 'Pacman' case - Las Vegas Sun [Las Vegas Sun]
NEWSPAPER UNCOVERS PICTURES OF PACMAN MAKING IT RAIN IN VEGAS STRIP CLUB THE NIGHT OF SHOOTING [The Sports Pig's Blog]
Also Helpful: Pacman Jones History [Esquire]