If the 2017 baseball season is a slow-cooked pot roast, not enough time has passed for the beef to be tender and juicy. What I'm trying to say is, the Mets and Phillies almost brawled last night.

Edubray Ramos came in to pitch for the Phillies in the top of the eighth inning of a tie game and, after getting the first out, threw a 96 mph fastball awfully close to Asdrubal Cabrera's head.
(Mobile users should click here.)
The Phillies broadcasters were initially baffled about what looked like an intentional would-be beanball just seven games into the season but then someone reminded them of this:
G/O Media may get a commission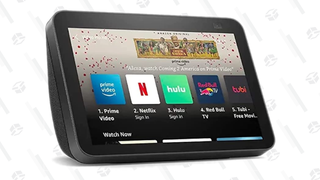 That's Cabrera celebrating a three-run shot in New York last September to thwart Ramos's first save opportunity in the majors. Home plate umpire Alan Porter warned both dugouts immediately, prompting the usually mild-mannered Pete Mackanin to storm the field and get himself ejected.
After the game, Ramos insisted the close call was an accident, telling PhillyVoice, "The pitch got away from me. I didn't try to hit him. It was a tie game so I was just trying to execute my pitches."
If he was trying to make a point, it backfired. Cabrera walked and scored on a Jay Bruce dinger to put the Mets ahead. Lovable longshot Brock Stassi got one back for the Phils with a home run for his first big-league hit.
But ultimately Ramos took the loss, and he didn't even get to bean anybody first.