The developmentally disabled are a funny sort. Some can count dropped toothpicks and love The People's Court (those are fictional). Others are obsessed with mounting high school athletes.
Officials in Washington State are warning all high schoolers playing anything from football to diving, possibly including Mathlympians, to be on the lookout for this man, who they say is "developmentally delayed and has an apparent fixation on high school athletes." I'd say it's apparent:
Investigators said Sherwin Shayegan lured a Bonney Lake High School football player to a library on Monday, saying he wanted to interview the athlete for a college term paper interview.

The student later told police the man was acting strange and, when he tried to leave, the man jumped on his back and asked for a piggy back ride.
Cops say he has "committed similar offenses" throughout the state, though it's unclear if "similar" refers to his genius "term paper" ruse, or the jumping on the back of teenagers.
There's a fine line between insanity and brilliance. Give Shayegan a video camera and you get Frank Deford. Or at least Kige Ramsey.
G/O Media may get a commission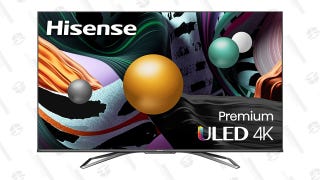 Save $350
Hisense ULED 65" Android 4K HDR Smart TV
UPDATE:
Shayegan gave the student a package containing odd amounts of money before the student fled the library.

He is accused of doing the same thing to student athletes in Ellensburg, Bellingham and Centralia.

Police said he gets permission to interview a student-athlete under the pretext of doing a student article. When he interviews them in library, police said he asks weird questions such as "Have you crapped your pants?" or "Looked at other boys in the shower?" When the student tries to leave, he offers cash and then yells it's "time for a piggy back ride!"
UPDATE #2: From a reader: "I played basketball at the University of Washington from 2003 to 2007 and this guy came around the gym all the time asking for piggy back rides. At first guys just thought it was funny but then he started jumping on guys and getting boners. He's a weird dude. He's been in the piggy back game for a long time..."
Police Warn Of Man 'Fixated' On High School Athletes [KOMO]

Police: Man Luring High School Athletes For 'Interview' [KIRO]