Thursday night's release of a trove of raw JFK assassination intelligence by the National Archives seems as if it was deliberately released in such a way as to comply with the law while ensuring that it's as difficult to use as possible. The PDFs of the documents have not been made searchable, their metadata are minimal, and they're not even sorted in chronological order. So everyone just kind of started poking around, either going one by one down the list or trying in vain to use a spreadsheet of metadata to guide them. On the first page of listings was one especially peculiar document, initially spotted by CNBC's Jeff Cox:

He's not joking, either, other than maybe the reference to it being code: The second page of record number 124-10002-10042, dated December 20, 1963, contains this paragraph in the context of revealing the content of past FBI teletypes:
"CI TWO FIVE TWO FOUR DASH C, A WRESTLING PROMOTER IN SAN FRANCISCO AREA, ADVISED DECEMBER 20, INSTANT, THAT ON SEPTEMBER FOURTEEN, LAST, RAY STEVENS WRESTLED DON DE NUCCI AT THE COW PALACE, SAN FRANCISCO. ON OCTOBER TWELVE, LAST, STEVENS WRESTLED CARL GOTCH AT COW PALACE. CI TWO FIVE TWO FOUR DASH C STATED WILSON UNKNOWN TO HIM BY NAME OR PHOTOGRAPH."
There's then a line about Anti-Defamation League director Stanley Jacobs also feeding the FBI information of some kind, but it continues on the next page, which is not included. There are diagonal lines drawn throughout the page, though mostly in the second half.
The document appears to be about the movements of someone named Lloyd John Wilson. According to other JFK assassination documents available online, he was a Bay Area-based white supremacist who claimed to have given Lee Harvey Oswald $1,000 in August towards murdering Kennedy as part of some larger conspiracy. He ended up on the Secret Service's radar when an anonymous tipster called the FBI a few weeks later to tell them that Wilson was writing a threatening letter to Kennedy.
G/O Media may get a commission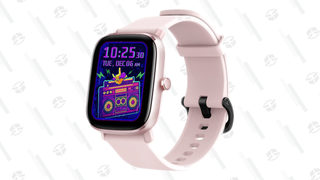 20% Off
Amazfit GTS 2 Mini Smart Watch
Get fit
Has built-in Alexa so you can ask questions and carry your smart assistant around with you; it has a battery that can last up to 14 days, has over 70 different sport modes, is 5ATM waterproof, and tracks stats like your heart rate, calories burned, sleep, and more.
So, where does wrestling fit in? I was certainly curious. Could it have to do with George Gordienko, the Canadian wrestler deported for alleged Communist ties? Or maybe Joe Savoldi, the Italian-American wrestler who was an early intelligence officer for the OSS, the precursor to the CIA, during World War II? What about one of the wrestlers who led secret lives as Ku Klux Klan members?
At least on the surface, it didn't look like anything of that nature.
First, per the above-linked Secret Service documents about Wilson, when he was first on the feds' radar in September, they procured a photo of him from "a woman photographer," taken at a wrestling show in San Jose. Later, according to the FBI's file on the Warren Commission, Wilson told the FBI on December 19th that "he met Oswald at a wrestling match at the Cow Palace in San Francisco during the last week of August or first few days of September 1963." That was when he claimed that he gave Oswald the $1,000 payment. The local promotion, run by Roy Shire with his former tag team partner, Ray Stevens, as top star, ran at the Cow Palace every few weeks and was very successful doing so, consistently drawing over 8,000 fans each time out.
According to the FBI file, investigators looked into it and only found records of wrestling cards at the Cow Palace on August 10th and September 14th, with no reference to the October 12th card mentioned in the teletype. There was no definitive trace of Oswald's whereabouts on September 14th, but he was seen in New Orleans both a few days before and a few days after the Cow Palace card. On August 10th, he was interviewed by the FBI "at his request" while in the custody of local police.
"From the findings in San Francisco concerning the wrestling matches, it is apparent that Wilson could not have met with Oswald as he alleges during the last week of August or the first few days of September," reads the Warren Commission file. Stemming from threats he had made to both Kennedy and Lyndon Johnson, Wilson was charged in federal court in Chicago, with a court-appointed psychiatrist diagnosing him as "delusional, hostile, and potentially homicidal" with a "paranoid condition, maybe true paranoid." He was remanded to U.S. Federal Hospital at Springfield, Missouri for 15 days "or such additional time as is necessary to complete a psychiatric examination."
So that answers that, but there's one lingering question: Why would the San Francisco wrestling promoter, presumably Roy Shire, be a confidential informant? There's no need for him to be one for the purposes of saying when he had run shows and that he wasn't personally familiar with Wilson. But it makes a lot more sense if he was already a confidential informant. The FBI was either still conducting or just a few years removed from investigating the wrestling business, particularly the anti-competitive practices of the National Wrestling Alliance. Shire, who had just started promoting in 1961, was not an an NWA member, for starters.
Perhaps more tellingly, after Shire retired from promoting in 1981, bitter that the NWA did not protect his territory when a rival promoter moved in (which he had done in 1961 by getting on TV when establishment/NWA promoter Joe Malcewicz wasn't), he turned on the Alliance. Jim Wilson, an NFL player turned wrestler, had sued the men behind the NWA's Georgia territory, claiming he'd been blackballed for speaking out about working conditions and turning down promoter Jim Barnett's advances. Shire had become a multimillionaire by parlaying his promotional earnings into real estate investments, so he was able to cut bait when business went bad, and agreed to testify on the former footballer's behalf.
Because it was the mid-1980s when the deposition took place and there isn't exactly much tolerance involved, parts of the deposition covered who in wrestling was known to be gay and how Shire became aware of it. The one excerpt that we have a copy of is, as one might expect under the less than ideal circumstances, weird and uncomfortable: It includes Shire invoking a yarn about him trying to find a woman to have sex with when he was a returning G.I. But that's another story for another day.