Every team has calls go against it over the course of the game, but two in particular boned the Ravens last night, both in big spots, and both more or less inexplicable. Baltimore WR Steve Smith is not going to let the officials get away with this: "Two stars. That's what I'm putting on my Yelp."
Jokic? Embiid? The NBA MVP is obvious... right? | Keep it a Buck(et)
The first came toward the end of the Ravens' first drive, when on first down from the Cardinals' 13, they attempted to run a little trick play. Lineman John Urschel reported into the game as an eligible receiver—at least he thought he did—and caught a six yard pass. But the gain was negated and the Ravens penalized for an illegal formation. Apparently, no one had noticed Urschel declaring himself eligible, even though the video makes it unbelievable that referee Ron Tolbert didn't see him.
"I can't hear what they're saying out there, but it looked like he saw what we were saying and said something and then blew his whistle," Joe Flacco said. "So I just assumed it was all good."
G/O Media may get a commission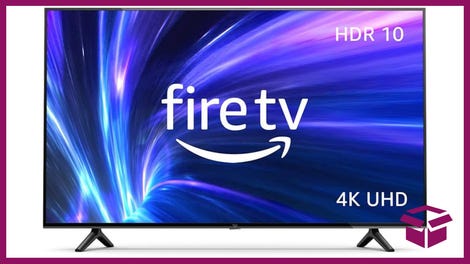 42% Off
Amazon Fire TV 50" 4K Smart TV
(That the Ravens' official site has a big long story up on the game's questionable calls is interesting—I don't think I've seen that before. I honestly have no idea if the official site is subject to the same penalties the team would be for publicly complaining about the officiating.)
Instead of second-and-4 from the 7, the Ravens had first-and-15 from the 18. They ended up settling for a field goal.
The Ravens got burned again in the third quarter, on Chris Johnson's 62-yard run that looked like it probably should have been a four-yard run. He was twisted down by Brandon Williams, but no part of Johnson ever touched the turf; he got up and sprinted down the field.
Replays confirmed that Johnson was never down. But he was wrapped up and unmoving, and I honestly have no idea how the officials never ruled his forward progress stopped.
"The forward progress was stopped," John Harbaugh said. "If you hit him in that situation, then you're going to get fined and stopped. For three seconds it was stopped. He had called himself down and was sitting there. We shouldn't hit him; it would have been a dangerous play."
Harbaugh slightly exaggerated the amount of time Johnson's momentum was halted, but he's absolutely right that the play was basically dead, and any Raven had to think they'd be flagged if they hit Johnson there.
To be sure, there were plenty of reasons the Ravens lost this game besides two rough calls and a terribly timed headset outage. But when they're 1-6 and every loss has been by one score (last night's eight-point game was Baltimore's biggest margin of defeat of the season), two big, unfair calls like this have to have the Ravens feeling they're cursed.