Hidden behind the cloud of an injured starting quarterback was a brief glimmer of hope for the Ravens on Wednesday. With Joe Flacco missing practice because of an injured hip, rookie Lamar Jackson became the likeliest candidate to take the helm of Baltimore's offense on Sunday against the Bengals. Jackson says he'll be ready if his number gets called on Sunday which is ideal given that he is more or less the team's offensive future. With the former Heisman winner's dynamic playing style potentially running the show, there's a lot to get exci—wait, why do I hear dramatic intro music suddenly swelling in the background?

Well shit, never mind.
With Jackson absent because of what was later revealed to be a stomach illness, and Flacco still nursing his hip, Robert Griffin III might be the Ravens quarterback with the most practice reps going into Sunday. Griffin signed a one-year deal with Baltimore back in April—a little less than 13 months after the Browns released him—and was kept on the regular season roster after a relatively impressive preseason.
The Ravens' expectations for the former Washington starter were likely that he'd be an unplayed backup who might help mentor Jackson through his first year in the league. Instead, there's a very real possibility that Griffin might start his first game in 686 days.
Even the Ravens themselves seem to be scrambling for alternatives. Offensive coordinator Marty Mornhinweg told reporters on Thursday that Flacco could still start against the Bengals, even without running through any team practices this week.
"He has experience, he's a smart guy, he knows how to prepare — all of those things," Mornhinweg said. "I don't see any reason why he wouldn't play really well without any practice."
G/O Media may get a commission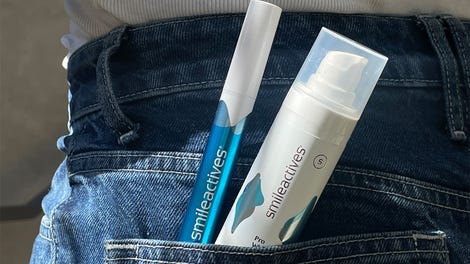 58% off
Whitening Powerhouse Pen & Gel Duo
Ignoring the fact that are plenty of reasons to not believe in Joe Flacco, regardless of his participation in practice, the Ravens would be much better off starting Griffin if he's the only healthy, practiced quarterback on the roster. Sure, the change could not come at a more dire time for the team—having lost four of their last five games and sitting with a 1-3 record against division opponents—but the remainder of the Ravens' schedule is full of bad defenses that the team needs to take advantage of in order to keep their playoff hopes alive. A quarterback like Griffin that has had reps this week would have a higher chance of success given the fact that coaches will have gotten the opportunity to actually work on the game plan with him. Griffin doesn't have to be brilliant, he just has to be competent. Hopefully he still has that in him.