Things got heated between the Red Sox and Orioles after last night's eighth inning, when Dustin Pedroia had to leave the game after being spiked by Manny Machado as he tried to turn a double play.
Machado spiked Pedroia's left knee—which underwent arthroscopic surgery this winter—on a hard slide, which led to the second baseman limping off the field while manager John Farrell ran out to argue the play under MLB's slide rule. The rule, new to baseball last year, says that a runner can be called out for interference if he does not make a "bona fide slide" and "initiates contact with the fielder for breaking up a double play." If umpires decide that's the case, then both the runner and the batter can be declared out.
After a lengthy replay review, however, umpires decided not to overturn the initial call—that Machado's slide did not violate the rule, meaning that he was out at second but batter Mark Trumbo was safe at first.
Farrell was, predictably, unhappy. "The argument at the time was that if the rule is in place to protect the middle infielder, then it didn't work tonight," he told MassLive after the game. "I know there's a component to the rule that says he's got to deliberately and willfully attempt a double play. When you're cleaned out, beyond second base, and the runner never held second base completely, to me the rule failed tonight."
G/O Media may get a commission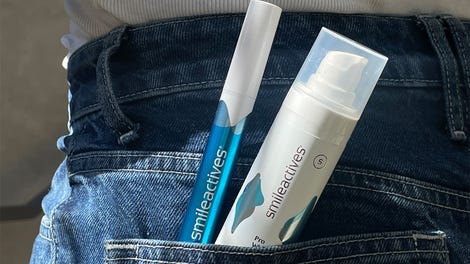 58% off
Whitening Powerhouse Pen & Gel Duo
Pedroia, meanwhile, was similarly unhappy but didn't bother using the rulebook to talk about the play, saying he didn't care about a rule explicitly designed to protect players at his position. "I've turned the best double play in the major leagues for 11 years," he said. "I don't need the fucking rule, let's be honest. The rule is irrelevant. The rule is for people with bad footwork, and that's it."
Machado claimed that he didn't intend to spike Pedroia; the way Machado's foot popped up at the end seems as if it might have been a perfectly natural movement, albeit an unfortunate one for the second baseman. Regardless—don't be surprised if Machado gets hit with a pitch tonight.