Your morning roundup for July 4, the day we added needed precision to our dog shit inspections.
What we watched: Derek Jeter, the Yankees' mostly-metaphor shortstop, made his 12th American League All-Star team on Sunday, per the fans' vote. He's been bad this season. But another shortstop killed the Yankees on Sunday, while Jeter was playing in a Trenton Thunder-Altoona Cove game on a rehab assignment. Eduardo Nunez has replaced Jeter at short in recent Yankee games, but a sore hamstring kept Nunez on the bench for Sunday's Subway Series finale.
And so the world—the game was on TBS, and it's not like one could in good conscience watch Phillies-Blue Jays or Red Sox-Astros, or something—got Ramiro Pena.
G/O Media may get a commission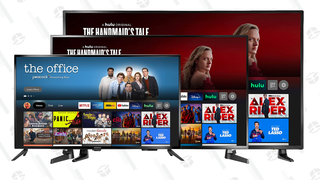 Up to 44% off
Prime Early Access - Insignia Fire TVs
The less said about Ramiro Pena's game on Sunday afternoon the better. Pena made two errors, in the ninth and tenth. The latter most certainly helped his team lose the game. (You won't see it here, because MLB.com hasn't made a lowlight reel available.)
The other would have killed the Yankees had it been any less wretched. Watch, to your left. The Mets—now 41-41—had tied the game with two outs in the ninth against frequent superhuman Mariano Rivera. Ruben Tejada was up, with lumbering Lucas Duda at second and the even slower Ronny Paulino at first. Tejada, a master at hitting infield grounders, hits a grounder to Pena. Straight through the wickets. But look, there's Brett Gardner, in left field, backing up the play! Had Pena deflected the ball even a little bit, Duda chugs around to score, and the Mets win. But his total whiff, with Gardner's throw and Martin's tag, allowed the Yankees another breath, just so another Pena error could gut-punch them the next inning.
But Yankee fans should savor that moment. For a couple innings in early July, they had a shortstop they could demote after poor play.
What we're watching: It's a national holiday in the summer, and that means we have so much day baseball before the evening fireworks. We can wave our politest goodbyes to interleague play, while cursing it under our breath, and get back to the real stuff. On the East Coast, we have day games in Washington and Boston. We have the still-above-.500 Pirates with a chance to beat up on the NL's worst. We have Cy Youngs—Tim Lincecum and Chris Carpenter—and the ascendants—Tommy Hanson, David Price, Michael Pineda. There's the Bankruptcy Bowl, between the Mets and the Dodgers, and the Wait A Second, How Are These Teams Winning Classic between Milwaukee and Arizona, both 45-40. And there's even crazy old Captain Clutch himself returning to the Yankees' lineup against Cleveland.
There's no game in this bunch that makes you squeal, no grudge match or great duel. We're watching baseball not because it's the Fourth of July and not because that stupid grass tournament thing is over and not because the NBA's dead and not because the NHL free agent frenzy is over and not because there's not even the slightest glimmer of football and not because Treme or Game of Thrones is over. We're watching baseball because it's fucking baseball.
Elsewhere
About that non-handball: "This really happened in a FIFA tournament: A scoring effort by Australia in a Women's World Cup match struck the left post and was caught by an Equatorial Guinea defender, who took a step with the ball in her hands before dropping it. While Australian players howled for a penalty kick - and would've been justified in seeking a red card, as well - Hungarian referee Gyoengyi Gaal let play continue. "She said that she's very sorry for not seeing such a clear handball," a FIFA match official told German magazine Kicker." [WaPo]
Ryan Vogelsong is not an All-Star: "Bochy had four roster spots for pitchers and picked Tim Lincecum and Matt Cain (no issues there, even if they are his own guys), Nationals reliever Tyler Clippard (the lone Nats rep and having a dominating year in middle relief) and ... Ryan Vogelsong, a journeyman right-hander who had been out of the majors for four seasons. Look, Vogelsong's story is one of the best of the season. His numbers are excellent (6-1, 2.09), but you can't pick Lincecum and Cain AND a guy who has had 12 good starts with no previous track record of success." [SweetSpot]
Serbia serves: "In Belgrade last December, after Novak Djokovic leveled the Davis Cup final between Serbia and France at 2-2, Slobodan Zivojinovic, once Serbia's best male player and now the president of its tennis federation, sat in his tiny office in the bowels of Belgrade Arena and smoked one cigarette after another, a fading one used to light a fresh one. His desk was strewn with empty cans of Coke and shot-sized plastic cups for instant espresso-fuel for a man who looked like he hadn't slept in days. One more victory and Serbia would have its first Davis Cup title. Win or lose, though, Zivojinovic made a bold prediction about Djokovic. "He is ready to be No. 1," Zivojinovic said. "Next year is going to be his year in tennis."" [WSJ]
Quality article on the quality start: "I have an editor friend who is astonishingly forgiving. But if you use the word "quality" to mean "general excellence," she will unfailingly turn schoolmarm. "You mean HIGH quality," she will snap. In her world "Quality" will always mean a DEGREE of excellence, meaning the word will always need a modifier to make it say anything. Something can be of high quality, low quality, barely acceptable quality. But to say something like "This is a quality sandwich," or "She is a quality human being," will make her insane. And so, naturally, she cannot stand the whole concept of the "quality start." "It's doesn't MEAN anything," she will say. But the funny thing is: I think even by her rigid definition, the term "quality start" works. Because a quality start isn't necessarily a "high quality" start. It can be. It isn't necessarily a "inferior quality" start. But it can be that too. The quality start standard is very simple: A pitcher must throw at least six innings and allow three earned runs or fewer. But that's a big range." [Joe Posnanski]
Freestyle Roman Candle interlude:
We are all Dave McKenna CXLV: Here's your daily link to Dave McKenna's brilliant "Cranky Redskins Fan's Guide to Dan Snyder," which we'll be posting every day until the Founding Fathers rise from their graves and take the Redskins into receivership.
Lorenzo Charles, quiet everyman: "Most of the time, Charles led an ordinary, Ralph Kramden-esque life, an anonymouseveryman, if a hulking one. Yet those who recognized him - passengers and future presidents alike - saw only a basketball hero and icon. His stardom followed him into his new career, and by all accounts, he never tired of talking about his moment and savored both sides of his dual existence. "Everyone talked to 'Lo' about that shot," N.C. State teammate Ernie Myers said, "but he'd hardly talk about it unless someone brought it up first."" [Charlotte News-Observer]
The rights to Rudy Fernandez: "Could Rudy Fernandez's stay with the Dallas Mavericks be only temporary? Less than two weeks after the draft-night trade that sent the 6-foot-6 Spanish shooting guard from the Portland Trail Blazers to the Mavericks, Fernandez has reportedly been offered a six-year contract from Real Madrid that would make him the highest paid player in the history of the Spanish ACB, the most successful professional league in Europe." [ESPN Dallas]
Cable TV controls baseball: "But away from the legal battle is the story of a long relationship between the Dodgers and Fox Sports, which underscores the rising value of sports television rights and what a media giant will do to keep them. In the case of the Dodgers and Fox, it is a tale of mutual self-interest in which each side has taken turns at being the alpha male: the team knows it is valuable but needs money; Fox needs the team and has the cash. "It's beyond codependency," said Lee H. Berke, the president and chief executive of a sports media consulting company." [NY Times]