For the 104th time in history, a horde of bird-shaped dudes will climb onto their bikes, ride circles around France, and finish in Paris even more bird-shaped than when they started. Yes, the Tour de France starts this weekend in Germany (we'll get to that) and will track a 3,540-kilometer course south from Düsseldorf through the Pyrenees and then the Alps in southern and eastern France respectively.

Maybe a bunch of scrawny be-spandexed dudes pedaling circles is not your idea of a premium sporting event. Perhaps you don't see the appeal of a sport without highlights. I get it! Cycling isn't the world's most exciting sport, and the Tour de France unfolds over the course of three weeks, taking its time as it meanders through the countryside and the mountains. There's a lot to love about it, though, and even if its processional charms aren't apparent from the jump, it's well worth your time. I mean, what other sports are you going to watch in July? Here's what you need to know.
How it works
There are 21 stages in the Tour, ranging from 100 kilometers to 220, with a pair of short individual time trials thrown in there for fun. The Tour has a tradition of starting in nearby countries and throwing a huge party, and they've kicked things off in England, the Netherlands, and Belgium in recent years. This year starts with a 13-kilometer time trial in Düsseldorf, then moves south through Luxembourg and Belgium before rolling into France early next week.
The 2017 course is strange, with the second fewest kilometers of time trialing in Tour history (just 36.5) and just a trio of summit finishes. Those stages traditionally provide most of the separation between contenders, since it's much easier to differentiate yourself from the pack on a steep hill or alone on your bike, and anything remotely flat lends itself to group dynamics and makes solo escapes much trickier.
This is Chris Froome's Tour to lose
Barring disaster, Chris Froome will go for a three-peat. The praying mantis-looking Brit has won the last two Tours (he also won in 2013) and he's once again surrounded by the best team in cycling. He's boring as hell, unless he starts punching people.
G/O Media may get a commission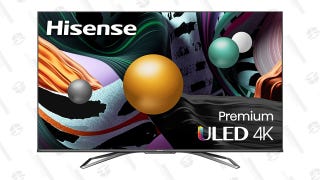 Save $350
Hisense ULED 65" Android 4K HDR Smart TV
The logic behind mucking the course up is a direct response to Froome and Team Sky: The Tour has been plagued by the iron-fisted dominance of Sky for half a decade, and they have gift-wrapped three wins for Froome and one for Bradley Wiggins with little resistance over the past five years. Froome is one of the best time trialists in the world, and stocking the race with fewer miles against the clock curtails his advantage.

Sky is endowed with a deep war chest and the ability to conscript riders who would otherwise be leaders on rival teams to help Froome win, and they have a habit of snuffing the life out of any mountain stage. If there's hard climbing to be done, you'll see them, a row of somber riders clad in black towing Froome up the hill and chasing down anyone who escapes with ease. It sucks! Reducing the number of summit finishes in favor of more intermediate stages and flat stages puts the onus on teams to be tactically aggressive and look for gains in unexpected places.
In theory, Grand Tours that stuff themselves full of mountains are going to be unpredictable and full of back-and-forth exchanges. However, as the recent wave of three-week races has demonstrated, a race that's too hard achieves the opposite effect, as everyone gets too tired to try anything. The friendlier course this year is an attempt to keep Sky on their toes and make things weird.
Meet the contenders
Former Froome lieutenant Richie Porte has looked very good this season, and he even finished ahead of Froome at the traditional Tour tune-up, the Criterium du Dauphine. Porte is a similar rider to Froome, fast on time trials and skilled in the mountains. His past attempts at winning Grand Tours Tour have been derailed by bad luck and untimely mishaps, and it's somewhat shocking that he's never finished higher than fifth. The diminutive Tasmanian has a very strong team behind him and he won't be afraid to go straight at Froome's grill.
Elsewhere, perennial also-ran Nairo Quintana is back and taking his spot as the stated leader of Spanish juggernaut Movistar. However, he just got outclassed at the Giro d'Italia by a time trial specialist and his legs aren't exactly on the fresh side after completing that Grand Tour. Alejandro Valverde has said he'll work for Quintana, but the Spaniard is notorious for seeking his own fortune at the expense of his team, and he should feel more deputized to chase glory if Quintana is lacking at all.
The Giro wasn't exactly loaded, so there's a deep list of second-tier contenders this year. French dudes Romain Bardet and Thibaut Pinot will be feisty and could make the podium, whichever of Fabio Aru or Jakob Fuglsang rises out of the Astana muck will get the support of an Astana team that will be suspiciously fresh during the third week, and Alberto Contador remains an incandescent climbing genius who won't waste a single opportunity to take his jabs at Froome. Young dudes like Estaban Chaves, Louis Meintjes, and Warren Barguil are liable of springing a surprise, and it wouldn't shock me to see any of them mixing it up with Froome and Porte on all the hardest stages.
(Do not sleep on Chaves. The Colombian has a boyish exuberance and just got his braces taken off last year, but he's a killer. He's been on the podium in the last two Grand Tours he's raced and he is not going to be scared of Froome, even if the podium already feels set in stone.)
The good news is that cycling is a truly unpredictable sport. Something as silly as a blown tire or a misplaced police motorbike can turn the tide of a race. You only have to go back to last year's Tour, when Froome was forced to run up the side of a mountain, to see some all-time wackiness. Anything can happen! A few years ago, Froome fell a bunch and had to leave the race in the first week. He doesn't even have to crash for the weirdness of the Tour to put him out.
However, Froome still stands head and shoulders above everyone else, and will take one of those aforementioned acts of God to dislodge him. His supporting cast is unbelievably talented, and he'll have at least four dudes aside him who could finish in the top ten if they were team leaders, not to mention Vasil Kiryienka, who is maybe a locomotive. Let us pray someone can at least make Sky uncomfortable.
It's more fun that it sounds
Because the Tour plays out over the course of three weeks and every stage takes a few hours, the drama leaks out on a longer timeline than a soccer game or even an NCAA tournament. Little issues that emerge in the first week will become three-alarm fires by the third, and watching how 198 dudes manage their fatigue, injuries, and whatever inevitable drama burbles up is fascinating, especially when they have to kill themselves just to finish every day. The Tour is brutally difficult, and it's fascinating to watch the racing as it is to watch people simply take part in the odyssey.
Also there's castles and wineries and shit if the racing gets boring.
Weak crop of Americans, except for...
Taylor Phinney! The Cannondale rider was once one of the fastest rising stars in the peloton, until a catastrophic crash at the American championships three years ago cost him an entire season and basically destroyed his left leg. He battled back from what could have been a career-ending injury and will finally take the starting line at his first Tour. The former Giro d'Italia pink jersey holder has an outside chance to wear the first yellow jersey if he wins the opening time trial, but for someone who suffered a devastating injury like him, just being here is worth praising.
There are only three Americans this year, although Andrew Talansky could make some noise in the third week and snipe a top-ten place.
Other Guys To Know
Peter Sagan, the groovy court jester of the peloton, is back in the rainbow stripes of the world champion and ready to win some shit. The Slovakian is perhaps the most terrifying rider in the peloton, and he's more than capable of winning on flat stages against the pure sprinters, intermediate stages with some climbing, and even full-on mountain stages if the summit isn't too close to the finish. He's as well-rounded and fearless as anyone in the race, and the lack of summit finishes means he could easily win double-digit stages this year. His team is here only to support him and put him in position to win big.
Elsewhere, the Tour's longtime sprinting cadre of Mark Cavendish, Andre Greipel, and Marcel Kittel has returned to contend for stages against Sagan and anyone who gets in a breakaway. With nine flat stages this year, this will be a Tour for the fast men. You'll also probably enjoy watching Colombian geniuses Jarlinson Pantano and Darwin Atapuma in the mountains.
Australian rider Adam Hansen is a perfectly skilled cyclist who may steal a stage here and there, but when he takes the line on Saturday, he will extend his own record and start his 18th consecutive Grand Tour. He's started and finished every Grand Tour since the 2011 Vuelta a España, which is an all-time record, and he'll look to extend that even further in France.
Since the Tour is all about pageantry, a word on jerseys
There are four special jerseys awarded to riders, green for the leader of the points competition (sort of a best sprinter award), white for best young rider, yellow for overall leader, and, my favorite, polka dots for the leader of the mountain classification. Look at this extra cool cycling man.
There will not be poop doping.
I pray for a rock-dumb motodoping scandal to break.
How to watch the race
NBC has the broadcast rights and the race will be on NBCSN. If you are one of those cord-cutting types who is costing ESPN its revenue because you disagree with the network's LIBERAL POLITICS, a year's worth of NBCSN Gold's cycling pass will run you $40 and cover the entire race. Also steephill.tv is a website that you can use to look at photos and, um, the odd video here and there.
The official Deadspin prediction