The news in this Washington Post report is less that the Skins will fail to sell out their home opener against the Colts Sunday—their streak of sellouts has been illegitimate garbage for literally years—and more that the Skins have reached such a state of desperation that they're finally revealing, as carefully as they can, how badly they miss having fans at their home games.
Redskins officials would not say how many seats were available at FedEx Field, which has been scaled back at least three times in recent years, from 91,704 to 82,000 seats, according to the team's figures. But a review of available, previously unsold tickets on NFL Ticket Exchange showed that more than 3,650 were available on Tuesday morning in all sections of the stadium, across all price points, for Sunday's game.
The team finally canned its insultingly obvious season-ticket waiting list nonsense this offseason, and now this:
Redskins officials acknowledged Tuesday that tickets remained for Sunday's home-opener, as well as the possibility that the home-game sellout streak dating back to 1967, which they insisted is legitimate, will likely end this weekend.
G/O Media may get a commission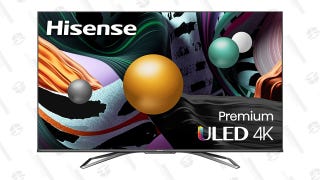 Save $350
Hisense ULED 65" Android 4K HDR Smart TV
As someone who grew up a fan of this miserable team, I want to impress upon you just how unthinkable this kind of thing would've been as recently as, say, 1994, when the shit-ass Norv Turner-led Skins finished 3–13, and scoring affordable tickets for home games at grimy old RFK Stadium still felt like winning the lottery. The list of things that had to go wrong for the Skins to go from a team known for having a loyal and passionate and ridiculously deep fanbase to one that is now known for having its stadium taken over by boisterous away fans a couple times a year, and is practically begging fans to attend its fucking home opener is, well, pretty much just a list of everything the team has done since 1996, when it relocated to its current hellhole of an arena.
Even allowing that all these numbers have been juiced for a long time, that was a long time where the Skins could afford to continue juicing them, and there was an even longer time before that when Skins home games legitimately were nearly impossible to attend if you didn't have a generous friend or family member with spare season tickets. Where the team finds itself today, pulling down the facade and openly courting single-game and season-ticket buyers ahead of its season opener, is in large part the end result of whole decades of organizational incompetence and outright contempt for fans. The Skins are now so out of invested fans that they've resorted to lining up promotions aimed at luring attendees to their home opener, which should be a slam-dunk sellout:

The Redskins are also posting ads on social media that have placed special emphasis on Sunday's home-opener. The team also designated the Colts game as "Maryland State Employee Appreciation Day" and added as a perk a chance for each state employee who buys a lower-level ticket to have his or her picture taken on FedEx Field after the game.
Oh hell yes, a chance to have my picture taken down on the shittiest turf in professional football, in a charmless mausoleum located in a make-believe town. I suppose we are meant to believe fandom suddenly and dramatically fell off between last season—when the sellout streak was totally real and intact—and this week, when the team is 1–0 after a convincing thumping of the Cardinals in Week 1. A likely story. The bad news for the misanthropic gremlin who owns the team is their out-of-division schedule this season excludes the Steelers, depriving the team of ticket sales to the only fans who've reliably turned out for Skins home games this millennium.