Every morning, the fine folks at Sports Radio Interviews sift through the a.m. drive-time chatter to bring you the best interviews with coaches, players, and personalities across the sports landscape. Today: Avery Johnson says Brooklyn is "top three or four" in the East right now.
Jokic? Embiid? The NBA MVP is obvious... right? | Keep it a Buck(et)
Avery Johnson joined WFAN in New York with Moose and Kim to discuss the signing of Deron Williams, if he was nervous Williams wouldn't be back, the 1-2 punch at the guard position, where the Nets stand in the Eastern Conference and if the team is done tinkering with its roster.
How happy are you to have Deron Williams signed?
"We're really excited. When we first made this trade for Deron and got him from Utah when nobody knew what was going on, I was just so excited when Billy brought this to my attention and told me this was really, really possible. He's been with us for a year and a half. We know it's been two years of playing not so great basketball, mixed with injuries and transitioning over to Brooklyn, but we feel like now is our time."
How concerned were you that he might not be a Net going forward?
"I think the key, two key words, we were concerned but confident. That's pretty much the way it is. I always thought we had an 80 percent chance of retaining Deron and he was going to resign. But the 20 percent, you're still concerned. Nothing's perfect and nothing's 100 percent. But I felt, with the relationship that we had with Deron and we built and the amount of quality time we spent together behind the scenes and the vision we laid out for him. … The trade for Joe Johnson I thought really solidified our vision. … Everything that we told Deron, we feel that we've proven in terms of our commitment to winning and our commitment to spending money."
G/O Media may get a commission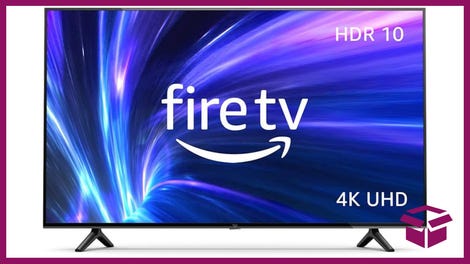 42% Off
Amazon Fire TV 50" 4K Smart TV
Talk about that 1-2 guard punch of Williams and Johnson:
"It's really exciting. Whenever you have guards that have size, you can't teach size. … Once they have size and athleticism and length, you can do so much defensively with those guys. And they're experienced. Offensively, when you have guys that can dribble, pass and shoot, and they're not weak in any of those areas, it makes your offense that much more versatile. And versatility is the name of the game right now."
Where do you think the Nets stand in the landscape of the Eastern Conference?
"On paper, we're one of the top three or four teams right now in the Eastern Conference. And that's a big jump for us. But obviously we've got to put in the necessary work and training camp and see how it all comes together. But we feel we catapulted ourselves. The Celtics experienced this years ago, and obviously they were catapulted to where they won the NBA Championship. … But they pretty much went from worst to first. … We have that opportunity. We understand that Miami is the reigning Eastern Conference and NBA champs and Indiana is really, really good and who knows what's going to happen with the Bulls if Derrick Rose is healthy? But we're at least in the conversation. We have not been in the conversation over the last two or three years."
Do you think the organization is done tweaking the lineup or will we see more?
"We still have some work to do. Whenever you talk about building a championship team - which we've talked about from Day One - it's all about team. That's the key word. We still have some work to do with our roster. We still have some key guys that we have to get signed. … We still have some work to do. Billy is working around the clock. He's probably averaging about an hour and a half's worth of sleep these days. We're in constant communication. … We've come very far but we still have some moves to make."
This post, written by Eric Schmoldt, appears courtesy of Sports Radio Interviews. For the complete highlights of the interview, as well as audio, click here.
More from Sports Radio Interviews
• Chauncey Billups says there are no egos on the Clippers.
• Chris Kaman wanted to play with Dirk, and some other dudes.
• Bobby Bowden hopes he would have handled the PSU scandal better than Joe Paterno did.