And that's how it ends, after a high-scoring, vein-popping extra time that provided the variety of heartbreak we never would have expected over the first 90: the sense that they could have done it. But that's the World Cup—could've-should'ves may provide moral victories, but they don't keep you warm for four years.
The shortest explanation is the one everyone offered as a tournament preview—the U.S. were outclassed, kept in it only by the magic of Tim Howard. The Americans seemed incapable of bringing down or controlling a ball in the midfield, and struggled to create much, save a point-blank miss that will haunt Chris Wondolowski for the rest of his life. Howard tallied 16 saves, a World Cup record that goes back at least as far as when they started counting saves.
Things went sideways in extra time. The insanely talented Romelu Lukaku, benched for his attitude and certainly not for his skill, came on. That's unfair. A fresh Lukaku entering in the 90th minute should be illegal. The defense, which had bent all match, finally broke. Lukaku set up one and scored the second, and it sent everyone scrambling to settle their bar tabs.
The second half of extra time belonged to the Americans. Maybe it would have been easier to take if they'd gone out meekly, beaten soundly by a better team. It didn't shake out that way. A minute in, Bradley set up the 19-year-old Julian Green to get the U.S. onto the scoreboard, and for the first time, gave them something resembling hope. The remaining 15 minutes (just one minute of stoppage time?!) saw the Belgians turtling, the U.S. coming in waves, and a number of legitimately great chances. Any one—especially Clint Dempsey slipping behind the wall on a beautiful set piece—could have gone in, would have been the biggest goal in U.S. soccer history.
G/O Media may get a commission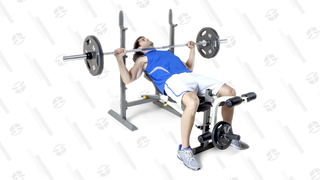 10% Off
Marcy Folding Weight Bench
None went in. Belgium move on. The U.S. go home. Nothing to be ashamed of, but plenty to stew over. International soccer leaves you with great memories, but just as many regrets. It's like that for 31 countries. We're not the only ones hurting.
Now's the time to be miserable and feel sorry for ourselves. Go ahead and sulk and savor; you know it's a million times worse for the players.
We'll have a lot more on this later on. But: Julian Green is going to run the world in 2018. Believe.