The United States played Ghana yesterday in the World Cup. Somehow, the United States won. And this morning, after a night's rest, the drunken euphoria has worn off, the flag shorts are discarded in the hamper, and enough time has passed to take stock of our injuries and standing in this tournament's Group of Death. And all that remains today, a half-day removed from Team USA's improbable victory, is dread.
The best sports movies according to Toheeb Jimoh
Ghana are strong. Just four years ago, they rumbled all the way to the quarterfinal, and in the last two World Cups, they've bested the USMNT in close matches to send the Americans home. There was very little reason to expect anything that different from them this time around.
But less than a minute into the match, the United States (whose fans—this one included—have sworn up and down for the better part of the last year that the U.S. is sending its best-ever team to Brazil) showed that they were here for a fight, and after 29 seconds, took the lead. Before anyone had even broken a sweat, captain Clint Dempsey got the ball on the left from midfielder Jermaine Jones, cut right into the box past Ghanaian defender John Boye, and placed a perfect left-footed shot past the outstretched keeper off the far post and into the net.
G/O Media may get a commission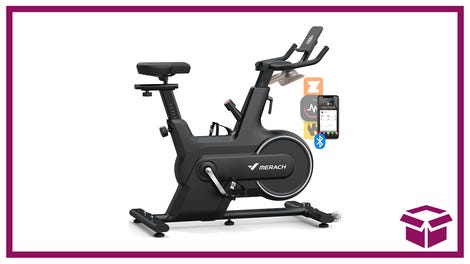 14% off + Coupon
Merach Indoor Cycling Bike
This was the fastest goal the United States have ever scored in the World Cup, the fifth fastest ever scored in the tournament by anyone. This was foolery. The match hadn't even started yet, and all the USMNT had to do for a vital three points was play the Black Stars to a draw.
The USMNT enjoyed another two minutes or so of an adrenaline-fueled fever dream, and then Ghana went to work.
Soccer is unpredictable in that one team can lay siege to another's goal for 90 minutes, dominate almost every single aspect of the match, and still draw or even lose. So it's not just that the United States got the living shit beat out of them last night. It's how Ghana beat them that was terrifying.
For 85 minutes, the match was unsettling to watch, in the way that watching one technician picking apart another fighter's face and body for 12 rounds can be harder to watch than two evenly-matched guys drop bombs on each other in the middle of the ring. It was a public flaying, and all of the United States' weakness were laid bare for the world to see. How Ghana beat the United States was terrifying, in that Ghana showed the entire world exactly how to beat the United States.
The entire match, Ghana completely ignored their left side, and instead played balls into right winger Christian Atsu, who spent most of the match isolated against makeshift left back DaMarcus Beasley and did whatever the hell he wanted to against the 32-year-old American. In the opening minutes, Atsu juked Beasley to the ground, and from then on, sprinted past him to the end line, or knifed inside, or created a couple yards space to whip crosses into the box to awaiting Ghanaian forward Asamoah Gyan. It was a monotonous, predictable strategy, exaggerated by the fact that after a few minutes, everyone in the whole world, including Beasley and USMNT manager Jürgen Klinsmann knew it was coming and there was not a damn thing anyone could do to stop it. It should've broken the U.S., but Ghana just...kept missing. Center backs Geoff Cameron and Matt Besler would either sky to clear crosses, or Ghanaian players missed good chances in the box. Ten minutes in, all the Americans were pinned inside their own half defending, holding on.
American midfielder Michael Bradley, who's been hailed, rightly, as the United States' best player, was similarly manhandled yesterday. On defense, he hustled and harried players, but going forward, he was a complete non-factor. Ghana man-marked him out of the game with equally athletic, powerful midfielders, and it felt like the unmasking of America's singular superhero, their only great field player. The midfield would've been completely overrun if it weren't for the heady play of Kyle Beckerman and the all-around dopeness that was Jermaine Jones's performance. Jones, playing on the left side of a narrow diamond, was a destroyer, helping Beasley when he could on defense, fighting for balls and possession in the center of the pitch, and getting forward to create chances for himself. It was the best he's played in a USMNT shirt, by far. After Dempsey's goal, no one else but Jones looked a threat at any point.
Ghana were beating that ass even before American players began to fall. First was Jozy Altidore, who pulled up with a hamstring strain and was subbed off, tears in his eyes, after just 23 minutes. It certainly looks as if that's the last we'll see off Altidore this tournament, and though you'll find no strong Altidore fans here—mostly because this year, he's turned into a striker who doesn't score, ever, even by accident—it'd be disingenuous to say he isn't one of this team's most important players, if only for matches like the Ghana one.
Altidore is built like a double-wide, and he's athletic, and sometimes when getting your brains beaten in, you just gotta kick the ball to a corner, hope someone outmuscles the defenders for the ball, and holds it while you pick your mouthpiece off the floor. Altidore can hold up play. His sub, the slighter, silkier Aron Johannsson, is a bigger goal threat, but can't create anything. Altidore's loss is crucial if for no other reason than the USMNT could and should spend plenty of time on the ropes against Portugal and Germany in their next matches.
In the 32nd minute, the United States were bloodied when Dempsey caught a shin to the nose. Near the end of the opening half, the surefooted Besler grabbed his own hamstring, and in the second half, young center back John Brooks, whose trip to Brazil was expected to be a glorified holiday, subbed on. In the 77th, a hobbled Alejandro Bedoya was forced off for Graham Zusi.
The scary thing about Ghana's dominance was that they weren't even full strength. Midfielders Kevin Prince-Boateng and Michael Essien, two of their best players, are struggling to return after injury, and weren't subbed on until the 59th and 71st minutes of the match. After 11 minutes of both on pitch, the dam finally broke, and after a beautiful buildup in the box, André Ayew equalized from point blank with just eight left to play. The U.S., which couldn't push for its life, needed a miracle—or at least a set piece.
The United States won a corner in the 86th minute. Zusi curled a ball into the box, and Brooks—who just days ago had a dream he'd score a late winner off a corner against Ghana (what?)—did just that, sending Americans the world over into raptures with a game-winning header. A few minutes later, the whistle blew, and the United States just barely escaped their first Group of Death match with three points and their World Cup lives.
There is nothing the Americans can point to—not their exceptionalism, or heart, or hustle—to explain why they left Arena das Dunas with a victory. Dempsey made history with his goal, and Brooks became the first USMNT sub to ever score a goal in the tournament. Those were flukes. The USMNT got three points because soccer is cruel and weird and sometimes random, and sometimes good teams like Ghana have bad luck.
Now for Portugal, who were demolished by Germany, will be playing without center back Pepe, but are still a handful. What's to stop them from moving Cristiano Ronaldo to Beasley's side and ostensibly scoring at will? Why wouldn't he switch, when targeting Beasley has already worked so well?
And after that is the Germany match, which, damn. The tests will get harder, and the Americans are ailing, but because of three points they didn't deserve yet earned all the same, the task—to finish in the top half of the group and advance to the knockout stage, has become that much easier. They may only need a single point. They can steal it. They've stolen bigger.
---
Screamer is Deadspin's soccer site. We're @ScreamerDS on Twitter. We'll be partnering with our friends at Howler Magazine throughout the World Cup. Follow them on Twitter, @whatahowler.
Photo Credit: Getty