A medal for the U.S. women in the ladies single figure skating was always going to be a long shot at best. With Alina Zagitova and Evgenia Medvedevia of Russia all but assured the gold and silver medal in whatever order the judges decided, every other top skater would be left scrambling for the bronze. The list of possible bronze medalists was long and highly qualified: Kaetlyn Osmond, the 2017 world silver medalist; Gabrielle Daleman, the 2017 world bronze medalist; Satoko Miyahara, the 2015 world silver medalist; Carolina Kostner, the bronze medalist in Sochi; and Kaori Sakamoto, who recently won the women's Four Continents title. For one very brief moment, though, an American popped up on the end of that list—American Mirai Nagasu.

After her great performance in the team competition—Nagasu became the third woman to land a triple axel at the Olympics and contributed to the U.S. bronze—Nagasu drew some speculation as a dark horse for the the ladies podium. It never felt likely, and only briefly seemed possible, all of which has less to do with Nagasu than it does the broader decline of the American program. A bronze for Nagasu or any of the other Americans in the competition would've ended a long Olympic medal drought for the US. women in the sport they once dominated. The U.S. women's last Olympic medal came in 2006 when Sasha Cohen won the silver.
The drought continues. During the ladies singles competition at the Olympics, Nagasu's triple axel completely abandoned her. In the short program, she rotated it but fell; during the long, it was a total miss. She popped it—didn't even complete a single axel. (She did what skaters call a "waxel.") And then she popped her lutz jump too. Nagasu finished in tenth place. The long program she did in the team competition, the one that made her seem like a long shot medal hope, was her only hit performance in Pyeongchang.
The top American placer was Bradie Tennell, the current national champion, in ninth. Rounding out the American trio was Karen Chen, in eleventh. These rankings represent the worst Olympic performance by the U.S. women, well, ever. Prior to these Games, the worst the American women had ever finished in an Olympics was Peggy Fleming's sixth place in 1964. That result came just a few years after the entire U.S. figure skating delegation sent to the 1961 world championships was killed in a plane crash. The best U.S. skaters and coaches—including Fleming's coach—had all died just a few years before the Olympics.
I wrote a piece that described the downturn of U.S. women's figure skating fortunes back in 2014, and not much has changed in the intervening four years. Arguably, things have only gotten worse. Back in 2014, the team at least had Gracie Gold, who was every bit as talented and capable as the top Russians, Koreans, and Japanese skaters but was never able to put together two clean programs in world and Olympic competition. This year, American skaters just weren't in the same class.
G/O Media may get a commission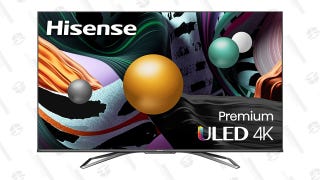 Save $350
Hisense ULED 65" Android 4K HDR Smart TV
---
Lynn Rutherford, a reporter for Ice Network who is in Pyeongchang for the games, points to two reasons why the U.S. has fared so poorly in international competition after decades of dominating the sport. "The U.S. was very slow to react to the technical revolution in skating," she told me. "For many years, they did not emphasize having kids do jumps at a younger age."
Contrast that to Russia. "You've got girls in Russian that are learning triples when they are very young, 10, 11, 12. There are girls who are 13 who are trying quads." Alexandra Trusova, a junior Russian skater, has landed a quad salchow. One Japanese junior skater, Rika Kihara has competed a gorgeous triple axel-triple toe loop combination.
U.S. Figure Skating has only recently started to make changes to encourage skaters to go for harder tricks at younger ages by rewarding them at the novice and intermediate levels. "Prior to that skaters were being rewarded for what judges thought were good skating skills, artistry," Rutherford said. "They weren't developing a pipeline of skaters who could do the strong triple-triples [jump combinations]."

Another possible reason that the U.S. has slipped behind countries like Russia is the economic structure of the sport in the United States. Eteri Tutberidze, coach to both Medvedeva and Zagitova, has a school in Moscow. "There are other coaches, a choreographer, a doctor associated with it," Rutherford said. Rutherford, in a story for the Ice Network, noted that Tutberidze is not without her critics, "with some accusing her of running a factory of interchangeable teenaged champions and driving her young charges too hard. In Pyeongchang, she has largely avoided the North American press."
But the U.S. has a different model. "You have rinks. They're all seeking to rent the ice to make the biggest profit possible." This leaves skaters and coaches competing for rink time with birthday parties and hockey games. Also, coaches earn a living by selling lesson time, which means that it doesn't behoove them to focus on just one or two pupils. "You're not going to bring a coach in and pay them a salary," Rutherford pointed out.
With the exception of the Shibutanis' bronze medal in ice dance, the U.S. has walked away from the individual figure skating competitions in Pyeongchang without any medals. We'll have to wait four more years to see if the changes that U.S. Figure Skating has implemented can change the outcome in Beijing.