For the majority of casual fans, international soccer is a game of tournaments. Outside of high-profile friendlies or marquee qualifying matches, this sort of ephemeral casual fandom more or less hibernates between the big tournaments, the beginnings of which reawaken rabid patriotism and communal passion in a large swathe of people who otherwise don't know or care much about the sport.
Because of this, national teams—and especially one like the U.S.'s, which is supported by a country full of relatively casual fans when compared to the soccer-mad fan bases of Europe and South America—are in large part judged by their performances in these brief tournaments. Whether a national team meets, exceeds, or fails to live up to expectations in those handful of matches—be it thanks to a couple of fluky set piece goals or an unlucky bounce or two or some overly harsh refereeing—determines for the majority of the team's fans whether that nation's domestic soccer is healthy or sick, whether it's progressing or regressing, and whether it's on the right track or needs an overhaul.
The potential problem with this kind of thinking is that it runs the risk of overlooking what are the core determinants of international soccer success. The primacy of tournament—the hunger to qualify for them and the drive to do well once they begin and the overwhelming joy once success there is attained—can mask the fact that it's through qualification for tournaments like the World Cup that a team's true quality is built and displayed, and that it's the production, detection, recruitment, development, and refinement of the country-wide player pool that supplies a national team with the raw materials with which a successful qualification campaign and a good tournament showing are constructed.
If either the player-production or the qualification-performance pipelines are clogged, then whether a country somehow sneaks into a World Cup and lucks into enough solid performances to be judged a success in the tournament's small sample of matches doesn't attest to the underlying health of the country's soccer set-up. And as has become increasingly evident of late, most recently demonstrated in last night's depressing 1-1 loss to Honduras, the USMNT is plagued by fundamental afflictions that qualifying for the World Cup, which the team will probably do, will not atone for. Because of how awful the U.S. have looked in qualifying, even though CONCACAF's World Cup qualifying system is just about the easiest in the world, it's hard to say with any real conviction that this U.S. team even deserves to go to Russia next summer.
The shortcomings of the USMNT are so recurrent that at this point it's not even worth belaboring them. Suffice it to say, the U.S. were bad last night the same way they were bad in last week's humiliating home loss to Costa Rica, the same way they've been bad dating back for years and years and years. Bruce Arena hasn't fixed it, Jürgen Klinsmann didn't cause it, and the only ones with the ability to address it are instead at peace with the mediocre status quo that keeps them in power and enriched. Not even the most optimistic American fan can make the case that this World Cup qualification cycle has been anything other than an abject failure. The fact that the U.S. are still in great position to make the World Cup because of how bad their CONCACAF competition is and how wildly, stiflingly forgiving its qualification process is only reinforces how poor the team is and how poorly served U.S. soccer is by CONCACAF's structure.
G/O Media may get a commission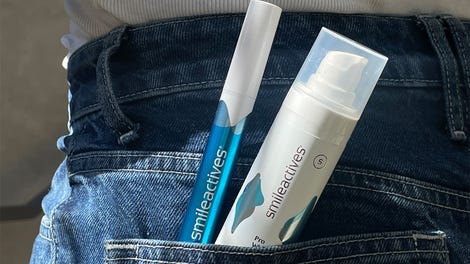 58% off
Whitening Powerhouse Pen & Gel Duo
It is, though, worth pointing out yet again why the team has looked so bad lately and why, no matter what happens at the World Cup, U.S. Soccer still needs to implement some radical changes if we're ever to become the soccer nation we could be, should be, and sometimes pretend we already are. The players on the pitch just are not that good. Of all the players that started last night's match, only one of them—Christian Pulisic, who didn't have a very good game—is really worth a damn in the grand scheme of world soccer. Klinsmann wasn't putting the available players in the best position to succeed, nor has Arena done much more than the absolute minimum to get them playing better, nor do any of the excuses Arena (who is and always has been bizarrely arrogant for how much of a mediocrity he is) comes up with to deflect blame from himself and his players—may we never hear any more talk from him about the demographics of the American cities that host USMNT matches, nor any more speculation about how Trump's immigration policies may be inspiring the U.S.'s CONCACAF foes to try extra super hard to beat the supposed avatars of his tyranny—detract from the incontestable fact that the U.S. doesn't have many good players and thus will always be constrained by the talent of the squad until the player pool is deepened.
When trying to look at the team you root for through dispassionate eyes, it's helpful to consider your team the way you consider teams of a similar level. If you asked most USMNT fans what they thought about the status and prospects of Costa Rica or even Mexico, most of them would probably respond with something like, "Meh, they're fine I guess but certainly aren't anything special," and probably hold this U.S. team in higher esteem. Yet as of right now, Mexico and Costa Rica are inarguably better than the U.S. They have better, smarter players, better, smarter coaches, play better and more intelligently as a unit, and should be expected to beat the U.S. in a hypothetical match played anywhere, home or away. By any metric, those two teams are simply better.
Thus the U.S.'s short-term hopes must focus on consolidating the third spot behind those two CONCACAF leaders so that they can automatically qualify for the World Cup. Our competitors for that designation are the likes of Panama and Honduras, teams the U.S. should always be much better than, though they haven't done much to prove it of late. Nevertheless, because the U.S. does have more talent than those two countries and the even worse countries that pad out the bottom of CONCACAF's hexagonal group, it would take a collapse even more seismic than they've already pulled off for the U.S. to fail to make it to Russia.
But consider the case of South American qualifying. There are strong odds that one of Argentina or Chile won't make the World Cup thanks to their bad qualifying performances. Both Argentina and Chile have elite-level talent already (nearly every regular starter for both teams would be far and away the greatest American player of all time had he been born here), they regularly produce top-end players in large quantities, and if they do overcome their unimpressive though understandable qualification struggles, either team could make some real noise next summer. Yet despite these relatively strong underlying vital signs, both are in real danger of missing out on the World Cup. Meanwhile the vastly inferior U.S. team still hasn't been able to give away their nearly guaranteed World Cup spot in spite of their best efforts to do so.
So which of the U.S., Argentina, and Chile has the healthiest soccer culture? Which one do you expect to be doing the best in four years' time? Who is more deserving of a spot at the World Cup? The answer should all of these questions should be clear, and it should cause some deep, serious contemplation from U.S. Soccer about how they plan to fix the structural issues preventing America from realizing its potential. That contemplation must not be tossed aside should the U.S. back into the World Cup while a more deserving squad like Chile are forced to watch from home. By any reasonable test, the U.S. deserves a failing grade right now. We can't let the passing mark we're sure to get thanks to CONCACAF's inherent leniency obscure this truth, as that would only prevent the U.S. from doing better in the future.