Just because voting is subjective does not mean voters can't be wrong. So, with the knowledge that no ballot will make everyone happy, and with sincere appreciation for the BBWAA making all ballots public, let's hand out some awards to the most mystifying, inexplicable, and just downright terrible MLB awards voters.
Worst single vote
Third runner-up: Enrique Rojas, ESPN Deportes, NL ROY. Bryce Harper took this award, but not without a fight: Diamondbacks pitcher Wade Miley tied the wild card-era record for wins by a rookie. Both were legitimate candidates. Then there's Wilin Rosario, who had a quality year at the plate, but was just terrible behind it. He led MLB catchers in errors and passed balls. He ended up on only four of 32 ballots, and only Rojas voted him first.
Second runner-up: Doug Padilla, ESPN Chicago, NL MVP. Here is a player's triple-slash: .253/.319/.425. In a sane world, that player's team is wondering if they have anyone at AAA to replace him (for $10 million cheaper, in this instance). In Padilla's world, Hunter Pence was the 10th best player in the National League.
First runner-up: Drew Davison, Fort Worth Star-Telegram, AL Cy Young. There is nothing fundamentally wrong with voting a closer for Cy Young—at least in a year where there are no dominant starters. In 2012, Justin Verlander's numbers were nearly identical to his previous Cy-worthy season, and David Price was even better than him. Davison gave Fernando Rodney his only first-place vote. (No one else had him higher than third.)
G/O Media may get a commission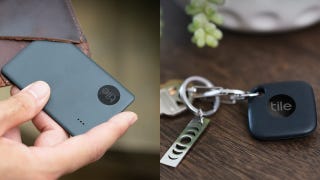 Up to 35% off
Tile Item Trackers
Winner: Sheldon Ocker, Akron Beacon Journal, AL MVP. Cabrera, Trout. Trout, Cabrera. Either combination is defensible. Ocker had Trout third, behind Adrian Beltre. There is no metric, advanced or otherwise, that can seriously justify this.
Worst homer vote
Third runner-up: John Fay, Cincinnati Enquirer, NL CY Young. We get it. You cover the Reds. Johnny Cueto still wasn't the best pitcher in the NL.
Second runner-up: Bill Center, San Diego Union-Tribune, NL Manager. I'm sure Bud Black gave good quotes. Managers that win 76 games don't deserve even a token third-place vote.
First runner-up: Michi Murayama, Tokyo Chunichi Sports, AL ROY. Yu Darvish is Japanese. Wei-Yin Chen is also Asian.
Winner: Mark Gonzales, Chicago Tribune, AL MVP. The common refrain from beat writers is that they get to see a player every day, so they can better judge his contributions than, say, a national media member. If true, the corollary would be that they see almost nothing of players from other teams, and thus have zero context and ought to recuse themselves from league-wide voting. Alex Rios is the fifth-best AL player only to someone who just watches White Sox games and the occasional SportsCenter.
Worst overall ballot
Third runner-up: Tracy Ringolsby, Fox Sports, NL MVP. He wasn't the best pitcher in his league. He may not have been the best closer in his league. Craig Kimbrel is second on Ringolsby's ballot. (He also has Matt Holliday, Ryan Zimmerman, Brandon Phillips, and Gio Gonzalez higher than they are on any other ballot.)
Second runner-up: Mark Feinsand, New York Daily News, AL MVP. A healthy dose of homerism here, as Feinsand has Derek Jeter third (one of only two voters who did) and Rafael Soriano eighth (the only one who did). Then we noticed Robinson Cano had been left off completely, and are confused.
First runner-up: John Maffei, North County Times, NL MVP. Andrew McCutchen second. Jay Bruce fifth. Allen Craig seventh. At first we thought Maffei's ballot must have accidentally read "NL Central MVP," but then we realized he was the only voter to leave Yadier Molina off completely.
Winner: John Lowe, Detroit Free Press, AL MVP. This is a ballot filled out by clicking "random" on Baseball Reference, or perhaps by having a pet rooster peck at box scores. This is "the top 10 players John Lowe can think of right now." Orioles closer Jim Johnson is third. Jeter is fifth, and Cano is nowhere to be seen. Fernando Rodney is seventh. And Raul Ibanez—pre-playoff Ibanez, who didn't start 100 games and had a bWAR of 0.3—that Raul Ibanez is 10th, because fuck you, that's why.