Here's Charile, one of the mascots of the West Virginia Power baseball team, a Class-AA affiliate of the Milwaukee Brewers. The Power celebrated the beginning of their season recently with a contest to see who could turn in the best drawing of one of their colorful mascots. The winner was Ariel Benson, a middle schooler who knows that: A. All baseball mascots are on steroids, apparently, and B. Mascots who take steroids do not suffer from shrunken genitalia. Charlie is packing a lot down there!
This drawing here will grace the cover of an official West Virginia Power game program this season; and if anyone can get their hands on one and send it to me, I'd be eternally grateful. So anyway, Minor League baseball season is here! It's still a little early in the season for the full-fledged 2008 debut of Minor Enterprise, because most of the really wacky promotions have yet to be scheduled. But there are some recent developments that need to be addressed.
• Two brand new franchises; the Lehigh Valley IronPigs (Class-AAA, International League) and the Northwest Arkansas Naturals (Class-AA, Texas League) open play this week; the IronPigs on Friday and the Naturals on Thursday. See you there!
• The Lexington Legends (Class-A, South Atlantic League) will have Transformers Night on Friday, Saturday and Sunday, in which the first 250 kids to enter Applebee's Park will receive a Transformers Legends AllSpark Battle Pack. [Thanks to Benjamin Hill]
G/O Media may get a commission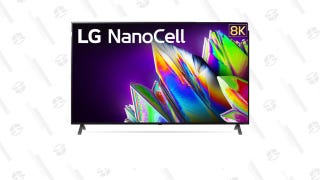 LG 75-Inch 8K TV
• Don't forget: The Macon Music's Eliot Spitzer Night is June 13.
Put on your Lake Elsinore Storm cap, and I'll see you at the ballpark.
2008 Power Cover Contest [West Virginia Power]