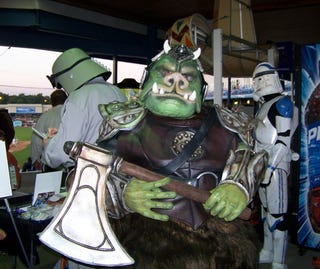 Welcome to Minor Enterprise. You will never find a more wretched hive of scum and villainy.
Saturday is Star Wars Night with the Western Michigan Whitecaps, where once again science fiction geek and baseball stat nerd call truce and come together for a night of revelry and excitement ("Hey, give me back my inhaler!"). Never before have so many costumed Star Wars characters descended on a minor league ballpark. Never before have your children witnessed Emperor Palpatine taking a leak in a trough urinal. Never before have so many adults been driven to the game by their parents. Plus, the players will be wearing Star Wars-themed jerseys (shown following the jump), Darth Vader will throw out the first pitch, and the National Anthem will be played on guitar by a Clone Trooper. And it's all for charity!
Many Bothans died to bring us this information.
To get you in the mood, here's an action-packed promotional video by the Whitecaps staff, featuring their mascot, Crash, in deleted scenes from Star Wars: A New Hope. (Even though he's wearing a mascot gopher head and can't change expression, he's still a better actor than Hayden Christiansen). Oh, and the young Anakin Skywalker will be there, bragging about his Midichlorian count and using his powers to get all the foul balls. This has become an annual event with the Whitecaps, with members of the 501st Legion, a Star Wars costuming fan group, showing up each year and helping to raise money for the Make-A-Wish Foundation (last year's haul: $3,000). Whitecaps players will be wearing custom Star Wars jerseys for the game, some of which will be auctioned off afterwards for that same charity. Here they be.
Are you thinking what I'm thinking? Yep, the Yankees' new look after they move into their new stadium next year.
And here are the unis the Whitecaps wore for last year's Star Wars Night. If you're in the neighborhood I would highly recommend heading over to Fifth Third Ballpark in beautiful Comstock Park, Michigan, to help a good cause. Just forget about going into Toshi Station to pick up some power converters; you can waste time with your friends some other time.
More promotions = Six Flags! More flags, more fun!
• Flight To Nowhere. Tonight, Ft. Myers Miracle (Class A Florida State League). Many of the delights experienced on a typical commercial airline flight will be evident at Hammond Stadium during this game, including mini-bags of peanuts, a security check at the gate, and an in-game movie (caution: may be Turner and Hooch). Plus, aisle seats will be $1 extra, and box seats will be considered first class and reserved grandstand seats will be coach. All aboard!
• '70s Disco Mania Night. Friday, June 27, West Virginia Power (Class A Atlantic League). It's Flashback Friday at Appalachian Power Park, so don't forget your Nehru jacket (but leave the LSD at home).
• Celebrity Baseball Game. Saturday, June 28, Frisco Roughriders (Class AA Texas League). Michael Irvin, Mark Cuban, Mike Modano and DeMarcus Ware are only a few of the big names who will be on hand. And managing the teams will be Wade Boggs and Fred Lynn! Anyone who live blogs this game wins the Internet. [Thanks to Benjamin Hill]
• Sorry, Barry Bonds Will Not Be Playing For The Long Beach Armada. Barry Bonds' agent, Scott Borris, quashes rumors that his client may sign with an Independent League team. So don't get your hopes up, Edmonton Cracker Cats.
We want your minor league tips! Send all game reports, photos, promotional news and horse poetry to RickChand@GMail.com. Affirmed.