Starting yesterday and concluding today, the Westminster Dog Show at Madison Square Garden features the finest athletic specimens at MSG since ... well, since the last Dog Show. We don't consider competitive dog preening a sport, but we do find it funny, and we think Best In Show is one of the funniest movies ever made.
Therefore, we dispatched intrepid reporter Barry Petchesky to cover the show yesterday — he'll be there again today and filing tomorrow — and give us the lay of the land and clock some bitches. Barry Petchesky is a freelance writer in New York City, and he plans to use this as a clip, which is rather pathetic. We now hand the mic to him.
—————————————-
I was at a modern art exhibit a few weeks back, and I came across one piece that caught my eye. The entire canvas had been painted black. I'm sure the artist was making a heartfelt statement about the over-saturation of the contemporary visual landscape, but the fact remains that I was looking at a black square. I turned to a friend and stated, "not art."
Once you've pulled the "not art" card, there's no further discussion. So allow me to preempt criticisms of the Westminster Dog Show by agreeing with you. This is not a sport. It's a beauty contest. It's a circle jerk for the show community. It's a dog and pony show, minus the ponies. But who cares? We're in the middle of the desert of the sports calendar, with nothing of importance until March Madness. And the dog show is more competitive than the Pro Bowl. The entrants are more athletic than golfers. It's more respected than the WNBA. And I get to take pictures of lots of really cute dogs. It's a win-win situation, so follow me inside as America finds one dog to rule them all.
G/O Media may get a commission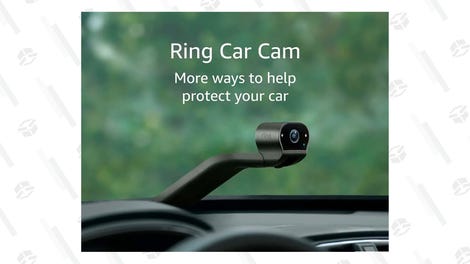 I love the little things that tell you unmistakably that you've entered a different world (though I think that sign is up during Knicks games as well). Things like the lady I saw wearing a jean jacket embroidered with the faces of her and her cocker spaniel. Things like a giant bloodhound licking a woman's face, and her licking it back just as vigorously. Ladies and gentlemen, this is the land of Dog People.
The holding area is a nightmare. It's crowded, cramped, noisy, smelly and generally depressing. I caught some flak for last year's comparison to a Doggie Dachau, so let's call it a Doggie Dorm. Half the residents seem to be in heat, and just like the University of Miami during Najeh Davenport's enrollment, there's doody everywhere.
Well, almost everywhere. That poor soul in the foreground is Panzer the Norwich Terrier, who's due to enter the show ring very soon. To protect against unexpected gifts for the judges, handlers take the dogs to the "poop pens" before they go on. But Panzer, you see, has stage fright. He's been to the pens three times in the last hour, but simply can't take the Browns to the Superbowl. "He doesn't like other dogs watching," his handler tells me, though he's apparently fine with my camera zooming in on his butthole.
I don't care to spend much time in the show ring, as the dogs almost never look happy. But that's where the stress always seems to get to the handlers, so on to the famed floor of Madison Square Garden, where Ali beat Frazier, where Messier lifted the cup, and where, uh, some dogs are named prettier than others.
It's a sausage party out there, and not like your parties in college because you weren't cool enough to know any girls. The dogs seem at ease, even though they clearly see the ones ahead of them in line being felt up by the judge. It's like a prostate exam, with 10,000 people watching. The handlers are a different story. One, clearly at the end of her rope, snaps, "Cathy, give me the water." Cathy helpfully tells her that she looks great. The handler graciously accepts the compliment: "Don't you think we know that, bitch?"
It's a vicious world on the green carpet. Anxiously waiting for the judge to select the best Tibetan Spaniel, one handler is nearly squeezing the life out of her dog. When another is chosen, she says under her breath, "Oh, that is bullshit."

There's bad vibes in the show ring, so I retreat to the holding area to find the lovely Kira, shown here about to receive a Pete Rose haircut from the Flowbee.
After being made to look all purty, Kira promptly bolts for the nearest trash can and tries to leap in. She's violently yanked away, and tries again. She's smacked by her handler, yelled at, but she really wants that garbage. And who can blame her, with Garden hot dogs costing $8? So her owner has a choice: A) be a good handler and control her dog; B)move away from the trash; or C) let a dog be a dog and have fun. She of course chooses D) yell at one of the Garden staff, "get that goddamn trash can out of here."
God this place is depressing. I was already in a bit of a pissy mood, because though the Dog Show usually preempts pro wrestling or tennis, this year USA is running it in place of Law and Order: SVU. And I get cranky when I don't get my Mariska. I looked to the dogs to cheer me up, but they didn't seem to be having any of it. To wit, allow me to use photographic evidence to demonstrate the three most common faces you'll see at any dog show:
"Call the police! Now! Run and save yourself!"
"I hate everyone here and want to die."
And, of course, "this demeans the both of us."
Oh, dog show, you're a strange, strange place. I'll be back tomorrow with more, but let me leave you with what's become tradition: the closing "awwwww!" shot. And never mind the rape stand.