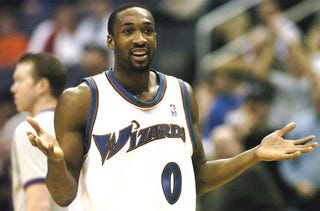 I think we can all agree that the sports world is a more interesting place with an active Gilbert Arenas in it. And the past few days have been wonderful reminders why. But alas, such days may be numbered.
A quick recap: on New Year's Eve, Arenas up and broke his pledge not to start Twittering until he reached a million followers, with some characteristic goofiness. Then we learned that back on December 21st, he may have gone all "I'm your Huckleberry" on teammate Javaris Crittenton over a $25,000 gambling debt, which launched a glorious rambling series of tweets, not to mention a law enforcement investigation. Now some are speculating that the Washington Wizards could use the alleged gun-brandishing incident as an opportunity to void their oft-injured superstar's hefty long-term deal, which may be of secondary importance when considered next to the potential legal difficulties he could be facing. Let's take a tour of the webs for insight, shall we?:
• First, D.C. Sports Bog has a neat little wrap-up of yesterday's tweeting frenzy, for those that missed it.
• Bullets Forever also has a helpful "what we know, what we don't know" breakdown of the alleged showdown (a dramatic recreation of which can be found here).
• On a more serious note, David Aldridge of TNT Sports has called the ramifications of the incident potentially "franchise-altering", citing "the possibility, remote for now but still there, that the [Wizards] could ultimately seek to void the remainder of [Arenas's] $111 million contract, signed in 2008." Given Arenas's injury history, and how much the Wizards have underachieved thus far this year, not to mention the blockbuster crop of free agents coming available at season's end, you would have to assume that this is something the team would seriously consider were it an option.
• And oh, right, the legal stuff. In a shocking twist, it turns out D.C. frowns up (i.e. deems illegal) the carrying of firearms in public. So in addition to the Wizards' ownership and a certain surly league commissioner, Arenas's antics may have landed him in big trouble with some far more serious authority-types.
All of this is adding up to the very real possibility, for legal, league or team disciplinary-related reasons, that Gilbert's return to the Wizards may be short-lived. And for fans of both basketball and wackiness, that would be a damn shame. Far be it for me to get involved in an ongoing, potentially criminal investigation on which I know next-to-nothing about, but if Gil's teammates could just keep their mouths shut, dump any pesky lingering "evidence" (wink wink bang bang) down the nearest storm drain, and start winning a few more basketball games, we could all just go back to enjoying the lunacy that is the Washington Wizards' daily basketball operations, with all its Gilberty goodness.
Gilbert Arenas's fabulous day of Tweets [D.C. Sports Bog]
Trying to make sense of the Gilbert Arenas/Javaris Crittenton incident [Bullets Forever]
Arenas faces serious consequences in alleged gun incident [NBA.com]
Gun control and the NBA: Double standard? [Examiner.com]