This weekend and into this week, the Prairies were shaken to their very core by three hockey men saying they didn't really like going to Winnipeg on road trips because it's dark (it is dark), it's cold (it is cold), and the hotel wi-fi is substandard (unresolved). The Jets mostly declined official comment on the Sharks' disparagement of the Gateway to the West, but the CBC did bring out a chamber of commerce-type who dropped some almanac-based truthbombs, pointing out that while Winnipeg is indeed cold, other cities are too.

It's all been relatively civil—the most extreme act by anyone involved was us having to use our Getty Premium subscription to use the photo of the city skyline in our post. (And because we sprung for it, we're using it again.) But now here's Jets head coach Paul Maurice, showing people that if they thought they knew what "civil" was, they hadn't seen anything yet.
Maurice, a true savage, started off by saying he hasn't seen the precise comments, so he didn't want to speak to them from a place of half-ignorance. (Look out, he's taking no prisoners!) He deadpanned that it does get cold and dark in the winter in Canada at night (Is there anything this man won't say??) and closed by noting that, hey guys, we're all pretty lucky to be involved in this here National Hockey League of ours.
G/O Media may get a commission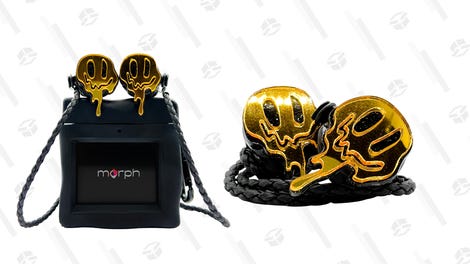 morph audio
Morph Earphones
"We've got nothing to complain about," Maurice said. "Pretty good life. Every day. Every city's pretty darn good." (Is he even allowed to say that????)
In conclusion, Winnipeg has good casinos, Steve Mason will get the start in net tonight against the Sabres, and the airport is really close to downtown.