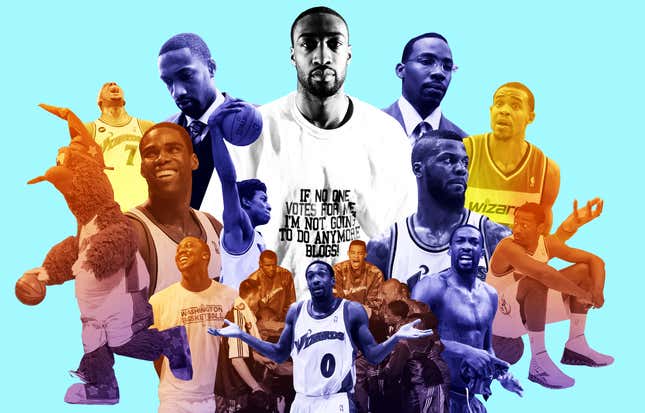 The late-model Washington Wizards are broadly competent, secretly mediocre, spotty, and more boring than they are not. They could be nutshelled as an equal and opposite reaction to their counterparts of a decade ago. Those Wiz teams, which weren't better but sure were stranger, boasted a bigger collection of goofballs, harmless and otherwise, than any follower of the NBA or any major sports league had ever seen.

Jokic? Embiid? The NBA MVP is obvious... right? | Keep it a Buck(et)
Or read about. Everything those historically wacky Wizards did was chronicled on the fledgling internet; in an era before NBA Twitter existed, this team seemed determined to somehow will it into existence. Gilbert Arenas, the face of the franchise then as John Wall is now, deviously mentored a horde of younger teammates—including Andray Blatche, Nick Young, and JaVale McGee, the Tinker to Evers to Chance of off-court fails—into virtuoso clowns, and then played ringmaster to the circus. These lads launched a thousand basketblogs—or was it vice versa?
An eensy-weensy sampling of the lo-jinks linked to this crew: Arenas put half a million bucks worth of fish tanks in his house and filled them with sharks, only to have the sea creatures die due to "somebody throwing pennies in the fish tank." He also filled Blatche's shoes with poop and Blatche's hotel-room tub with coffee. DeShawn Stevenson, a guy who would later install an ATM in his own kitchen, told the media that LeBron James "is overrated. And you can say I said that." Then Stevenson got Soulja Boy, the DeShawn Stevenson of rappers, to record a diss track aimed at James. LBJ initially dismissed his tormentor, saying his responding to Stevenson "would be like Jay-Z saying something bad about Soulja Boy"—and then he commissioned a reply cut from Jay-Z that was, predictably, far superior. And on and on it went, even leaving out the Peter John Ramos parts. All of it was vigorously, exhaustively blogged.

A profile on the NBA's website described Arenas as "the first blog superstar." The league even gave him his own personal page on NBA.com, which Arenas used to tell fans about such things as his dreams about building a glass basketball court where he could store his substantial collection of jerseys. He even took his nickname ("Agent Zero") from a first-wave basketblogger.
G/O Media may get a commission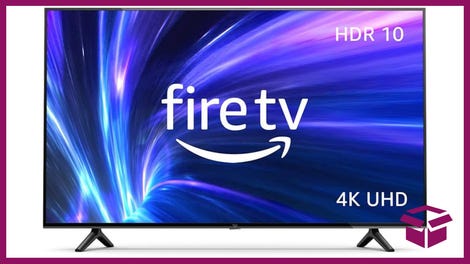 42% Off
Amazon Fire TV 50" 4K Smart TV
The Wizards became the NBA's funnest bunch to follow for reasons having little to do with winning. But for a time, amid and despite and perhaps in part because of all the goofiness, the team actually was pretty good. The Wiz made the playoffs every year from 2004 to 2007, the franchise's longest postseason streak in three decades. When the Wizards beat the Chicago Bulls in the first round in 2005, it marked the franchise's first postseason series victory in 23 years. Arenas, Butler, and Antawn Jamison were all named to East squad for the 2007 All-Star game, which was the first time in 20 years that even two players from the franchise had made the same team; Wiz head coach Eddie Jordan was named coach. These were high times.
Fans of a team that had long been one of the NBA's most irrelevant could suddenly be found even way outside the Beltway. Ivan Carter, a former Washington Post writer and one of many folks on the Wizards beat during the Arenas Era that I've interviewed over the years about that experience, recalled being shocked by the national following that suddenly coalesced around what had historically been among the NBA's most moribund franchises. He told me about showing up at a road game in Portland and seeing fans wearing #0 jerseys and carrying pro-Wizards signs in what had always been an unfriendly or apathetic arena.
The media were as enamored of the squad as the fans were, Carter said. "You never wanted to miss being in the locker room," he told me. "You didn't wanna miss anything. The team really was a phenomenon everywhere you went."
Writer DJ Gallo also recalled being awestruck by the breadth of Arenas' renown. "It sounds crazy now," Gallo told me last year, "but it was Kobe, LeBron, Dwyane Wade, and Gilbert. He was legitimately right there with them. And he was the best quote in the league."
Yet the most lasting lesson of the late-aughts Wizards is not a happy one. It's that quirky always ends badly. By the end of the decade, the squad's place in the cosmos had gone from providing some giddy fun to a notably darker cautionary tale. The demise was not sudden, but it can be said to have a climax. That came on Dec. 21, 2009, the day Arenas brought guns to work. An arsenal, really.

Arenas showed up to a Wizards practice with a .500 magnum Smith and Wesson revolver in his backpack. That's the weapon which an NRA report billed as "the world's most powerful handgun." He also carried a gold-plated .50-caliber semi-automatic Desert Eagle, a .45 caliber semi-automatic Kimber Eclipse, and a Browning 9mm. Suitably armed, Arenas proceeded to taunt teammate Javaris Crittenton, a former gang member and future manslaughterer, with those firearms. Former Wizard Caron Butler, a well-traveled NBA vet and witness to the gunplay who announced his retirement earlier this season, later described the ensuing showdown as "a shootaround of a whole different nature."
Founding owner Abe Pollin, who changed the name of the franchise from "Washington Bullets" while making a plea against gun violence, had died only weeks before his players started playing with firearms in the downtown arena he'd built. Neither Goofuses nor Gallants were spared from the wholesale dismemberment plan that the new owner, Ted Leonsis, implemented shortly after the gun incident went public. Looking back, the 2009-2010 season, a year when "have to testify in front of federal grand jury against teammates" was a normal and acceptable excuse for Wizards players to miss practice, was the year the party was officially over.
"That was the year it all blew up," Michael Lee, the Wizards beat reporter for the Washington Post that season, told me.
---
James Morris was more let down than the average Wizards obsessive by the team's implosion and the permanent sullying of the Arenas legend. Back when things were going well for Arenas et al, Morris and his friend Christopher Porter ran and wrote for an absurdist D.C.-centric basketblog called Wizznutzz. That was where Morris came up with a new nickname for Arenas: "Agent Zero."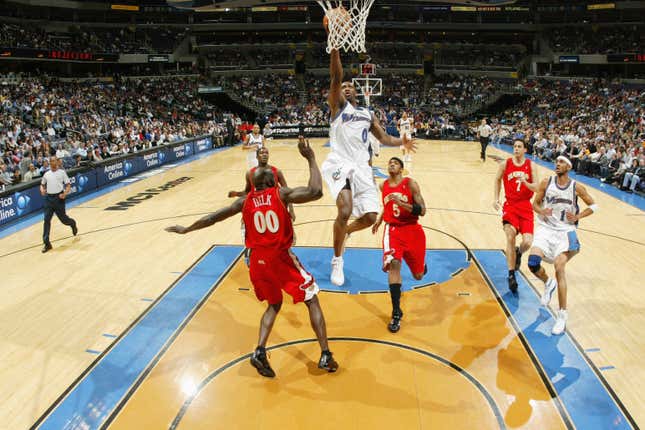 Arenas's NBA career had humble beginnings. He'd played second fiddle to Richard Jefferson at Arizona, wearing jersey #0 because, he told people, "zero is the number of minutes people predicted I would play my freshman year." After Arizona made the NCAA Final Four in 2001, Arenas declared for the draft, and was taken in the second round by Golden State. He fought his way into the rotation and emerged as a moderately potent scorer, and when his rookie deal with the Warriors was up, Arenas narrowed his free-agency choices to the Clippers and the Wizards. He told the Washington Post he'd decide his next team by coin flip. Then, Gilbert being Gilbert, he flipped the script.
From a Post story on how he ended up in Washington.
The Clippers were heads, the Wizards were tails. Ten flips of a quarter would decide. Heads came up eight times. Washington it was. "I always go against the odds," Arenas said of his unconventional process.
That wackiness made Arenas right for the times, and for websites like WizzNutzz, which were clamoring for content. (Wizznutzz went offline years ago and the internet has sadly purged most of the site's posts, but for a taste of the brilliance of Morris and Porter, minus the misspellings—which were a significant part of the Wizznutzz experience—you can check out this McSweeney's piece from 2005.)
"When we started our site, it wasn't just that athletes were not on Twitter or YouTube and they didn't have their own blogs," Morris told me in 2012. "There was literally no content on the web about athletes except for the good stories about superstars. Back in 2006, if you Googled a bench player, say Steve Blake, you'd get a hit from our site where we posted that Steve Blake was traded for cigarettes. We were proud of that!
"But Gilbert came along at a time when that totally changed. There was an explosion of sports blogs, and after years of basketball players, more than players of any other sports, being protected from the media, here was this guy saying all this eccentric and off-the-cuff stuff and basically just hitting 'Publish.'"

Morris first threw Arenas's future nickname into an April 2006 Wizznutzz post headlined "New Incites Revealed into manic brain of AGENT ZERO!!!!" The piece imagined Werner Herzog nixing a documentary on Arenas after a director/subject feud.
A snippet of the momentous fantasia, full of the twisted thoughts and awful syntax that were staples of the site:
Gilbert doesnt talk to Werner anymore cuz of the time they were playing Gauntlet 4-player coop-mode at the PuttPutt Arcade with [Klaus] Kinski and [Andray] Blatche and Werner's elf got killed, and he started bugging Gil by doing this grave voiceover to try and distract Gilbert from his game and then Werner crossed the line when he says 'Stupidity is the devil. Look in the eye of a chicken and you'll know.'
Dan Steinberg, the pioneering Washington Post sports blogger, took this peculiar oblong ball of prose and ran with it—right to Arenas, and with his tape recorder running. Soon after reading the Wizznutzz post introducing "Agent Zero," Steinberg, who had founded the Post's game-changing sports blog D.C. Sports Bog in the fall of 2006, approached Arenas in the Wizards locker room and introduced him to the new nickname to get his reaction. Arenas had at other points dubbed himself "Hibachi" and "The Black President," but he had immediate and fervent affection for Morris' brainchild. "Oh that's hot," Arenas said. "Whoever made that 'Agent Zero' up gets a percentage." (Disclosure: Steinberg is a friend.)
The name took off. Arenas started putting "Agent Zero" in his own blogs. Steinberg, and then other Wizards bloggers, and then everybody else who typed about basketball began using the handle when writing about Arenas. And Arenas was giving them plenty to write about, including some on-court derring-do. In December 2006, Arenas scored a franchise record 60 points in an overtime win against the Los Angeles Lakers. Five days later in Phoenix, he put up 54 points, more than backing up a preseason pledge to get 50 points against the Suns as a way of exacting revenge on Suns owner Jerry Colangelo; Arenas felt that Colangelo, in his other role as boss of Team USA, hadn't given him a fair shot at making the national squad before the FIFA World Championships earlier that year. Arenas had oodles of buzzer-beating game-winners that year, including three over a period of several weeks in 2007. After a bomb at home against the Milwaukee Bucks—here's Wiz broadcaster Steve Buckhantz's "Dagger!" call of the shot—Arenas told media, "My swag was phenomenal."
His look-at-me play made everybody take a closer gander at his extracurricular outlandishness. All the tabloids talked up his 25th birthday party, held at a downtown D.C. dance club with a guest list of 7,500 people that included Diddy, Busta Rhymes, Lil Wayne, The Game, T.I., Doug E. Fresh, Fabolous, and even Marion Barry, D.C.'s legendary tabloid-friendly former mayor. Arenas didn't show up to his own bash till after midnight, when he drove his Lamborghini right up to the club's stage, got out, hopped on the house P.A., and ordered the partiers to "get drunk and make bad decisions!" One of the NBA's historically most buttoned-downed cities suddenly and undeniably had, for lack of a better term, phenomenal swag.
Wizards broadcasters began dropping "Agent Zero" into their play by play. Arenas put out Agent Zero garb, dubbed his Twitter account @AgentZeroShow, and got his primary sponsor, Adidas, to put out Agent Zero shoes. The mainstreaming of "Agent Zero" was secured when Time ran a story headlined "How Agent Zero Saved D.C." That same week in February 2007, a story in the Wall Street Journal by future Deadspin editor David Roth used the moniker in noting the internet's embrace of Arenas. The headline of that story ID'ed Arenas as "the 21st century's first hoops hero."
Taking their cues from Arenas—and lending to the unserious vibe exuded by the whole enterprise—other Wizards seemed to work harder than normal grown men at cultivating nicknames of their own. Nick Young, the team's first-round draft pick in 2007, started asking folks to call him "Bean Burrito" for a time during his rookie season. That was something he'd come up with himself. Steinberg asked him the genesis, and Young responded that he'd heard players "used to call Michael Jordan 'Black Bean Burrito.'" Bean Burrito got little pickup from those in the blogosphere or grandstands, at which point Young came up with Swaggy P. Asked to explain that handle years later, Young said, "God, in a dream, talked to me, and he gave me that name. I'm like, 'You know what God? That is a funny name! I might need to run with it!'"
Divine intervention or no, Swaggy P stuck.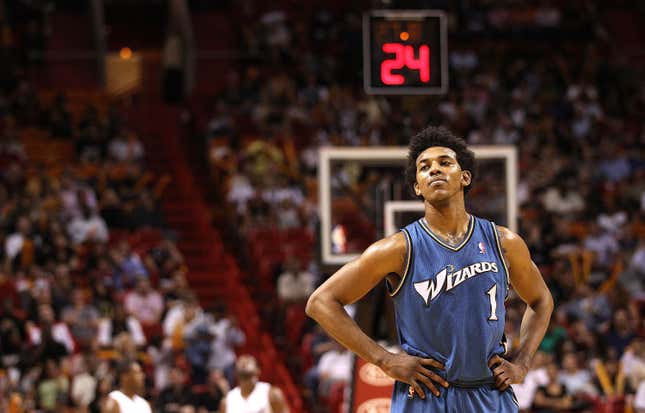 McGee, taken by the Wiz in the first round in 2008, didn't like "The Big Secret," which was the nickname his mom came up with. He also was not partial to "Lemonhead," a slam from Caron Butler on the shape of McGee's head. And so McGee asked to be called Big Daddy Wookie. Wizards bloggers suggested "Epic Vale" instead; this was a guy, after all, whose run in Washington is most remembered for the time he ran down the court at full speed the wrong way.

Blatche alternately approved of "Ziploc" and "Bulletproof," the latter being a macabre ode to his surviving the shooting before his rookie season; fans preferred "Seven-Day Dray," recalling the unfulfilled pledge to grow up that he made when he changed his jersey number. There was also "Baltche," which recalled the wholly Wizardsesque night when the team sent him out on the floor in a jersey with his name misspelled. The comprehensive sports garb blog UniWatch said at the time that the Baltche screw up "makes three uni mishaps in 33 days" for the Wizards.
Whatever their improvement on the floor, these Wiz were far more memorable for their dedication to staying wacky. Their reality in those days really could go toe-to-toe with the Wizznutzz' surreality, and bloggers and fans couldn't get enough.
"With Steinberg, you had a writer for the Washington Post in the locker room writing stuff down that the normal NBA writers or editors would never write or publish before," said Morris, who unlike the detached Steinberg was a Wizards fan as well as a blogger. "And everything that was coming out of Gilbert's mouth was golden."
As the popularity of the oddball guard spread, his persona infected others on the roster. Steinberg humbly accepts that he had a role in building the Wizards' reputation as the wackiest squad around. Steinberg told me that "I do think the fledgling blog scene, and me to some extent, played a role in the national impression" that the Wizards were quirky. "Because I would go to practices, and 100 normal things might happen, but I would write about the two quirky/funny things. And that was before every beat writer had a blog or was obsessed with updating it quickly, so sometimes mine were the first dispatches out of practice, and would get picked up by national outlets. And once [quirkiness] was the narrative, it was easy for me and everyone else to patch each new development onto that narrative."
Morris never made a dime off "Agent Zero"—the nickname or the cultural moment. But there were perks. A few months after coming up with the handle, Morris was watching a Cleveland Cavaliers/Wizards game at the Verizon Center on television as the cameras showed an older couple in the grandstands dressed in matching "Agent 0" t-shirts. To him, that was compensation enough. But for all the fun he had when the team was at its wild and goofy peak, Morris eventually came around to understanding that the fall that followed was both inevitable—that quirky always ends badly—and owed to the same person that made that rise possible.
"Gilbert was never going to be a leader," Morris said. "He was never going to be an adult. He was a 14-year-old kid with millions of dollars."
On April 4, 2007, not long after this wondrous scoring and buzzer-beater binge, Arenas collided with the Bobcats' Gerald Wallace. He tore the lateral meniscus in his left knee, putting him out for the playoffs. Arenas chose rehab methods that were characteristically unorthodox and blog-worthy: Steinberg found him riding around town on a mountain bike and running sprints with a pair of parachutes tied to his back on the football field of a downtown high school.
As a player, Arenas would never be the same. But while his game slipped away, his influence in the locker room never waned.
---
Those Wizards teams featured a number of players who'd make for fine mentors. Antawn Jamison, himself an All-Star and former teammate of Arenas's in Golden State, was one. Caron Butler, whose NBA career ended with several seasons as a sort of rentable eminence for young teams in Milwaukee, Detroit, and Sacramento, was the other. But the team's good citizens weren't getting nearly as much digital ink as the team's jester in chief. As a result, the youngsters learned a deeply skewed version of what it meant to be a professional.

In a 2008 interview with Dime magazine, Arenas, in a moment more serious and introspective than one might expect of somebody who'd poop in a teammate's shoe, seemed to explain why he devoted more time to being a bozo than his peers:
I think what we don't realize as players is we're like leaves, and the NBA is a tree. And when the wind blows, some of us are out of there. At the end of the day, all of the leaves on the tree are gonna be gone, and there's gonna be new leaves. I'm just a leaf on a tree right now. We're just passing through, but in that time when you're passing through, get what you can out of your time here. What can you stamp on that tree that will make you special, you know? And some people's marks are bigger than others, but no one is bigger than the tree. No one's the tree.
Less-talented teammates tried making their marks in similarly bizarre fashion. Steinberg told me it seemed obvious that the attention he and all Wiz bloggers gave to Arenas and his weirdnesses impacted others on the roster. That only compounded the Wizards' bloggability, but that was about where the benefits ended.
"I think that just kind of paved the way for people like DeShawn Stevenson and Nick Young to act quirkier than they otherwise would have," Steinberg said. "Or be more obvious about it. Or more proud about it. They definitely helped Gilbert ramp up the weird."
As a result, the Wizards of the aughts became towering figures in the nascent basketblogger scene even as the team plateaued. The locker room competed to come up with the best content. Young boasted as much during a 2008 Q&A with fans on washingtonpost.com, when a questioner ID'd only as "Washington, D.C." asked him something that, on any other team or in any other era, would have caused offense. Young, however, took it in the spirit in which it was intended.
Washington, D.C.: Who is the biggest clown on the team?

Nick Young: I'd have to say it's a top 3 or top 5—I'd be up there at 1, then between DeShawn and Gil, probably Gil. Andray Blatche is up there. You could go with any of them four and get a good number 1 though. Oh yeah, and the new rook, JaVale, is kind of a jokester too.
Arenas bet DeShawn Stevenson he'd win a best-of-100 three-point shooting contest for $20,000 at a practice in 2007, then said he'd shoot with only one hand while Stevenson could use two; Arenas won anyway. Stevenson had a beard-growing contest. Nick Young polled readers to determine what his next hairstyle would be.
That all seems kind of studied now, but Andray Blatche may have been the most natural goof on the roster. His pro career almost never happened. He had applied for the 2005 NBA draft straight out of South Kent School, a Connecticut prep, and was chosen by the Wizards in the second round. Before he'd suited up for the team, Blatche got shot at dawn following a night of clubbing in Alexandria, Va. According to media reports, Blatche told police his assailant attempted to carjack him and his friends before shooting him. No arrest was ever made in the case. Crystal Nosal, public information officer for the Alexandria police department, told Deadspin that no police report from the Blatche shooting would be released, even via FOIA request. She did, however, say that the reports show that Peter John Ramos, a Wizards teammate, was in the car at the time of the shooting, and that officers recovered shell casings outside the car, which would support the version of events Blatche gave investigators shortly after the shooting. Blatche, she added, declined to assist in the investigation, and no arrests were ever made. Blatche's injuries kept him out of preseason training camp and half his rookie season.
He was not scared straight by the experience. While Blatche skipped college for the NBA, he was soon forced by court order to continue his education at something called "John School." This was after Blatche was picked up in 2007 for soliciting an undercover cop for sex at Thomas Circle, historically a hooker hangout in Northwest Washington. Judge Rafael Diaz of D.C. Superior Court compelled Blatche to attend a series of "lectures by police officers and prosecutors on the laws regarding prostitution, safe sex and the dangers associated with soliciting prostitutes." A year later, Blatche was arrested for reckless driving and driving on a suspended license—for the third time. He got giggled at in 2009 for hosting a season-ending party featuring rapper Trey Songz at a nightspot called Josephine UltraChic Lounge on the night before the season's last home game, and with another road contest in Boston still to go. The Wiz lost both post-party games, ending the year with just 19 wins. That was good for last place in the Eastern Conference by 13 games.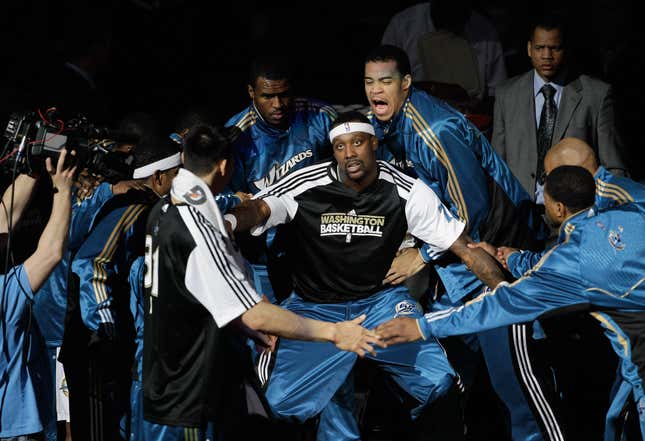 The team put out a press release before a March 2010 game against the Bobcats touting Blatche as a worthy recipient of the league's Most Improved Player award. In that same game, Blatche benched himself in protest of head coach Flip Saunders's criticizing his defensive effort; he refused at least three requests to get back on the floor. "In my fifteen years [of coaching], I've never seen anything like it," Saunders said. "I'm more disappointed in him that I've ever been with a player in my coaching career."

Despite all that, Blatche was announced in 2011 as the new Wizards captain, and swiftly reminded everybody of his flair for timing. In interviews after his first game as captain, Blatche showed his leadership skills by ripping Saunders for using him incorrectly. "Gimme the ball in the paint," he said. "That's where I'm most effective at. I've been saying that since training camp. I need the ball in the paint. I don't want to be the pick-and-pop guy I used to be because it's not working for me."
Washington Post columnist Jason Reid wrote that Blatche "is about as qualified to lead a team as he would be a space shuttle mission." Reid continued:
This season, the Wizards suspended Blatche one game for his involvement in an altercation outside an area club with teammate JaVale McGee, who also served a one-game suspension. And someone writing from Blatche's Twitter account challenged a person to a fight.
Blatche wore jersey number 32 for his first several goofball seasons, but before the 2009-2010 season he announced he'd be changing to 7. His explanation? "I'm wearing 7, and that means seven days [a week] of hard work, seven days of being focused. I'm all about business, and I've got a big opportunity I'm gonna take advantage of." By that March, however, Blatche was telling Saunders that he would rather not play at all than play defense the way Saunders wanted, and got suspended after he lent his name to a strip club promotion called Lap Dance Tuesday.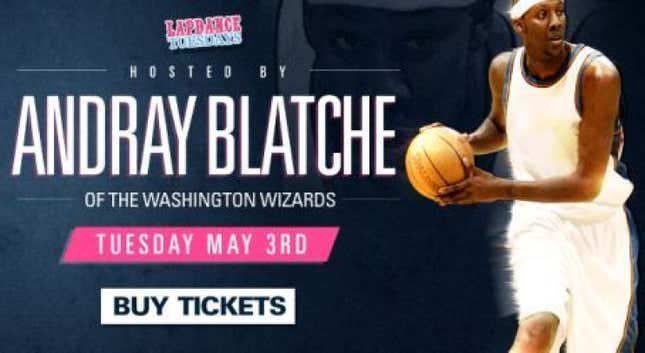 The most memorable on-court performance from Blatche that season was his desperate and ultimately unsuccessful attempt to get a triple-double. (Amazingly, JaVale McGee would make an ass of himself in identical fashion a season later.)
Then there was the poop. Mike Wise of the Washington Post reported in January 2010 that Arenas had once crapped in Blatche's shoes; Arenas later explained to Sports Illustrated that Blatche deserved it:
"I understand what people think because of the perception of me. They read the funny stuff, like me taking a crap in [teammate] Andray Blatche's shoes. But nobody is going to ask what Andray did to deserve it."
Nobody from the magazine asked Arenas to reveal Blatche's alleged offense, which left Kyle Weidie, a first-generation basketblogger focused on the Wizards, to ask the question in the team's locker room. Arenas explained that he dropped the sneaker doodie as part of a "prank war" unfolding in the locker room.
"I came in the locker room, and I guess at the time it was DeShawn Stevenson and Antonio Daniels," Arenas told Weidie. "I guess they cut [Blatche's] suit up, though I don't know what he did to them. But any prank that goes on in here, for some reason, I'm responsible. ... So when I get here, all my clothes in my locker are in the jacuzzi, chilling. So I asked 'what happened,' and someone said, 'Well, Andray threw all your stuff in the jacuzzi.' And I'm like, 'Why did Andray throw all [the] stuff in the jacuzzi,' and he's like 'Oh no, you cut my suit up.' And I was like 'I just got here.' 'Oh no, you have something to do with it,' [Blatche said]. So I was like 'All right, this is what we're starting now? OK, I got you. I'll see you tonight.'"

Blatche and McGee later got suspended by the team for fighting each other outside a D.C. nightspot. Even the team's non-knuckleheads went at each other—the politically astute sometime slam poet Etan Thomas was suspended for two games in 2007 for fighting occasionally capable center Brendan Haywood at practice—for the third time. "I'm 3-0," the normally boring Haywood told Steinberg after the third bout. "I'm the undisputed heavyweight champion of the Washington Wizards."
Carter told me about seeing Young, Blatche, and Dominic McGuire showing up to the locker room before a November 30, 2007 game in Philadelphia dressed in identical Dickies suits and Chuck Taylors. The trio then asked teammates to henceforth call them The F3, short for The Future 3, as a counterpart to the team's present Big 3 of Arenas, Caron Butler, and Antawn Jamison. Carter remembered the look on Jamison's face when the F3 walked into the locker room. "They were trying to look like some West Coast rappers," Carter said, "and Antawn's at his locker going, 'Are you kidding me? This is an NBA team?'"
Carter also recalled being in the locker room before a game in Miami when Blatche showed up late and, rather than even appear to be interested in getting ready to play, sat on a bench near Jamison and began digging into a pile of nachos. "You know you gotta guard Shaq tonight?" Jamison said with disgust.
"That [scene] encapsulated the good and bad of that era right there," Carter said. "One guy was the professional, the other was the goofball."
It wasn't quite as simple as that, though. Even Jamison showed signs of wanting a seat in the clown car. For example: Arenas was known to yell out "Hibachi!" after shooting a jumper; Steinberg in 2007 learned that Jamison had come to shout "Fiji!" whenever he made a shot, and had also written "Fiji" in magic marker on his game shoes. Why Fiji? "When you think of water, you think of my jump shot," Jamison told Steinberg.
"I think we made him a little weirder," Stevenson told Steinberg.
---
Arenas cashed in on the notoriety that Steinberg, Morris, Porter, and scads of other bloggers gave him. Though he'd contributed basically nothing on the court in 2007-2008 season, playing in only eight games because of injuries, Wizards owner Abe Pollin agreed to give him a six-year, $111 million contract in 2008. Arenas's standing with fans, based both on his past brilliance and ongoing blogfoolery, was surely a factor in Pollin's fiscal magnanimity. Arenas claimed at the time that he was offered a $127 million deal by the team, but asked to be given less money to leave more money for other players. "What can I do for my family with $127 million that I can't do with $111 million?" he told the Post.

Even at the reduced rate, that contract is now rated as one of the very worst in NBA history. Arenas' knee injuries kept him out for all but two games of the 2008-2009 season, and the team went 19-63, last in the Eastern Conference and second-worst in the league. Good teams sometimes have these sort of mini-disasters—think of the Spurs bottoming out and winding up with Tim Duncan—but the Wizards weren't that good or that lucky, and this disaster wasn't that miniature. In 2009-2010, everything officially went south.
The Clippers were awarded the first pick in the draft, while the Wizards dropped down to fifth; the three-slot fall was the worst possible outcome. General manager Ernie Grunfeld made a bad situation worse that offseason by squandering what was still a lottery pick in a trade to Minnesota for a pair of decent-ish olds in Randy Foye and Mike Miller, both of whom would subsequently leave Washington after one godawful season. The Clippers drafted Blake Griffin; the Wolves picked Ricky Rubio.
Yet hope was alive when the season began. In its preview issue for the 2009-2010 NBA season, Sports Illustrated had a league scout saying, "On paper, the Wizards look like a playoff team for sure," and in its overview the magazine pundits surmised that the team, coming off a 63-loss campaign, "could slingshot to 50 or more wins this season."
Instead, paper got shredded. The beginning of the end of the fun came early in the season, when Arenas publicly took a shot at teammate and non-clown Caron Butler after an early-season loss left the team with a 3-9 record. "For the most part we all get along," Arenas said. "There are, what 15 players on the team? Fourteen do." Abe Pollin died the next day.
As an owner, Pollin had some grand successes with his franchise, but they were all long ago. Back when the team Pollin owned was known as the Bullets, they went to the NBA Finals four times in the 1970s; at the time of his death only the Lakers' Jerry Buss and the Bulls' Jerry Reinsdorf had more finals appearances. But, again, those glories were in the distant past. Pollin's teams won one just playoff series in his final 28 seasons. "I think the last thing Abe Pollin got to read before dying was that his two star players didn't like each other," Michael Lee, who now writes for Yahoo Sports, once told me.
Arenas, upon learning of the owner's death, said Pollin was a father figure to him. "He wanted a championship before he died," Arenas told DC's NBC affiliate. "And as long as I'm here, that's what I'm going to be shooting for."
The shooting metaphors would become a little too real real quick for the Wizards and their star attraction. Arenas emptied out whatever was left in his goodwill tank by filling his locker at the Verizon Center with guns. The Post's initial report on the incident, written by Lee and published on Dec. 25, 2009, had the team issuing a statement admitting that Arenas brought guns to the workplace. But that announcement said the guns were not loaded, and pegged the action to the player's desire to keep his children safe.
"A person close to Arenas said that he brought the guns to Verizon Center to keep them away from his children," Lee wrote. "Arenas recently welcomed his third child, Hamiley Penny, on Dec. 9 and no longer wanted them in his home. His first daughter, Izela, turned 4 on Thursday."
To that point in his career, for all his knuckleheadedness and bullying—it's hard to come up with a better term for pooping in a rookie's shoes—Arenas was generally regarded as benevolent and harmless; perhaps the most devious behavior attributed to him came when fellow gamers accused him of cheating at Halo by creating dummy opponents. And even then, when Steinberg confronted Arenas with the evidence that he'd been padding his stats, Arenas amiably confessed.
But on New Year's Day 2010, Peter Vecsey of the New York Post reported that Arenas was carrying the weapons for reasons having nothing to do with keeping his kids safe. Instead, Vecsey wrote, the guns were indeed loaded, and Arenas had used them to threaten teammate Javaris Crittenton, with whom he was having a feud over gambling debts:
Guess they're still the Bullets at heart.

NBA all-star Gilbert Arenas and his Washington Wizards teammate Javaris Crittenton drew guns on each other in the team's locker room during a Christmas Eve dispute over a gambling debt, The Post has learned.

League sources say the pistol-packing point guards had heaters at the ready inside the Verizon Center, the Washington, DC, home of the Wizards—whose name was changed from the Bullets over gun-violence concerns.

It was the three-time all-star Arenas, 27, who went for his gun first, sources said, drawing on the 22-year-old Crittenton, who quickly brandished a firearm as well…The duel in DC—unprecedented in sports history—was sparked when Crittenton became enraged at the veteran guard for refusing to make good on a gambling debt, a source said. "I'm not your punk!" Crittenton shouted at Arenas, according to a league source close to the Wizards.That prompted Arenas to draw on Crittenton, who then also grabbed for a gun, league security sources said.
We now know that Vecsey got the date and some particulars of Arenas' misbehaviors wrong in his initial reports. But the gist of his scoop—that Arenas wasn't hauling around a cache of high-powered handguns because he was protecting his kids, and that instead he and Crittenton had indeed threatened each other with loaded guns—was on the money, and mind-blowing to Wizards fans. The more that came out, the worse things looked.
Here's how Caron Butler described the showdown in his 2015 book, Tuff Juice:

[Crittenton] pulled out his own gun, already loaded, cocked it, and pointed it at Gilbert. Other players who had been casually arriving, laughing and joking with each other, came to a sudden halt, their eyes bugging out. It took them only a few seconds to realize this was for real, a shootaround of a whole different nature. They all looked at each other and then they ran, the last man out locking the door behind him.
The weaponry at work story was huge, and cast an immediate pall over everything having to do with the team. When things were good with the team, D.J. Gallo had been contracted by Random House to write a book on the mid-aughts Wizards. He'd finished it and Amazon was already accepting pre-orders. Then news broke about Arenas and Crittenton going all OK Corral on each other in the locker room. "That was not a good day," Gallo said of learning of the Verizon Center gunplay.
Random House quickly and permanently canceled the book's release.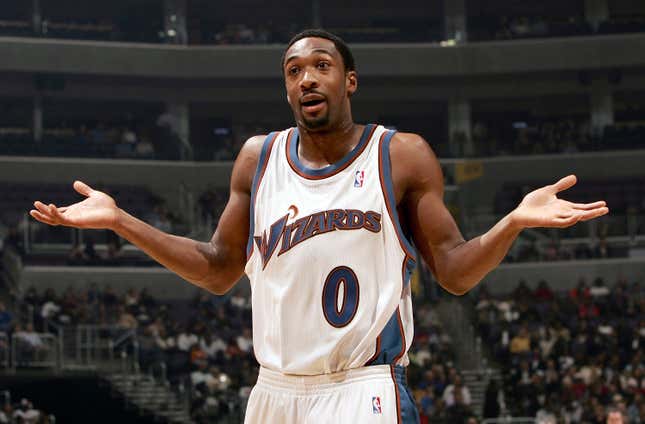 Pretty much everyone (save perhaps the Wizznutzz) seemed to be taking the matter more seriously than Arenas. He'd signed his contract, and could have afforded a team of crisis PR pros and legal experts to help him, but he showed no sign of being aware that his career and his freedom were in jeopardy. He called reporters to offer differing versions of what went down in the locker room. Then, before a game at Philadelphia on January 6, 2010, Arenas was seen pointing his fingers at his teammates in a huddle and mock shooting them.

He'd never attempt a more costly joke.
Photos of the finger guns episode went viral. The ensuing outcry forced David Stern, who had done nothing when the story first broke, to take action. "Although it is clear that the actions of Mr. Arenas will ultimately result in a substantial suspension, and perhaps worse, his ongoing conduct has led me to conclude that he is not currently fit to take the court in an NBA game," Stern's said in a statement. "Accordingly, I am suspending Mr. Arenas indefinitely, without pay, effective immediately pending the completion of the investigation by the NBA." (The incident, alas, inspired Wizznutzz to propose a "Finga Gunz for Peace" campaign.)
Arenas was eventually indicted on federal weapons charges. Investigators released text messages from Arenas to Wizards teammates showing that he had tried to sell the cops on a fabricated version of what happened, and enlist his co-workers in the coverup of what actually took place. Prosecutors told the court: "Throughout this incident, [Arenas] has provided conflicting, self-serving accounts regarding: why he brought the firearms to the Verizon Center; when he brought the firearms to the Verizon Center; whether Crittenton had a firearm; whether there was a confrontation with Crittenton; or whether Crittenton was even present. ... The defendant attempts to paint a picture that, from the very beginning, he has fully accepted responsibility, confessed the truth when first confronted, and has been a symbol of cooperation throughout his prosecution. In reality, it is quite the opposite."
By the time Arenas and his lawyers came up with a storyline he could stick to, his reputation among fans had gone from ebulliently childlike entertainer to felonious gunslinging liar. The guy who once famously "saved D.C." had no friends left in town.
Even Fred Bowen, who for years has written about sports for children in the Kids Post section of the Washington Post, wrote a column (no longer available on internet) counseling his young readers not to grow up like Gilbert. A sample of Bowen's brutality toward the onetime fan fave:

Guns are no joke. Little kids who don't know better may run around pointing their fingers or toy guns at each other, but Arenas isn't a little kid. For years, Arenas has been an exciting player who scores lots of points. But he has never been a player, such as Tim Duncan, Kevin Garnett or Dwyane Wade, who led a team to a championship. Those guys play hard on offense and defense and do everything they can to help make their team and teammates better. They are real pros, not goofballs.
Arenas pleaded guilty to the weapons counts. On March 26, 2010, he was sentenced to 30 days confinement in a halfway house, a fine of $5,000, and 400 hours of community service. Time spent at basketball clinics would not count toward completing the service sentence.
One day before that sentencing, Ted Leonsis' offer to buy the team was accepted by the Pollin estate. In 1999, Leonsis had secured the right of first refusal to buy the Wizards if Pollin's team were ever up for sale. Despite all the shenanigans that took place during the 2009-2010 season, Leonsis told me he never considered taking the "refusal" option when Pollin died. "My partners and I never once wavered from our intention to purchase the Wizards," Leonsis said.
Leonsis was unanimously approved by the NBA owners. The roster overhaul began in earnest even before he took over. A day after the Wiz finished the 2009-2010 season with a record of 26-56, Lee summed up the state of team in the Washington Post: "Antawn Jamison is now with an Eastern Conference power in Cleveland, Caron Butler is in Dallas with Brendan Haywood and DeShawn Stevenson, Gilbert Arenas is in a halfway house—and the team is headed to the draft lottery for the second year in a row."
This time around, they won the lottery and used the top pick on John Wall.
Arenas came back for the 2010-2011 season, this time wearing jersey number 9. Agent Zero was dead, and not just in the literal sense—Arenas was much less efficient and effective, and while he averaged 17.3 points and 5.6 assists over 21 games, he averaged out as a roughly replacement-level player. Washington swapped his tragicomic contract for Rashard Lewis' equally onerous one in December of 2010. Arenas was terrible down the stretch in Orlando, and the team waived him at year's end. He played 17 games for the Memphis Grizzlies in the 2011-2012 season and was even worse, and has been out of the league ever since. His basketball reputation was secure, and he knew it: In a 2012 interview, Arenas told Sports Illustrated that he'll be remembered as the guy who "single-handedly destroyed the Washington Wizards franchise."
This is not a happy ending by any means, although Arenas continued to collect on his salary even after he became a full-time Awful Instagram Person.
But the darkest postscript of the 2009-2010 Wizards involves Javaris Crittenton, who was implicated in the Aug. 19, 2011 murder of Jullian Jones, a 23-year-old mother of four who was killed in front of her Atlanta home when somebody drove by in an SUV and sprayed the property with an assault rifle described by police as "similar to an AK-47." According to the law enforcement officials, Crittenton was out to get revenge for an earlier robbery when Jones was killed, and he became the subject of a brief national manhunt after fleeing to Los Angeles after the shooting. He was nabbed by the FBI at LAX. Crittenton pleaded guilty to manslaughter in 2015 and was sentenced to 23 years in prison.
Long after the Wizards teams he covered went away, I asked Lee if the awful way things turned caused him to reflect about his coverage of the team in the seasons leading up to everything going to hell. "I don't know if I feel I helped 'create a monster,'" he said. "But maybe I was having too much fun enjoying the show, when I should have been really just examining the reasons for the show."
It's unlikely any team has ever been blown up faster than these Wizards. A total of 27 players wore the teal, black and gold Wizards uniform in 2009-2010, a franchise record and the biggest and busiest roster of any team in the league. Only Cartier Martin, signed to a 10-day contract late in the season and a guy who got his first name from the title of a made-for-TV David Hasselhoff movie that aired two weeks before his birth, lasted with the Wizards beyond 2012.
"We were not pleased with the team we inherited," Leonsis said when asked if he had any regrets about those teams. "Our goal was to dismantle it and move forward with a new era of Wizards basketball."
The players scattered across the basketball universe. Caron Butler, DeShawn Stevenson, and Brendan Haywood all won championship rings as members of the 2010-11 Dallas Mavericks and then disappeared in due course. Mike Miller won two with the Heat and hung on longer than even modern medicine can explain. Juan Dixon is now the head coach at Coppin State, Antonio Daniels calls Thunder games on Fox Sports Oklahoma, and Etan Thomas has a podcast. The only players from the 2009-2010 squad still in the NBA—the last leaves from the tree whose roots grew out of Arenas' weirdness—are McGee, Nick Young, and Shaun Livingston, which means that the surviving Wizards diaspora is somehow all together again with the defending NBA champion Golden State Warriors.
Blatche was the last of the top-shelf knuckleheads shown the door. The team used the then-new "amnesty" clause in the NBA's collective bargaining agreement, which allowed the squad to just take a player off the books and not count against the cap while paying off his contract. Basically, the Wizards gave him $23 million just to get him out of town.
The Post's Lee wrote that ridding the team of Blatche at such a heavy price was "a move that will solidify the Wizards' desires to completely separate from an embarrassing period in franchise history."
Blatche wasn't ready to let go of the game, though. He signed on with the Brooklyn Nets and made one last fresh start. He changed his jersey number again, this time to zero.