There are plenty of lists out there compiling the year's best sportswriting—try this one if you're looking for some good holiday-weekend reading—and that's as it should be, because there is a lot of great sportswriting out there, possibly more than ever. You won't find any of it here, though. Instead, we celebrate the worst sportswriting of the year: The purple prose, the writers too clever by half, the overuse of the majestic plural. This is what brought the Deadspin staff the most joy in 2016.
Murray Chass, and/or his grandson, is (are?) definitely not mad online about the Baseball Hall of Fame or ESPN writer/digital dandy Dan Szymborski:

My grandson scans the Internet much more than I do. He knows a lot more than I do, especially about web sites and digital dandies. When I asked him if he knew who Dan Szymborski was, he filled me in. Dan Szymborski, he informed me, though he didn't use the term – I have made it up and applied it to Dan Szymborski – is a digital dandy.

Dan Szymborski has written for ESPN.com, which used to have more class than to have Dan Szymborski write for its web site. Dan Szymborski, my grandson further told me, came up with some cockamamie (again, my word) mathematical formula – yeah, one of those – by which he concocts player performance projections.
What to do to when you have a standard-issue bad Hall of Fame take in need of a bit of spice? Co-opt the language of Pepe the Frog enthusiasts:
Barry Bonds and Roger Clemens will not get in. But don't worry about them — they've got the No Justice/No Peace wing of the Baseball Writers Association of America fighting for them.

In a movement that may soon have the hashtag #steroidnumbersmatter, a number of voters publicly have admitted to voting for the two greatest heroes of the Cheated Generation — perhaps more than in past ballots.
G/O Media may get a commission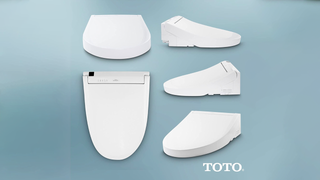 44% off
Toto Washlet Electronic Bidet Toilet Seat
This column about the firing of doofus NBA coach David Blatt is so intense—it calls things fascist a dozen times—that we're conferring honorary American citizenship on it.
Blatt fascistically represents the Jewish-Israeli longing for respect from the world. Every one of his fans has also lost his status as a distinct individual. The total devotion to Blatt is a direct and logical necessity stemming from their Jewish-Israeli identity, not from some personal decision-making process. Blatt became a fascist symbol in a Jewish-Israeli society that's undergoing a daily process of fascisization. When it comes to Blatt, Jewish Israelis have lost their free choice and free will. They are obligated to support him, regardless of whether basketball even interests them.
Cam Newton and the Carolina Panthers lost in the Super Bowl. The following day was Takemas.
Chris Chase, a strong contender for the title of worst writer on the internet, wrote an entire article on the concept of "swag."
Without that swag, Newton was simply average — a 17-1 quarterback playing like a backup. If he had had a chance to do his trademark celebration, there wouldn't have been an S on his chest, but Clark Kent's tie and glasses instead.
Phil Mushnick pulled out his trusty dog whistle.
Guess it was too much for Cam Newton to remove that black cap thingee he was wearing during the national anthem. But he's just another who demands respect with little in return. Surprised he didn't exploit the anthem to display his Gatorade money towel.
And Ty Duffy gave us a take about the takes ... and what they say about us.
The simple reason is that many people aren't watching the games, even those who are "watching." Humans don't multi-task well. If someone is using a "second screen," he/she is on the second screen. The game itself has less currency. It's no coincidence sports leagues and broadcasters had such an active interest in promoting daily fantasy.
In the aftermath of the Bynum trade—in hindsight one of the worst deals in NBA history—the Sixers were left depleted of talent, resources, and cap flexibility and in desperate need of a way to dig themselves out of a deep hole.

Enter our cult's messiah, Sam Hinkie, hired by the team's fledgling ownership group in May of 2013 to serve as president and general manager.
Trust The Process acolytes always tell on themselves. The Andrew Bynum trade, which was reasonable at the time it was made, is presented here as something the 76ers needed to be saved from. But when The Process—a series of bad outcomes based upon a set of unproven assumptions about how game theory-humping will translate into a complex sport—is criticized, the response is invariably some version of "The thing to do is make good decisions based upon the information available to you, whether or not they work out." Why is that? Good question!
Here's a guy who doesn't even understand what he just wrote.
In the end, the Panthers forgot to set the parking brake on a win that was a lead-pipe lock. They turned it over four times in the final minute — all of them pretty much unforced errors. Apparently, one of those win projection sites gave the Panthers a better than 99 percent chance to win with a minute left.

Except the Einsteins who dreamt up that whole concept forgot there was an actual game left to play by actual humans.
This bit of scoffing at the idea that the Panthers had a near lock on the game done with, Dodd goes on to explain about how this was "the biggest collapse in college basketball history" and that "everything had to go wrong — a 1,000 little things."
Remember when notorious poor sport and Duke coach Mick Krizilonski lectured a player who had just beaten him, and then lied about it? Somehow, as only Phil Mushnick can, he turns it around into an indictment of Cam Newton:
Carolina Panthers coach Ron Rivera made it repetitively clear, last season, that he doesn't at all mind his highly successful team frequently engages in conspicuous, excessive showboating, especially the grossly immodest "I'm Superman" pantomimes performed by QB Cam Newton.

But after Carolina's Super Bowl loss, Newton, appearing before the media, hid beneath a hoodie and acted like a petulant and spoiled brat.
Jen Engel—who once compared Johnny Manziel to Rosa Parks, and is honest-to-God probably the worst sports columnist in America—thinks that guns are the same thing as drugs, which is why gun laws won't work and shouldn't be tried.
Drugs are illegal, and guess what? They are everywhere, available to anybody desperate enough or rich enough to break the law to obtain them. And so it will be with guns.
She also knows about traditions "from The African American community."
This is a tradition from The African American community, and I was intrigued by the very thought of a band playing happy tunes as we walked and looked back at happier times from Smith's life with joy. What a way to say goodbye, yet whenever I told anyone of my plans all I heard back was "be careful."
A bold take.
Let's start with the truth. The 3-point shot was created for people who couldn't play basketball. It was made for people who couldn't grow tall enough, dribble well enough, drive hard enough or move fast enough.
One would think that if one were going to castigate a coach, one would want to address his actual results. One would be wrong.
In Klinsmann's defense, the results at major tournaments have not been catastrophic. On the contrary, getting to the second round at the World Cup feels like a par score or slightly above it for a country of the US's footballing talents. But results are not the issue.
One would, though, want to address his clothes.
Even his choice of clothing suggests he's become a little too comfortable. At most games these days Klinsmann turns out in beige cargo pants and a dinky little navy blue US Soccer polo shirt. (As a dress code, what would we call that, exactly – "sports casual"? "Athletic cocktail"? "Haute Gap"?) Neither properly suited nor truly tracksuited, Klinsmann inhabits an uncomfortable sartorial middle ground, unconsciously mirroring the interstitial mediocrity of his charges on the field of play. The manager in beige produces a team that plays beige; perhaps we shouldn't be surprised.
"If you think about it," this column proposes, "Brock Turner is the real victim."
Nobody should be confused about the severity of this case for him. For the rest of his life, Turner will have to register as a convicted sex offender. That effectively closes many career avenues. It's a permanent blight.
"Further," it proposes, "despite his felony convictions, he wasn't the real culprit."
You don't have to buy Turner's story that he so was drunk himself that he did not realize she had passed out. But it's hard to review this case without concluding that it has roots in a culture of campus drinking, the unindicted co-conspirator here.
An old white guy doesn't like athletes preening and swaggering. Hide your surprise.
That was not the case when he burst into the national consciousness in the early '60s, however. A lot of us, accustomed to modest athletes who let the fans do the cheering, were appalled at the self-indulgent bombast.
What's more self-indulgent than going to jail in protest of the Vietnam War, really?
He is praised for taking a principled stand, and there's little doubt about that. He was opposing the war, not trying to avoid going to battle: What he avoided was a cushy two-year hitch of publicity appearances and exhibition matches; no way was Muhammad Ali ever going to be handed an M-16 and sent into the Vietnam jungle.

But I'll let others applaud him for sacrificing those years of his career in an antiwar protest.
The Times Magazine wrote a big story about the Warriors and Silicon Valley this year, which was fine and mostly notable for owner Joe Lacob saying dumb things. Oddly, it seemed to have encouraged the paper of record to think it owns the Warriors and Silicon Valley angle, so when Kevin Durant signed with Golden State, Sam Dolnick attempted to ascribe meaning to it as a metaphor for a growing Silicon Valley, or something.
It's tempting to call Durant's move part of our long national migration west, dating back to the Gold Rush. (Through that lens, it's fitting that the team is named not after an actual city but a honeyed oasis called "Golden State.") After all, where was the miserable address Tom Joad left behind? Oklahoma, same as Durant.
Hold on, you're thinking, this must not refer to the two parties I think it's referring to, right? There is no way that this columnist is saying that the woman who accused Jameis Winston of raping her did something wrong, right?
What I really wanted to say was, "He's a cad and she's a vamp," or phrases to that effect.

I didn't say it because modern society dictates that we are not supposed to pass such judgments. It's only sex, and even a U.S. president can enjoy it in the oval office with another woman, and anyone bothered by that is deemed a Bible-thumper or a political hack.

(I realize the sex in question might not even have been sex. It all depends on what the meaning of the word "is" is.)
There you go.
Kathleen Baker suffers from Crohn's disease, as does Joe Posnanski's daughter. This certainly could've made for an empathetic column, especially in the hands of a gifted writer like Posnanski; instead it made Posnanski ignore what she actually said and make things up.
When I asked Baker why she swam her three fastest times here in Rio, she gave me that answer about concentrating on one event and fine tuning, and that's undoubtedly true. But I think there's something else too. Four weeks ago, Baker went public about her Crohn's disease in The New York Times. It was a bold step for a 19-year-old kid about to go to the Olympics; believe me when I tell you that people with Crohn's don't like talking about it.

"I prayed on it a lot," she says.

Maybe it's the sportswriter in me, but I think that's why she swam her best times.
While the national anthem was playing at the Olympics, gymnast Gabby Douglas stood, and didn't do anything that millions of other people don't do when hearing their national anthem. Amateur body-language experts at newspapers across the country, though, were on the case.
Even during moments when she showed a smile, her body language was disconnected. The difference in aura with the other American gymnasts was palpable. [...]

If Douglas was truly overcome with emotion as she claimed, that would have been visible, yet her expression was blank and distant. [...]

Somebody should have reminded Douglas that with that free speech comes the risk of having that free speech criticized if it doesn't have a clear and thoughtful purpose.
She was just standing.
Who's we?
Most of us are liars, too. Most of us do it every day. We either tell outright lies or exaggerate a situation or stretch the truth. It's become the American way.

Like Lochte, we lie to cover up mistakes or to make up for something we said or did that offended someone or didn't go over so well. We distort the truth by supporting or sharing someone else's lie. And then we lie about the lie.
What evidence does Forbes have that NFL TV ratings are down because of Kaepernick-inspired national anthem protests, and this threatens the NFL's next TV deal, which won't be negotiated for another five years? Another Forbes article, an article on Hot Air, and some comment sections.
But the reason I think ratings could remain low if the protests continue through much of the league are the comments I have been reading on the aforementioned articles, as well as others (take a look for yourself).
ESPN sent Chris Jones to cover the World Cup of Hockey.
America, like hockey, works best when it occupies that great gulf between everything and nothing, between love it or leave it. It can be a messy and complicated place to be, full of compromise and the fog of debate. Extremes are attractive because they are easier. Rules don't just tell us how to behave, but they also tell us how others will.
He described his understanding of why hockey is or is not popular.
The things that make hockey beautiful are the same things that limit its popular appeal. It's almost too exotic for its own good. It requires ice, and not a little bit: great big sheets of it, clean and flawless. The ice means that hockey also requires skating. Like mastering a language, learning to skate rewards early adoption. Most of us can run, so we can come to understand and even play a lot of sports that we didn't grow up playing. We have already met their first demand. Hockey has a higher barrier to entry. If you can't skate, you can't play.
Chris Jones loves to offer young writers on Twitter unsolicited advice.
This may be the greatest "to be sure" paragraph in history:
Sure there have been problems along the road: the Mi Lai massacre; assassinations, including Martin Luther King; but the overall mission of the United States has been as a purveyor of decency and freedom.
Good prediction, Drew.
Trump is basically counting on voters to come out for him based on the sheer force of his personality, which is utterly repellent. Early voting already indicates that he's fucked. Sure, he has a "path" to victory, if he wins a handful of states he has little chance of winning, slays a dragon, walks across a tightrope while balancing a baseball bat in his tiny palm, and recites the alphabet backwards and in Greek. It's not akin to missing a chip shot field goal, or an underdog winning the World Series, or any other dumb sports analogy.
Coaches and administrators being paid millions while exploiting "student-athletes"? Gross recruiting battles for teenagers? Players being forced to sit out a year after transferring? Repeated, systemic cover-ups of horrific crimes to protect winning? No! Unhappy players transferring:
"Epidemic" is no longer a strong enough word when discussing the amount of transfers we're seeing among players. It's so much worse. "Plague" is better. The enabling and entitlement have reached unprecedented heights (lows?).
Though it's not from Mike Florio himself, you could've convinced me otherwise. This is a PFT lede for the ages:
One of the benefits of the NFL's gimmicky color rush uniforms is that they make everything stand out in stark relief.

Last night, mutual respect and human compassion came with the package.
The stunning crescendo to a year spent treating allegations of sexual assault as an obstacle for heroic athletes to overcome.
While sexual assault accusations rarely stick to superstar athletes in courts of law, they can stick in the court of public opinion. In this case, Kane ran the image recovery play perfectly. He abandoned social media for eight months after the allegations surfaced in Buffalo, generally avoided media attention and was absent from ads. And he topped it off by turning in the best season of his career, winning the Hart Memorial Trophy as the NHL's most valuable player.
This is concern-trolling of the highest order and, in all, art. Sometimes you get What's happening with those millennials and our society is a damn disgrace ...
But it's undeniable that society has increasingly leaned in the direction of celebrating the look-at-me, self-indulgent personality.
... and some times you get a lukewarm take that isn't even a take ...
If the Warriors can do it without obvious car-chase spectacles—or ambulance-chasing disgraces that profit from an opponent's misery—then by all means they should go for it.
... but rarely do you get both at the same time.

---
As usual, some of the absolute worst writing of the year was so bad that we couldn't wait until year's end to write about it:
Fox Sports Staff, Fox Sports | Royals Are One Of The Worst AL Teams To Win World Series Since 2000
Bill Shanks, Macon Telegraph | Atlanta Braves Should Bring Back Chief Noc-A-Homa And The Teepee
---
This was a year. 2017 will be another one.