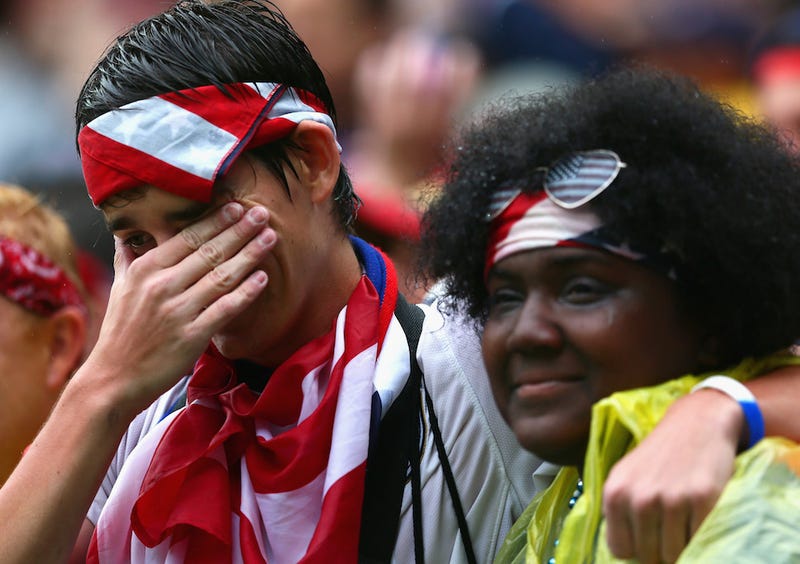 I have a problem with this "I Believe" chant that's sweeping the nation. It sounds great, sure, and it provides the backdrop for badass hype videos, but I have never been able to sing along.
That's because, deep down, I don't really believe the U.S. will win. Through three matches, I've pretty accurately believed our Yanks should, could and wouldn't emerge victorious, and now, after watching a hellacious start to the Round of 16, this is the song in my head: "I believe that we could win, but instead, we will lose in an excruciatingly painful manner."
I mean did you see what happened to those poor Chileans, Mexicans, Greeks and Algerians?! The World Cup isn't about moments of greatness or a celebration of the sport—it's about taking 31 nations and mercilessly toying with their emotions before inevitably crushing them to bits.
And, since I firmly believe the U.S. will be one of those 31 shattered countries, all that's left is to fret over how horrible that loss will feel. It may come today against Belgium, or maybe even a round or two from now. But it will happen.
Here are some of the worst options that have been keeping me up at night:
The Smackdown
Ex. Spain vs. Netherlands, Portugal vs. Germany
The most embarrassing option, this is where your team just doesn't show up. You get thoroughly destroyed and spend the next few weeks wondering how and why it happened, and the game is decided so early that you don't even get the basic entertainment value that the match is supposed to provide.
It's a complete waste of your time, but on the plus side, there's no back-and-forth with your nerves. Just a methodical, helpless death.
Bummer Rating: 1 out of 5 Sad Landons
Orange Slices
Ex. Algeria vs. Germany
Alternately known as "Good Job, Good Effort," this is where your team does show up, plays a great match and proves they belong. They do a bunch of cliché things like "asking questions of the defense" and "enjoying their football," but in the end, the more talented team wins out, and it isn't yours.
It's not a terribly, terrible way to lose, and you do get to come away with a moral victory that earns respect for the country. That's nice, and it would certainly be a boost to America's international soccer profile to give this much-hyped Belgium squad a thorough run for its money, but the problem here is that you'll never quite shake the haunting feeling that it should have been your day.
Bummer Rating: 2 out of 5 Sad Landons
La Tarjeta Roja
Ex. Cameroon vs. Croatia
The dreaded red card. This should be the worst fear of any fan. Not only does it almost completely screw your team—as it did when Cameroon's Alex Song was sent off in the 40th minute to help turn a 1-0 game into a 4-0 rout against Croatia—but it makes the sport pretty unwatchable. Unless you are playing Greece, going down a man with any significant amount of time left means you're pretty much done.
This category has some blurred lines with the "Smackdown," as Portugal's Pepe demonstrated against Germany, but the worst part of this kind of loss is that the rest of your team can play great, but all it takes is one boneheaded moment to wreck everything.
Bummer Rating: 2 out of 5 Sad Landons
Dos a Uno
Ex. Mexico vs. the Netherlands
My favorite kind of win in soccer is a 2-1 finish. You give up a goal early, then enjoy the intense relief of an equalizer and the unbridled joy of the winner. Conversely, this is my least favorite kind of loss, and Mexico experienced one of the worst variants on Sunday.
With a 1-0 lead in the dying moments against the Netherlands, the Mexicans were finally about to dance their way into the quarterfinals. Then, a ruthless Wesley Sneijder finish and Arjen Robben's bungee jump to the turf changed all that, and Mexico went from ecstasy to devastation in the span of six minutes.
Any kind of blown lead is among the worst ways to lose, and doing it late like Mexico is just crushing. Bonus points for the shaky penalty call.
Bummer Rating: 3 out of 5 Sad Landons
The Gordon Bombay
Ex. Chile vs. Brazil
You know what I'm talking about.
And now, so does the entire nation of Chile, after watching their team strike the crossbar in the final minutes of extra time and then the post on the deciding penalty kick to lose to Brazil. Watching Gonzalo Jara after his penalty hit the inside of the bar and rocketed across the face of the goal, you were looking at the shell of what was once a human being. We exaggerate the importance of sports quite often, but in that moment, I'm comfortable saying that Jara felt about as awful as anyone on Earth for at least a few seconds.
Can you imagine what it would feel like if the U.S. went out like that? I'd be sending Graham Zusi therapy bills for the next 20 years. Losing in penalties alone is awful enough, but off the post on the final kick? God it had to suck to be Chilean on Saturday.
And, remember folks, it doesn't just have to be the post that terrorizes your dreams for years—Michael Bradley's how-did-he-not-score shot against Portugal counts in this category after striking a defender in front of an open net.
Only bright side with this type of loss is that you get to punch a little kid in the face when he tries to tell you, "Yeah, but a quarter inch the other way and you'd have missed completely."
Bummer Rating: 4 out of 5 Sad Landons
The Buzzer-Beater
Ex. U.S. vs. Portugal (sort of)
There is no buzzer in soccer, but since "Giant, Silent Hublot Watch Whose Time May Or May Not Matter-Beater" doesn't fit in a headline, we'll stick with a universal name for what is unquestionably the worst way to lose.
While Portugal's last-gasp goal in the group stage only handed the U.S. a draw, it certainly felt like a loss. The second the ball hit the net, I was on my way out the door of the pub into a drizzling rain, mumbling "We had it" for two blocks and pretending I hadn't seen what just happened. (I went back and paid my tab because I'm a good guy, and also because they had my credit card.)
That goal left me with this unshakable emotion that vacillated between an incredulous, frustrated rage and deep, deep sadness. It lingered for days in the pit of my stomach, not truly leaving until after the Germany match. I will forever live in fear of that feeling.
Bummer Rating: 5 out of 5 Sad Landons
Nightmare Scenario
Ex. Hopefully never, to anyone, ever. But almost definitely will happen to the U.S. today.
And now for the sequence of events that is scaring the bejeezus out of me—a mash-up with elements of all of the above. It is the match from hell, and all involved should be charged with psychological terrorism and shuttled off to Guantanamo Bay immediately.
The match starts with promise, with the Americans looking more like they did against Portugal than Germany or Ghana. Clint Dempsey sits across the table from the Belgian defense and asks them pointed but polite questions for 15 minutes, then handcuffs them and begins an interrogation that evolves to a formal inquest.

But shot after shot is turned away. Thibaut Courtois makes miraculous saves, balls are cleared off the line, and Jermaine Jones causes the second-biggest officiating controversy of the tournament when his rocket 30-yard shot caroms off the underside of the crossbar, is erroneously signaled a goal by a linesman and then waved off after confirmation from the new goal-line system to have been half an inch shy.

Then, in the 75th minute, the breakthrough comes via Bradley, who redeems himself and then some by banging home a rebound. It's an emotional release for Bradley, and America shares in his glory. But the celebration is cut short a few seconds later, when Jones is involved in the biggest officiating controversy of the tournament, being sent off after the referee inexplicably interprets part of his celebration as an offensive gesture. Thirty-nine years later, in its first-ever admission of wrongdoing, FIFA will apologize for this decision.

Down a man, the U.S. defends resolutely for 20 minutes until, 6:19 into the five minutes of stoppage time, a Geoff Cameron clearance strikes a teammate and rebounds over Tim Howard into the goal. In extra time, a Dempsey strike again sends the nation into complete pandemonium, but it's only temporary as Romelu Lukaku subs on and hits a 50-yard strike in injury time of the second extra time period.

In penalties, Howard stops the first two Belgium shots while the Americans nail theirs. It looks to be over, but then two U.S. shots hit the post and miss, and two Belgian shots hit the same post but bounce off a diving, faultless Howard into the net. Zusi then sends his off the crossbar, and on the last penalty, Eden Hazard slips, falls and taps the ball toward the right corner. Howard dives the other way, and a nation watches helplessly as it is extinguished from the World Cup at two miles per hour.
The most important aspect of any excruciating loss is that it leaves you with multiple what-ifs to haunt your memory, swings of emotion, late drama, and controversial decisions that directly impact the outcome.
This nightmare scenario captures all of that, making it the truest "I Believe" credo for World Cup Debbie Downers like myself.
May you never experience it.
---
Screamer is Deadspin's soccer site. We're @ScreamerDS on Twitter. We'll be partnering with our friends at Howler Magazine throughout the World Cup. Follow them on Twitter,@whatahowler.
Mike McCall is a Web editor at Howler. Follow him on Twitter, @MikeMcCall.
Photo Credit: Getty