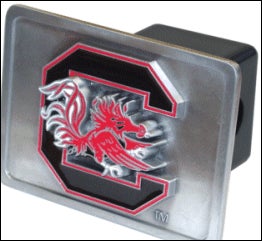 I really wish Demetrius M. Pepper was either less devoted to his brother, or better at stealing cars. Pepper shot and killed a 60-year-old woman, and shot a store clerk, in the process of stealing their cars so he could get to South Carolina's spring game and watch his brother Nathan, a junior Gamecock defensive end, play football.
He shot the clerk first (Ralph Macchio and Mitchell Whitfield were blamed for the crime, until Joe Pesci got them off the hook), and took the guy's car. Being a convenience store clerk, however, the guy didn't have such a nice car, and it broke down. So Pepper then broke into the home of a 60-year-old woman, shot and killed her, and took her car... which, by the way, was just sitting in the yard with the keys in it.
Ugh. I was kind of hoping this was a sick April Fool's Joke, but if it is, every news media outlet in the world is in on it. Unfortunately, there is someone in the world that twisted, he did do this to innocent people, and he does deserve to spend some time being prison-raped by Rae Carruth. Hopefully, someone in the joint will teach him how to steal a car... if you need to kill someone to do it, then you suck at stealing cars. Hotwiring has become such a lost art.
Condolences to all involved. I can't imagine what the guy's brother is thinking right now.
Sheriff: Man Shot 2 on Way to S.C. Game [ABC News]