The Mighty MJD's Smorgasbord runs every Monday. Do enjoy.
• I'm sitting at the bar, alone for the early games. It's just me and a guy who has never tended bar before in his life. Muff Stubble Girl walks by and I do an active search for downstairs stubble. None is found. She is a master with the razor.


• Most people I know are Steelers fans, except for Danks, who likes the Patriots ... so none of them have spoken to each other for a few days. I'm left in the middle, hearing bullshit from both sides. Danks gets it started early with a text asking if Troy Polamalu's playing today, or if he's still out with a yeast infection.
• Brian Westbrook takes a screen pass from Donovan McNabb, and the Giants line a path to the endzone for him like altar boys making a path for a Priest to ... well, another altar boy. Antonio Pierce shoved a guy out of bounds and stood there, as if that was the objective of the play. Not effective in this particular game, but he'd be a valuable contributor in the Conquer portion of Breakthrough and Conquer.
• There is absolutely no limit to how much I'd make fun of Shawne Merriman if he played for any other team. As long as he's a Charger, though, as far as I'm concerned, he's a paragon of everything that's good in this world.
• Antonio Cromartie with the interception ... he has an uncanny knack of intercepting balls and not really having to work for it. He's made some nice plays on picks, but for the most part, he just appears to have a knack for getting guys to throw footballs at him.
G/O Media may get a commission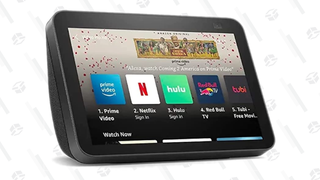 • TJ Duckett gets loose on a 32-yard touchdown run. If he was a better player, I'd start a blog devoted entirely to TJ Duckett limericks.
• 3rd down for the Chargers ... and someone really ought to tell Philip Rivers that the fadeaway is something that's done commonly in the NBA, not by NFL quarterbacks. I can't even count the number of times this year he's been throwing while falling backwards — not even under pressure, mind you — and just sailing a rainbow over someone's head.
• Delay of game on the Chargers, though. Second chance for Philip ... he drops back, and does the same fucking thing. Some equipment manager catches it.
• DeMarcus Ware has Jon Kitna in his sights and here comes a case of, "15 yards to kill Jon Kitna? SOLD!" Ware, well after Kitna's thrown the ball, picks Kitna up and just plants him into the turf, Magnum T.A. style.
• Again, I'm at the bar, which means I have my back to the majority of the room ... so when I hear people yelling, naturally, I turn around and look to see what's happening. Every time, though, it's fucking Bills fans getting loud because they made a play against Miami, as if Miami was a real NFL team. Maybe it's different if you're a Bills fan, I don't know ... but I can't imagine any circumstances where I'd ever actually yell in glee because my team did something against the Dolphins, who are almost certainly going 0-16.
• Here's something I didn't know about today ... the Bucs can clinch a division title with a win. That's a testament to two things ... 1) Jon Gruden is a pretty damn good coach, and 2) there are portions of the NFL playing some very, very, shitty football.
• By the way, the hype about Albert Haynesworth is no joke. He's making an impact on nearly every play, against the run and against the pass. He changes games as much as anyone I've seen in the NFL this year, offensively or defensively.
• Uh-oh ... Philip Rivers comes up limping after a play in the second quarter.
• You know, I have no idea why I said "uh-oh" there. Billy Volek can't possibly be worse than Rivers. I'd describe my mood right now as "internally celebratory." Let's make it happen, Billy Volek.
• Billy Volek is not making it happen. Unless by "it," you mean, "interceptions on screen passes." Fuck.
• Oh dear ... Muff Stubble Girl's mother is here. Any potentially hairy parts of her body are covered, so I can't draw any comparisons there, but I can tell you this ... Mrs. Muff Stubble Woman is fine. This is a genetically superior family.
• Rookie Chargers wide receiver Buster Davis is returning punts this week ... which is a welcome development since he doesn't appear to be much of a receiver. Anyway, I have a new tradition, where anytime Buster makes a play, I say, "Hey, brother." No one else at the table has a clue what I'm talking about.
• Here's what Levitra's commercials have done to me: A commercial for the EOS Rebel camera comes on, and opens with a shot of a kid throwing a football through a football through a tire, and I immediately wonder, "Why can't this kid get a boner?"
• You know, I was rooting for Floyd Mayweather last night, but I'll be damned if "There's only oooooooooooone Ricky Hatton!" didn't get stuck in my head, and it's yet to leave. I just want to sing it all day. I wish I were an alcoholic Brit.
• Philip Rivers is warming up, and it appears that he'll be back after halftime. Awesome. I was worried we wouldn't be able to keep up that 2.3-yards-per-play average.
• Here Philip comes, here comes a big limp rainbow of a pass, and it's an interception. Fuck me with a hacksaw. This feels so much like watching the Ryan Leaf/Craig Whelihan/Jim Harbaugh era ... Now, I'm thinking, "If we were getting anything from the quarterback position, we could be good." Back then, it was, "If we were getting anything from the quarterback position, we could be almost competitive."
• And that's followed by a Titans touchdown by ... I don't know, some asshole, and we trail 17-3. The Chargers defense has played quite well ... if I'm not mistaken, at least 10 of those points have come on turnovers.
• The Juice shows up, looks at the score of the Chargers game and says, "Ouch. I'm sorry, man." I say, "Nah, it's alright. We're still going to make the playoffs and get the fuck beat out of us in the first round, so it's cool." This is what I believe, and I don't think much can happen to change that.
• Plaxico Burress catches a ball deep over the middle for the Giants (he's as good a wide receiver as exists in the league that isn't named Moss or Owens), and then just starts looking for contact ... but not in the good way. He's running with the approximate speed of Donald Sutherland, his head on a swivel, looking for someone in an Eagles uniform ... I honestly believe that he's looking around to make sure he can get to the ground before an Eagle gets close enough to actually hit him.
• As the previously-mentioned Titans asshole crossed the goal line, I, for some reason, shouted, "FUCK HIS MOUTH." Says The Greek, "That'd be hard to do." I dunno. I guess it depends on your length and the style of facemask being worn. For example ... Scott Player, no problem. Something like this is going to be more challenging, though. You have to know your angles. Just something to keep in mind.
• Late in the Detroit/Dallas game, Shaun McDonald's picked up a couple of consecutive first downs. First, I'm shocked that the Lions are still leading this late in the game ... I had them chalked up as losers. Secondly, how bad of a sign is it for Calvin Johnson that Roy Williams is out, and he's still not having a big impact?
• Down by 7, Philip Rivers is going to have a 1st and 10 at his own 20 with 2:24 to play. I BELIEVE, PHILIP.
• Ill Phil goes twice to Chris Chambers for big chunks of yardage, and we're suddenly inside the Titans 30. I don't know where it's come from, but Rivers is suddenly again a capable quarterback. Color me baffled ... and there is no longer a need to fuck me with a hacksaw.
• To briefly interrupt the Grand Philip Rivers Display of Masculinity, here comes David Akers to attempt a 57-yarder to send the Giants/Eagles game into overtime ... doink. Post. Solid. No Phil Dawson bounce. The Giants are almost certainly making the playoffs now.
• Phil drops back from the 2-yard line, and holy thunder, he's made it happen. Philip Rivers has made it happen. This might be the most stark in-game turnaround I've ever seen. THERE'S ONLY OOOOOOOOOOONE PHILIP RIVERS. Overtime is coming.
• The clock reads 4:18 Eastern Time ... and the Steelers/Patriots game is not yet on any of the nine televisions in the room. It's three minutes, and I hate to be the guy who always complains, but ... I mean, this is a sports bar, right? If I go to a bowling alley, I expect 10 pins in the line. Nine is close, yes, but ... if that's your business, it's not good enough. TV guy, whenever the hell he gets back down here, is in serious danger of being pelted in the head by The Greek with salt and pepper shakers.
• 3rd and 4, big play for Philip and the Chargers ... at this point, given the magical new Philip Rivers, it feels like a gimme. Antonio Gates, first down. THERE'S ONLY OOOOOOOOOOONE PHILIP RIVERS.
• LaDainian Tomlinson takes a handoff in overtime, and he's just going to house that motherfucker. Incredible.
• Meanwhile, the Steelers have put together an 81⁄2 minute drive in the first quarter against the Patriots ... they don't get 7, but they do get 3, and they did keep the ball for a long, long, time. So far, so good.
• At least until the Patriots answer with a touchdown on the very next drive. Randy Moss with the 6 ... and afterwards, Tom Brady runs down to the endzone to get in the face of Anthony "Guarantee" Smith. Tom has some angry words he apparently had to get out of his system.
• This is what bothers me about the Patriots ... Smith made his guarantee, blah blah blah, whatever, and the Patriots, all week long, act like they're above any such foolishness, say they won't respond, etc. But now, on the field, they'll trash talk and be as big a group of assholes as anyone else in the league. Just embrace it ... I don't care that Tom Brady's in Anthony Smith's face ... hell, I kind of like it. It just irks me that he plays it so cool all week long in front of the cameras, and now, he's Captain Bad Ass.
• Tarvaris Jackson with a TD pass to put the Vikings up big early over San Francisco ... Tarvaris' amazing streak of adequacy continues.
• I get a text from my buddy Tim pointing out that both the Steelers and the Patriots have a "Gay" in the secondary. William Gay for the Steelers, and Randall Gay for the Patriots ... can we consider this a victory for gay rights? Are they currently doing for homosexuals what Lovie Smith and Tony Dungy did for black people during the Super Bowl?
• Randy Moss ... deep. TD. Anthony Smith, again victimized. 14-3 Patriots.
• Muff Stubble Girl just touched my back. Yeah, it's no big deal or anything, and I'm not bragging, but she touched me. It's cool.
• Whoa ... look at Najeh Davenport getting loose in the secondary. I was not counting on Najeh Davenport catching any TD bombs today. Large Benjamin dumped it right on his chest. 14-10 ... the Steelers have answered.
• So we're discussing injuries that we'd like to see Tom Brady suffer. The Greek wants him to lose hearing in one ear ... Lady E wants him to have his nose rearranged, Bryan Barker style ... then later upgrades her wish to a severed penis. If any of it happens (the severed penis seems particularly unlikely), I've officially made the offer to buy shots for the table if Brady suffers an injury that puts him out of the game.
• A lot of commercials this week feature "Happy Holidays" messages from various companies ... I guess it's nice and all, but I feel insulted when these commercials are recycled versions that they've run in years past. I don't know ... if you really meant it, if you really wanted me to have a nice holiday, you'd put forth the effort and make a new commercial.
• The Juice: "I love sluts." He's also picked right now to tell me about his theory that taller women have greater vaginal depth. Are there any OB/GYNs that can verify?
• The Steelers have gone for 2 4th-and-1s on this drive ... once, they had Najeh dive over the pile, and the second time, they came out in the shotgun. Odd. But I bet Gregg Easterbrook is pleased.
• I think I might have just seen Trent Dilfer's last down in the NFL ... he took a shot to the head and laid there motionless for a while. He's up and appears to be OK, but ... at his age, you just can't do a lot of that.
• Jesus, I think he's crying as he's being carted out. I'm not positive about this ... either he knows that he's done, or he suffered some kind of a tear duct injury.
• The Patriots lead the Steelers 17-13 at the half ... and a very entertaining first half it was.
• Glancing around at some other games... Minnesota's up on San Francisco 27-0, despite the fact that Adrian Peterson's carried 7 times for -2 yards.
• This is odd ... Kellen Clemens and Derek Anderson are squaring off today, making it the third level of competition at which they've competed. They played against each other in high school, college, and now the NFL. Hm.
• The Patriots force a punt coming out of halftime ... and now, it's gadget play time. Backwards pass to Moss, backwards pass back to Brady, and Jabar Gaffney is wide open for the touchdown. It almost pains me to say it, but ... Anthony Smith, victimized again. I hate watching this ... it's almost certainly the lowest point of his professional life, if not his entire life ... I just shouldn't be seeing this. A man's personal misery should not be this public, I don't care what he did. I know I wouldn't want Anthony Smith witnessing the time I spent earning a living through glory holes at various New Jersey rest stops. It just wouldn't be fair.
• And a little bit later, Wes Welker's going to catch a touchdown pass, and the refs are going to let Anthony Smith get away with a personal foul, late hit ... that was a mercy non-call. Thank you, officials, for not letting this get worse than it had to be.
• At the beginning of the 4th quarter, the Steelers are stopped on a 3rd-and-goal, and a 4th-and-goal at the 1-yard-line, that's going to pretty much wrap it up. I've developed a headache, so I'm going to call it a day here ... it's been an extremely disappointing second half anyway. The first half was great ... the second was a slow and thorough bloodletting.