Dan Shanoff writes a weekly college football column for Deadspin. Email him to let him know what you think.
GAINESVILLE, Fla. — I'm spending the week embedded in SEC country. That alone probably should have been enough for me to abandon last week's prediction that Virginia Tech would beat LSU in Baton Rouge, let alone my asinine (if admirable) preseason position that Virginia Tech would win the national title.
But I accept the reality: LSU is awesome. The Tigers' offense hung 48 points on what was arguably, coming into the season, the best defense in the country. (Adding insult to injury, LSU's D can now claim that "nation's best defense" title, too.)
Friends: That's your No. 1 team in the country.
Indulge me a brief rant about this week's AP and Coaches' Top 25: While LSU was busy obliterating a Top 10 team, USC was battling it out with that perennial strength-of-schedule booster: "Idle."
G/O Media may get a commission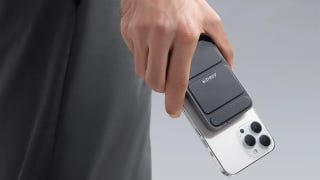 15% off
15% off Anker Top Ten Products
Take charge
Treat yourself to a portable power bank, a magnetic wireless battery for iPhones, or even a solar generator. There is a reason these are in the top ten. For instance, the Anker 747 Power Bank is a 4-in-1 charger utilizing USB-A and USB-C to be capable of charging up to four devices at once. Great to take with you when traveling and in need of keeping your phone, laptop, and even Nintendo Switch powered on.
I was hoping that voters would see the lunacy of keeping USC at No. 1 ahead of No. 2 LSU simply because ... USC was there last week — and didn't lose. Alas, 2/3 of AP voters favored inertia over evidence.
If we go by our own eyes, rather than preseason bullshit, LSU is clearly the best team in the country. This week, and every week until another contender delivers a more impressive win. Just don't expect LSU to lose:
LSU's four toughest remaining games — South Carolina, Florida, Auburn and Arkansas — all come in Baton Rouge. (Compare that to USC, which still has to play AT Nebraska, AT Washington, AT Oregon, AT Cal and against intra-city rival UCLA.)
You don't have to be drinking the SEC Kool-Aid like me to have watched that game on Saturday night and to have seen just how ferocious —- how relentless — LSU is this season.
Merely two weeks into the season, we have our top contender. The pollsters can keep ranking USC ahead of the Tigers, but fans know what we have seen.
More from this weekend: (1) OK, so maybe TCU isn't this year's Boise State... (2) Then again: This year's Boise State isn't this year's Boise State either... (3) Given Washington at 2-0 versus Notre Dame at 0-2, ND couldn't possibly have been worse off with Willingham in Year 7 than Weis is in Year 3... (4) Is the best coach in college football South Florida's Jim Leavitt?... (5) Steve Spurrier could win at Georgia if he had Lee Corso as his QB playing with a baby arm.
This Week's Bandwagon: So who will be Michigan's next coach? It's funny to imagine Michigan fans last week saying, "Well, at least it can't get worse." But, amazingly, it did: The most lopsided loss by the team in multiple generations. So it's not "if" but "when" the team starts looking for a new head coach...
... Because we all sure as hell know it ain't gonna be Lloyd Carr for much longer. I'm not in the camp that he should be fired. He ought to do the right thing and just resign, giving defensive coordinator (and presumptive in-house candidate Ron English) a shot at salvaging the season.
Meanwhile, Michigan fans should root for alumnus Les Miles to win a title this season at LSU. With nothing left to prove there, Miles might just be persuaded to rebuild Michigan's broken program. Double-digit wins consistently out of the Big Ten is easier than in the SEC.
Other should-be Michigan coaching contenders:
1. Rich Rodriguez, West Virginia
2. Greg Schiano, Rutgers
3. Kirk Ferentz, Iowa
More Ranking Ranting: I'm not quite sure why South Florida winning at a ranked Auburn or Washington solidly beating AP favorite Boise State wouldn't merit making the Top 25 this week. But, hey: A handful of voters took advantage of the new "App State" rule and had the Mountaineers in their Top 25. So there's that.
My BlogPoll ballot Top 10
1. LSU
Hard to see who can stop them.
2. USC
Good luck with that road schedule.
3. Rutgers
Rare contender with O/D balance.
4. Louisville
With that offense, who needs a D?
5. Oklahoma
Not quite as bullish as AP (No. 3)
6. West Virginia
Last week's No. 1. No D, either.
7. Florida
Can Tim Tebow play defense, too?
8. Texas
Considering I picked TCU...
9. Cal
Beat USC or bust.
10. Oregon
Don't penalize for Michigan's Hep-D.
Rising: South Carolina (14), Georgia Tech (15), Washington (22)
Check out the entire ballot here.
Looking Ahead to Next Week's Schedule:
Notre Dame (Unranked) at Michigan (UR): It's the first annual Schadenfreude Bowl, pitting two winless giants to see who sucks worse.
Pick: Who cares?
USC (1) at Nebraska (14): I know the Pac-10 schedule suddenly looks a hell of a lot tougher, but who else would LOVE to see USC lose NOW?
Pick: USC.
Boston College (UR) at Georgia Tech (15): Not sure how BC is still unranked by the AP, but winner of this could be the next ACC champs.
Pick: Georgia Tech.
Boston College (21) at Georgia Tech (15): Forget Virginia Tech: This game could be the de facto ACC Championship.
PIck: Georgia Tech
Tennessee (22) at Florida (5): See below. The Gators are overrated, and I say that as a Florida fan. Erik Ainge could skewer UF's porous D.
Pick: Florida.
Louisville (9) at Kentucky (UR): Showdown between the first two QBs taken in the 2008 NFL Draft: Brian Brohm and Andre Woodson.
Pick: Louisville.
Ohio State (10) at Washington: After last week's win over Boise State, all of a sudden, the Huskies look REALLY tough to beat in Seattle.
Pick: Washington.
Arkansas (16) at Alabama: Houston Nutt and Nick Saban should get to guest-host PTI. Not crazy to call this a must-win for Saban.
Pick: Arkansas.
The Bandwagoneer On the Road:
Apologies to everyone at the Florida-Troy tailgates who I didn't get a chance to see. I'll be at The Swamp again next week for Tennessee, this time hanging out with a couple of surprise college football "celebrities." More next week.
Send any comments, criticisms or questions to danshanoff-at-gmail-dot-com.