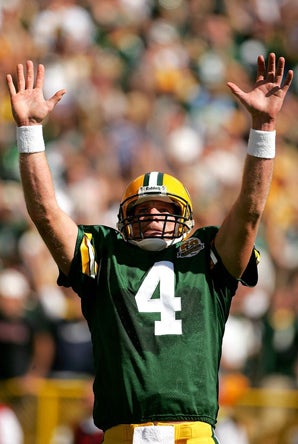 Brett Favre threw three touchdown passes, including a 57-yard strike to Greg Jennings late in the game, to tie Dan Marino for the all-time touchdown mark and lead the Packers over the Chargers, 31-24.
Ironically, Favre's historic 420th was his 115th career TD thrown in September, and his 94th TD thrown in the fourth quarter. (115 + 94 = Brett's age = ironic = not a very funny joke.) I know this because I live and die by the Brett Favre Touchdown Database. It's a great read — Elisha reads it to Peyton every night before bed.
Anyway, it's the Cowboys and Bears tonight, if you're into that sort of thing. I won't be watching because a friend just scored us free tickets to see DJ Premier, but hey, you kickback and enjoy the game, OK? You deserve it. Seriously.