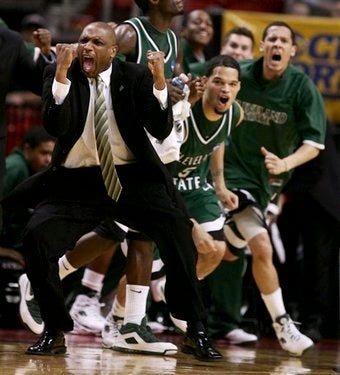 I had this well-thought out screed about how the first round was about as scintillating as a Mennonite snuff film. I had to tear it up and deposit it in a UNICEF box.
Sure, a couple of 16 seeds threatened to upend the titanium-refined axiom of the tournament, which is No. 1 seeds never lose in the tournament. Morehead State had a good first half, and East Tennessee State had a swell first 35 minutes, then reality kicked in for those small schools.
Oklahoma State made what I guess one might call a buzzer-beater, beating Tennessee in the final few seconds. Then there were exponentially impressive upsets, courtesy of Dayton and Arizona. Then once the clock struck 9:30, it became insane.
MICHIGAN STATE BEAT ROBERT MOR... wait.
Cleveland State absolutely de-pantsed Wake Forest, and life was fun. But then the Big Ten, tired of me filling out bingo cards that the announcers were going to slam the Garrison Keillor-caliber boredom that permeated their conference play, decided to have two teams play in wacky overtime games. Siena took two overtimes for Ronald Moore's 3-point shot to crack the Ohio State Nuts. Then 12-seeded Wisconsin —- whom CBS cut away from AS THE FINAL SHOT IN REGULATION WAS IN MID-AIR (no doubt you'll hear more about that tomorrow) — threw some sanctions of their own on Florida State, vanquishing them in OT.
While we catch our breath, crumple up our brackets, and put down the smoking pistol, it's now time to sincerely thank every one of the 32 humanoids that braved the notorious Gawker publishing system and typed away in a most marvelous fashion. It was a privilege to be a part of the project. There will be no live blogs until the Final Four, which should give me enough time to stop having nightmares that blue-haired ladies playing bingo rip my pants off and do ungodly things to my special purpose.
You ought to be in gentle hands with Pete and Spud this weekend. They both have excellent moisturizer.