Mark Teixeira is going to announce his retirement this afternoon, effective at the end of this season. I'm the Yankees fan on staff, so when the news came out, Ley asked me what my favorite Tex moment was. I was at a loss.
I ultimately came up with this one, an extra-inning, walk-off home run in 2009 ALDS.
It's a fairly unsatisfying signature moment (Game 2 of a division series? That's the best I could do?) made even worse by the knowledge that Teixeira hit .180 that postseason, and just .222 in his Yankees playoff career.
After feebly answering Ley with the above video, he then asked me if Teixeira is a True Yankee™? (We like to josh each other around here.)
You know what? Sure he was. Teixeira was paid an awful lot of money to do one thing—win a title—and he did, and then spent many years being overpaid. If that doesn't encapsulate the modern Yankees, I don't know what does.
Teixeira, along with C.C. Sabathia and second-contract A-Rod, represent the bridge from the overpaid, underperforming Yankees of the mid-oughts to the overpaid, underperforming Yankees of today. Things were downright woeful 10 years ago, they're moribund but hopeful right now, and in-between was a mini-resurgence, and that 2009 championship that almost justified the Steinbrenners' refusal to truly rebuild.
Teixeira signed an eight-year, $180 million deal, and in his first season he outplayed his paycheck. He whanged 39 home runs that year, tied for the league lead, and hit .292. He finished a deserved second in the MVP voting, and despite his quiet postseason, he was a big part of that championship team and provided exactly what the Yankees had signed on for: a reliable middle-of-the-order presence. They had let Jason Giambi walk the previous winter, and Teixeira took over without missing a step. It marked the beginning of the end of what Grant Brisbee aptly describes as his decade-long run as "the face of Generic Perennial All-Star First Basemen."
G/O Media may get a commission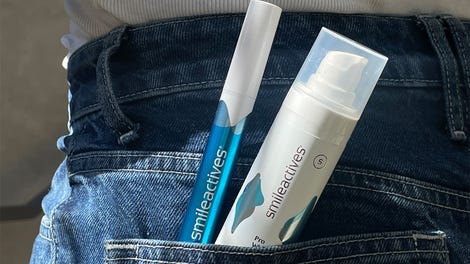 58% off
Whitening Powerhouse Pen & Gel Duo
What happened after that MVP-caliber year was pretty much why you no longer see eight-year deals for 29-year-old sluggers. Teixeira's average tanked. A big part of this was the rise of the shift across Major League Baseball, and Teixeira, one of the purest pull hitters in the game, was one of those most affected by it. He resisted changing his hitting style, saying things like, "I'm in there to drive in runs" and "you don't want to turn me into a slap hitter."
(I could very easily and truthfully have told Ley that my signature memory of Teixeira is him grounding out sharply into an overshift.)
That worked, more or less, for a few years when Teixeira still had pop. But when injuries started to befall him in the second half of his deal, he didn't really have anything with which to compensate. Ultimately, you can break down Teixeira's eight-year tenure into one truly great season, three good ones, before the wheels came off completely—with one inexplicable bounceback year in 2015.
And that's roughly—if not precisely in the contours—what the Yankees thought they were getting when they signed him: a few seasons where he'd play up to and above his contract, and a few where he'd be an albatross. The Yankees happily overpaid (in length) for the right to those few years of Teixeira in his prime, and they're rich enough to be able to afford to do that. Considering that championship, I bet they'd do it again.
To answer the original question, I will cite none of this age-old story of a great-hitting ballplayer declining with age. Instead, my favorite memory of Teixeira is an amalgam of his defense at first base. He was incredible over there—perhaps even moreso given that he's a chunky sort, someone's large adult son making diving stabs with the grace and quickness of a jungle cat.
Teixeira won five gold gloves in his career, and he maintained his quality even after injuries had ruined him at the plate, perhaps because he relied on intuition and reflex as much as athleticism. Here's a highlight reel of his 2012 season:
It always seemed a little incongruent, that elite defense coming from a hefty chipmunk-looking fellow whose first job was to crush dingers, but it was as much of a part of Teixeira's career as his power—and it lasted longer too. Teixeira was for a long time a truly complete player, and injuries and age don't erase that.
Anyway this has been altogether too many words on Mark Teixeira. I should have just told Ley my favorite moment was that time he put on a jersey over his shirt and tie.