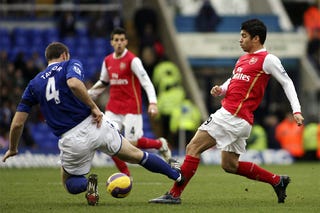 That's just fucked up. The man you see above, Arsenal's Eduardo Da Silva, is about to have his tibia and/or fibula poking through his sock. Needless to say, it's pretty brutal and because you might not want to see it, I'll just link to it after the jump, along with the non-crippling Premier League action from earlier today.
• Ouchers!
• As for the rest of the game... Theo Walcott netted two goals in what should have been another win for the Gunners. However, BIrmingham City equalized on a penalty just before the ref's final whistle. League leading Arsenal lost out on a chance to maintain their lead over Manchester against a team stuck in a relegation battle. The injuries are really piling up for Hirshey's side.
• That's a paddlin'. Manchester took full advantage of Arsenal's unfortunate result by pounding Newcastle for five goals. Rooney and Ronaldo had two a piece before Louis Saha snuck his way on to the score sheet with a late goal. Manchester's 5-1 win puts them within striking distance of Arsenal.
• Torres keeps Liverpool going. Fernando Torres came through with a monster hat-trick to keep Liverpool in the top four, if only by a matter of goals.