Your p.m. roundup for Oct. 19, the day we learned pregnant women don't want to give birth on Halloween. Photo of the (possibly fake?) Washington jack-o-lantern courtesy @lifeguardkyle, via @bigleaguestew. Got any stories or photos for us? Tip your editors.
What we're watching (all times EDT, unless noted): Game 1 of the World Series between the Rangers and Cardinals is on Fox. Arsenal at Marseilles in Champions League soccer is on tape-delay on Fox Sports Net. And Florida-South Carolina in women's college volleyball is on ESPNU. All three events start at 8.
Read Me
Jill Abramson's challenge at the New York Times: "Abramson was candid with Sulzberger about her weaknesses. She recalls, 'I said I needed to work on listening more and talking less, and not interrupting. I worried that questions I asked about the substance of journalism can come off as being critical.' They talked about what she would do as editor, and she said that she would 'be out and about in the newsroom,' talking to reporters and editors. She composed a memorandum outlining her mission, if she should get the job. She recalls writing that she would maintain the paper's 'core mission' of producing excellent journalism. Unlike Howell Raines, who wanted to transform the newsroom, Abramson preached newsroom continuity. She would create a new leadership team with 'some new people.' But her real innovations, she vowed, would be digital. That's what Sulzberger wanted to hear." [New Yorker]
G/O Media may get a commission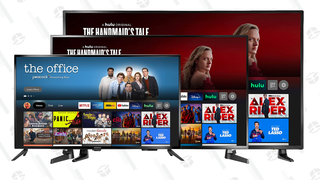 Up to 44% off
Prime Early Access - Insignia Fire TVs
This Date In Deadspin History
Oct. 19, 2007: Two Pair Not A Winning Hand In Kansas
Elsewhere
So does this mean he thinks the Jets' players suck?: "Rex Ryan left little doubt that he would have won a couple Super Bowls by now if the Chargers hired him rather than Norv Turner in 2007. Ryan was interviewed for the San Diego vacancy after Marty Schottenheimer was fired four years ago. The Chargers went with Turner, who has reached one AFC Championship game during his tenure. Ryan obviously felt he could have produced better results." [New York Daily News]
Hey! We know that guy!: "As The Postmortal hits shelves, and Magary enters his most prolific period as a blogger thanks to a new NFL season, The A.V. Club talked to him about the inspiration for his book, the crossover between sports and pop culture, and how he's aiming for an audience beyond those who love jokes about Hitler and poop." [AV Club]
Your Mongolian Toilet Tissue Commercial Interlude:

More suspensions for LSU: "Top-ranked LSU has suspended star cornerback Tyrann Mathieu and running back Spencer Ware for Saturday's home game against Auburn, a school official told ESPN.com's Mark Schlabach. The LSU student newspaper, The Daily Reveille, first reported Wednesday that, according to a source, Mathieu and Ware both failed drug tests. The suspensions are only for one game, a source told ESPN's Joe Schad. A source told the Associated Press that defensive back Tharold Simon is also suspended. LSU spokesman Michael Bonnette would say only that the players were involved in an internal matter that coach Les Miles 'will handle accordingly.'" [ESPN]
Don Mattingly is honest about the Dodgers' financial straits: "Not really, you know I can't say I'm confident that we're going to be able to do it. You know, we've talked about different things and a lot of different scenarios. You hear Prince Fielder, you hear Albert Pujols. You know those are nice thoughts, there's a lot of teams talking about those type of guys ... but you know I'm confident we're going to do that? I can't say I'm confident. You gotta have a Plan B, a Plan C. How do we put offense together if we can't do something like that? That's the biggest thing." [Vin Scully Is My Homeboy]
Merch: Managing editor Tom Scocca and contributing editor Drew Magary have both written books. You can buy Scocca's Beijing Welcomes You: Unveiling the Capital City of the Future here, and Magary's The Postmortal here. Now do it.
Send stories, photos, and anything else you might have to tips@deadspin.com.