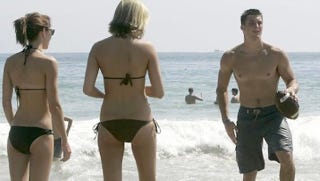 Your p.m. roundup for Oct. 11, the day a story about freeze-dried dogs proved to be just as disturbing as it sounds. Photo via SI Vault. Got any stories or photos for us? Tip your editors.

What we're watching (all times EDT, unless noted): ESPN2 has a soccer doubleheader involving men's national teams, with USA-Ecuador having begun at 7 and Brazil-Mexico starting at 9:30. Versus has Panthers-Penguins in an NHL game at 7:30. And Fox has Game 3 of the ALCS between the Rangers and Tigers at 8.
Read Me
Adrian Wojnarowski on David Stern and the NBA lockout: "The owners want it all, and Stern's forever been the man to bully people to their knees. This is a mission to make his richest owners even richer, ultimately allowing him to reap the bonuses and rewards that come to a union-breaking CEO. Yes, Stern and the hardliners shut down the NBA season Monday, and still Stern didn't have the stomach to stand with the NBA logo in the background. The most sanctioned, most scripted event of his life, and he still couldn't own it. As much as anything Stern wants his professional shame in the shadows, narrowing the scope, the coverage. For Stern, the strategy is simple: Step out of the way, and let the players impale themselves in the public eye. Two weeks of the regular season are gone, more promise to be wiped away, and Stern will feed that public desire to tear apart his star players and feed into all the worst stereotypes. Only, this lockout will eventually end, and he'll need to repair those images to make the NBA thrive again." [Yahoo]
This Date In Deadspin History
Oct. 11, 2007: NASCAR Fans Are Apparently Contagious
Elsewhere
An interview with John Schulian: "With the Riggins column, though, things fell into place. I'd spent a lot of time around the Redskins during the regular season and into the playoffs, so I was pretty well steeped in his story. As for working with the same post-game material everybody else had, there was something liberating about that. No scoops, no exclusive interviews, just a good old-fashioned writing contest. When you get in a situation like that, if you can get your mind right, everything just flows. And that was certainly the case when I wrote about Riggins. I knew instantly where all the pieces of the puzzle were supposed to go-imagery, post-game quotes, back-story. Then my instincts took over, and I even made my deadline. What could be better than that?" [Bronx Banter Blog]
Your guide to the first two weeks of the NBA season, minus the NBA: "[T]hat's why we're here, to give you suggestions on how to pass the time during this dark period. What follows is a cross-country itinerary that's going to allow you to have so much fun while still being totally sad. Let's take a trip." [The Basketball Jones]
Your Association of Finnish Lawyers Commercial Interlude:

Deitsch talks to Terry Francona about Francona's broadcasting chops: "But the reaction and the reviews prompt a legitimate question: Would Francona take a broadcasting job if he didn't think he could land an attractive on-field job next season? 'I don't know how to answer that,' Francona said. 'I filled in two games on the fly and it could have been a train wreck. I'm not deluding myself, and that's why I am trying to be careful here. I had some unbelievable people looking out for me every step of the way.'" [Sports Illustrated]
Why the Big East won't lose its place at the BCS table: "So what happens if the BCS threatens to pull the Big East's automatic bid? If I'm the Big East I threaten to file a lawsuit and tell all. Since there are no established criteria for pulling a league's BCS bid, the Big East should view any attempt to take away its bid as impermissible. The primary value of Big East football right now is that BCS bid. If it vanishes then why would anyone want to be in the Big East? So the automatic bid is a definite property interest that is being relied upon by the league. Any rescission of that right is tantamount to collegiate sports war. If there is no established process to take away a right, how can that right be taken away? Given all the antitrust scrutiny that the BCS is already under, can you imagine what a lawsuit's discovery and depositions would look like if the BCS attempted to pull the Big East's bid? The Big East was there at inception, it knows all the gritty details about how the six conferences came to power and what agreements existed between them to keep the vast majority of the bowl bonanza in their hands. Put simply, the BCS turns on one of its original six members at its own peril." [Outkick The Coverage]
Merch: Managing editor Tom Scocca and contributing editor Drew Magary have both written books. You can buy Scocca's Beijing Welcomes You: Unveiling the Capital City of the Future here, and Magary's The Postmortal here. Now do it.
Send stories, photos, and anything else you might have to tips@deadspin.com.