Your p.m. roundup for Sept. 27, the day we learned red wine wasn't the blood-pressure cure we thought it was. H/T to Robert for the video. Got any stories or photos for us? Tip your editors.
Jokic? Embiid? The NBA MVP is obvious... right? | Keep it a Buck(et)
What we're watching (all times EDT, unless noted): Game 3 of the WNBA's Eastern Conference finals, with Atlanta playing Indiana, is on ESPN2 at 8. Fox Sports Net has Basel-Manchester United in Champions League soccer at 8. And ESPN is showing Catching Hell, its documentary of the infamous Cubs fan Steve Bartman, which also begins at 8.
G/O Media may get a commission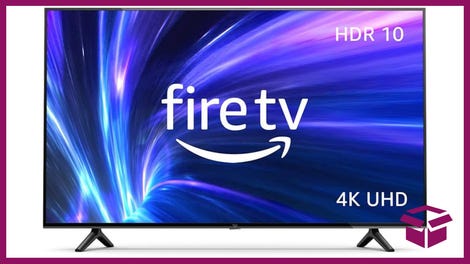 42% Off
Amazon Fire TV 50" 4K Smart TV
Read Me
The guy who sat next to Bartman that night at Wrigley: "Inside Wrigley, neither Looney nor his friends said much of anything. They just sat there. The people around them began throwing pizza, pretzels, popcorn and beer at Bartman, Looney and everyone else in the general vicinity of where the crime had occurred. The entire stadium started chanting 'a—hole.' Two of Looney's friends became so upset that they left. A security team surrounded Bartman, ushering him into the Cubs' offices. It was the last time he'd be seen in the public eye. When the game ended, Looney and his friend Dan McCarthy finished drinking the beers that had been left behind. They didn't run. They didn't hide. Looney knew he hadn't touched the ball. In his mind, he had seen Alou out of the corner of his eye and pulled his hands back at the last second. As the media descended on the crowd, Looney pondered what to do next." [ESPN]
This Date In Deadspin History
Sept. 27, 2009: Missouri Manages To Screw Up Throwing Out Cell Phones
Things You Might Have Missed Today
Some quick links to a few items we posted earlier:
• A Cockroach! And It Was Crawling Across The Field At Cowboys Stadium!
• Growing Up On NFL Violence In A Violent Neighborhood
• Rihanna's Bikini Top Offens Northern Ireland Farmer In Quaintest Dispute Ever
• Watch Jamie Dukes Be Totally Inappropriate With His Female NFL Network Co-Host (Video)
• Cleveland's Sunday Tailgate Scene Includes Stand-up Trailer Blowjob And Boxer Brief Beatdowns
Elsewhere
Bomani Jones on blacks and the blogosphere: "So yes, it's a 'white industry,' this new media. At least it is now, and we have to be careful not to pretend like that's what it's supposed to be. Any media game is supposed to provide a representative cross-section of what takes place on the field. Given the emphasis on opinion in the blogosphere, the viewpoints and those offering them need to cover that range. And given how important the black perspective is to sports - so long as so many of these games are played by black people - the idea that this new media in our post-racial universe continues to reinforce this confining notion that white people are the only fans that matter is incredibly problematic." [Bomani Jones]
And a response from Bethlehem Shoals: "Sports may be where we all come together, but you could say the same thing about the UN. If nothing else, it's a reminder to always consider perspective in sports. It doesn't mean agreeing to disagree. On the contrary, it involves pushing the conversation even further. The disappointing coda is that this kind of work makes many people uneasy, or just plain annoys them. They want sports, right down the middle. It also lends itself to be seeing as a personal brand, which while it affords someone like Bomani certain freedoms, also fails to establish channels of entry for up-and-comers, and probably ends up denying Bomani himself certain opportunities. Maybe this looks like racism from the right angle; I've also engaged in an ungodly number of generalizations myself, despite trying very hard to avoid doing so. I could probably be brought up for similar charges. However, I don't think it's unreasonable to assert that Bomani's desire to provide context and make room for his particular perspective is a personal quirk. It seems to me like a perfectly rational response not only to sports media, but to sports." [Bethlehem Shoals]
Your Irish Tea Commercial Interlude:

Sabonis' condition improving: "Spanish website CadaneSer.com also reported that Sabonis had a heart attack and quoted Arturo Ortega, a representative for Sabonis, who said that Sabonis was 'out of danger.' Later Tuesday, Lithuanian news outlet Lrytas.lt reported that Sabonis had 'stabilized.'" [CBS Sports]
Alabama's song: "This is my favorite response any time I write anything negative about Alabama. Crimson Tide fans accuse me and Sports By Brooks of being gay. And not just a few. Somewhere in the neighborhood of 40% of Alabama fan responses accuse us of being gay. Usually they writeit this way: 'Your gay.'" [Outkick The Coverage]
Just what Jelena Dokic needs: "The father and daughter had not spoken in eight years after Damir's violent and aggressive behaviour reportedly contributed to her depression and performance slump. Damir was released from jail last year after serving almost a year behind bars for threatening to blow up the Australian Embassy in Belgrade and having an illegal cache of weapons at his house. The family were reunited this week at Damir's mansion in Vrdnik, north of Belgrade, after Jelena's younger brother Savo pressed the family to heal their bitter rift." [Sydney Herald Sun]
What would this have taught a team about "not giving up"?: "The Marcellus school district is investigating a complaint that its junior varsity football coach made players lay down on top of graves in a local cemetery to emphasize a message about not giving up." [Syracuse Post-Standard]
Merch: Managing editor Tom Scocca and contributing editor Drew Magary have both written books. You can buy Scocca's Beijing Welcomes You: Unveiling the Capital City of the Future here, and Magary's The Postmortal here. Now do it.
Send stories, photos, and anything else you might have to tips@deadspin.com.