Your p.m. roundup for Sept. 29, the day we learned the vampire-werewolf did it. Video via Outside The Boxscore. Got any stories or photos for us? Tip your editors.
What we're watching (all times EDT, unless noted): Versus has Devils-Flyers in preseason NHL, which started at 7. ESPNU has Texas-Southern-Jackson State in college football at 7:30. ESPN has South Florida-Pitt in college football at 8. And ESPN has D.C. United-Philadelphia in MLS soccer at 8.
Read Me
Posnanski on last night: "Baseball, like life, revolves around anticlimax. That's what you get most of the time. You stand in driver's license lines, and watch Alfredo Aceves shake off signals, and sit through your children's swim meets, and see bases-loaded rallies die, and fill up your car's tires with air, and endure an inning with three pitching changes, a sacrifice bunt and an intentional walk. But then, every now and again, something happens. Something memorable. Something magnificent. Something staggering. Your child wins the race. Your team rallies in the ninth. You get pulled over for speeding. And in that moment - awesome or lousy - you are living something that you will never forget, something that jumps out of the toneless roar of day-to-day life." [Sports Illustrated]
G/O Media may get a commission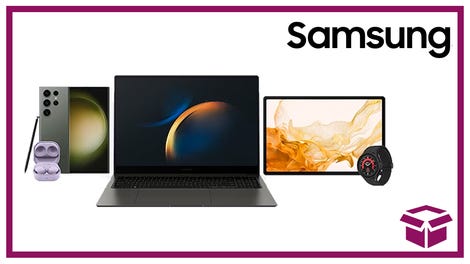 24 hour deals
Discover Samsung - Daily Deal
This Date In Deadspin History
Sept. 28, 2006: Mitch Albom: Still Full Of Gooey Crap
Things You Might Have Missed Today
Some quick links to a few items we posted earlier:
• An Important Question Of The Night, Answered: Dan Johnson Did Not Go Deep To Some Dude's Nuts
• Dan Shaughnessy, At Approximately 10 P.M. Wednesday: "The Red Sox Season Is Not Going To End Tonight"
• Jose Reyes Is A Selflish, Gutless, Stat-Padding Quitter (Just Like Derek Jeter)
• A Sampling Of One Artist's Effort To Draw All 295 Members Of The Baseball Hall Of Fame
• All The Baseball Announcers' Big, Joyous Calls Last Night (And Then One By Michael Kay)
• 20 Things Angry Buffalo Fans Wrote To A Female Sports Columnist Who Criticized The Bills
• The Fan Who Threw A Banana A Black Hockey Player Did Not Know It Would Be Seen As Racist
• The Best Four Minutes Of Baseball Last Night, Presented In Split Screen
• The Photos Of Yankees GM Brian Cashman That Broke Up A Marriage
Elsewhere
Oh. So he basically apologized because it might spare him a harsher punishment: "The Alabama fan indicted for poisoning Auburn's famous oaks at Toomer's Corner apologized toTigers fans in an emotional radio appearance Wednesday but still didn't admit that it was he who attacked the two trees. Against the advice of his attorneys, Harvey Updyke Jr., who is awaiting trial on charges including criminal mischief and desecration of a venerated object, called into the Paul Finebaum Radio Network on Wednesday to say he was sorry to the 'truly Auburn fans' but not the 'haters.'" [ESPN]
Ray Ratto on what we can expect: "But this is the part where you would want the Red Sox to nurse their sorrows in a quiet smoldering rage, nursing a drink and asking with every nictitating nerve ending to be left alone to consider the futility and cruelty of sport. Instead, we will get endless dissertations on how the Red Sox are somehow connected to the end of the American Empire, or the absence of greatness in our leaders, or Galileo Galilei, or some such damned thing. We will get soul-crushing prattling about why this is worse than the worst bad beat story you ever had, and why even when covered in shame and filth, the Red Sox just do it better than everyone else." [CBS Sports]
Your Latvian Ice Cream Commercial Interlude:

Verducci on last night: "Nothing would be the same in the next 129 minutes. Fortunes were reversed. Reputations were made and destroyed. Careers were altered. It was 129 minutes played on the edge of a sharp knife. It wasn't just win or go home. It was fame or infamy. Anonymity or celebrity. Cursed or blessed. Collapse or comeback. The Last Night of the Year did not bother with the in between. The scale and speed of it was mind-boggling." [Sports Illustrated]
This should go over well in Boston: "In the wake of the Rays' improbable come-from-behind 8-7 victory over the Yankees last night which served as the final nail in the coffin of the Red Sox' historic 9-game September collapse, Damon was asked how this experience compares to other postseason experiences. His response — and keep in mind, he's talking about a game that got the Rays to the American League Division Series here — via the Tampa Tribune: 'You know what, I didn't think anything would top the (2004) World Series in Boston, but this does, regardless of whatever happens during the playoffs,' Damon said." [The Outside Corner]
Jeff Spicoli's gonna start: "The Colts are preparing as though Curtis Painter will be their starting quarterback at Tampa Bay on Monday. Kerry Collins is still recovering after suffering concussion-like symptoms Sunday against Pittsburgh and his status remains in doubt. That means the Colts are getting Painter ready for what would be his first NFL start." [FOX Sports]
Merch: Managing editor Tom Scocca and contributing editor Drew Magary have both written books. You can buy Scocca's Beijing Welcomes You: Unveiling the Capital City of the Future here, and Magary's The Postmortal here. Now do it.
Send stories, photos, and anything else you might have to tips@deadspin.com.