Your p.m. roundup for Aug. 19, the day your oxygen tank totally took away from our enjoyment of classical music. H/T to Pony_Express for the screen grab. Got any stories or photos for us? Tip your editors.
Ohtani has the WBC, but will Mike Trout ever lead the Angels to a championship? | Agree to Disagree
What we're watching (all times EDT, unless noted): The LPGA's Safeway Classic is on the Golf Channel at 6:30. MLB Network is showing Indians-Tigers or Brewers-Mets at 7. Tennis' Western & Southern Open is on ESPN2 at 7. FOX has Falcons-Jaguars in an NFL preseason game at 8. ESPN has Netherlands-Venezuela in the Little League World Series at 8. And a junior middleweight fight between Grady Brewer and Demetrius Andrade is on ESPN2 at 9.
G/O Media may get a commission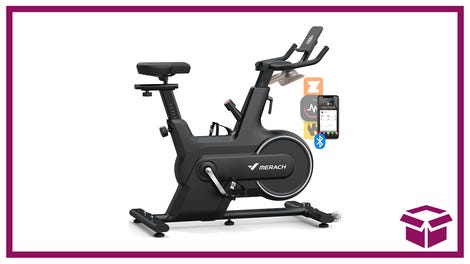 14% off + Coupon
Merach Indoor Cycling Bike
Read Me
The impact of David Foster Wallace's "slangy approachability": "Wallace isn't responsible for his imitators, much less for the stylized mess that is Gen-X-and-Y Internet syntax. The devices can be traced back to him, though, if indirectly; they were filtered through and popularized by Dave Eggers's literary magazine and publishing empire, McSweeney's, and Eggers's own novels and memoirs, all of which borrowed not only Wallace's tics but also his championing of post-ironic sincerity and his attempts to ward off criticism by embedding all possible criticisms within the writing itself." [New York Times]
This Date In Deadspin History
Aug. 19, 2010: Chad Ochocino Is A Hypocrite When It Comes To Dick Towels
Things You Might Have Missed Today
Some quick links to a few items we posted earlier:
• SMU's New Locker Room Is A Strip Club
• A Not-Entirely-Constructive Exchange With Yahoo's Scandal Hunter Charles Robinson
• Former Little League Superstar Retires From Something Called "The NHL"
• Bucs DT Gerald McCoy Thinks Very Little Of Chiefs Backup Tyler Palko, Or Is It "Calabaloo," Maybe
• The Chinese Basketball Association Doesn't Want Kobe Bryant To Play Next Season, Either
Elsewhere
The Chiefs were kinda warned about Jonathan Baldwin: "A report out of Chiefs camp Friday stated that Baldwin got into a "locker room scuffle" with veteran running back Thomas Jones, which resulted in an injured wrist for Baldwin that could cost him the entire preseason. Part of that report cited someone who described Baldwin as a 'Diva, spoiled, doesn't wanna listen.' In other words, exactly what those red flags - which included charges of indecent assault, harassment and disorderly conduct that were later dropped - warned everyone about prior to the draft." [Sports Illustrated]
Big day for SportsGrid's brawl video: "SportsGrid's video, an on-court brawl between Georgetown and the Bayi Rockets, had been viewed more than 666,00 [sic] times by Friday morning, a number that doesn't include eyeballs from television spots. It was a viral sensation for Burke, who started taking screencaps in 2004, when he was too enthralled by Don Cherry's splendorous wardrobe not to preserve it for posterity. This clip has more commercial appeal than any of Cherry's floral-patterned suits. It's already the most-viewed video Burke has ever uploaded, beating even a clip that waslinked by the Drudge Report last month." [Grantland]
Can the NCAA's power structure get it, then?: "NCAA President Mark Emmert believes the 'death penalty' should be an option for college sports' most egregious rule-breakers." [AP]
Another day, another brawl for another college program: "Police are investigating allegations that LSU quarterback Jordan Jefferson and unidentified teammates were involved in a fight outside a Baton Rouge bar early Friday morning. Baton Rouge Police Sgt. Donald Stone said witnesses claimed Jefferson and other players were involved in a fight in the parking lot outside Shady's bar around 2 a.m., but investigators hadn't substantiated that allegation or spoken to Jefferson. 'We are not naming (Jefferson) as a suspect at this time,' Stone said. 'We're in the early stages of our investigation.'" [AP]
Your Serbian Teeth Whitening Commerical Interlude:

And he hasn't even had a chance to lose to Kansas yet: "Whatever goodwill Missouri coach Frank Haith built among Tigers fans during his first four months on the job appears to have disappeared as a result of the allegations made against him earlier this week by a Miami booster. In the wake of a Yahoo! Sports investigation that alleged Haith was aware of a $10,000 payment made to Miami recruit DeQuan Jones in 2008, the Kansas City Star conducted a poll asking Missouri fans what should happen to their coach. A whopping 78 percent of the 1,450 people who responded as of Friday advocated that Haith should be fired before he coaches his first game at Missouri." [The Dagger]
Merch: Managing editor Tom Scocca and contributing editor Drew Magary have both written books. You can buy Scocca's Beijing Welcomes You: Unveiling the Capital City of the Future here, and Magary's The Postmortal here. Now do it.
Your Chuck Taylor primer: "While his career and impact on basketball are interesting and profound, Chuck Taylor will be forever known for his name on a shoe, even if most people who have donned them in past decades have no idea whether their sneakers' namesake was a player, coach, inventor, businessman or fictitious character. Of course, the brand has lost considerable influence since its heyday, when it was worn by virtually all professional players (Tree Rollins was the last NBA player to sport 'em on the court, in '80) and was the official shoe of the Olympic competition from 1936-68. Chucks are now worn more for fashion than athletic purposes, their rainbow colors making them whimsical accessories, rather than sporting tools." [SLAM]
Send stories, photos, and anything else you might have to tips@deadspin.com.