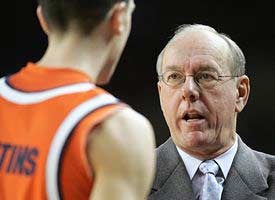 Each day this week, Storming The Floor will be previewing that night's important games. Enjoy.
Yesterday I put out a call for Motivational Platitudes that any coach could use to exhort his troops to greater effort on the court. Tonight, many bubble teams and wannabes will be taking the floor, and we have just the thing to spur them one step closer to that coveted auto-bid: an encouraging quote.
Tonight, if the standard pre-game speeches aren't cutting the mustard, and the kids are still committing costly errors, Gourmet Spud would like to recommend this quote from Major League:
"This is my last shot at a winner. And for some of the younger guys, it could be their only shot. I don't know what happened to you. But if you ever, EVER tank another play like you did today, I'm going cut your nuts off, and stick 'em down your fuckin' throat!"
That might sound a bit harsh, but Spud says he repeats this quote as he looks into the mirror every morning, and it's made him a top commenter, so a little tough love might be just what these kids need to reach their One Shining Moment.
Early Bubble Results
And here's one team that won't be needing any more motivational speeches coupled by one that will need a humdinger tomorrow.
Big East First Round: Villanova 82, Syracuse 63. Far be it from me to suggest that this is the end of the road for Syracuse, lest my house be firebombed with orange paint this evening, but this is the end of the road for Syracuse. The team should be incredible next year, with more experience and a healthy lineup. Super-frosh Greene and Flynn did their damage, but Villanova was led by Scottie Reynolds' 22 points and 6 assists as the Wildcats opened up a ray of sunshine for the Greater Philadelphia area (St. Josephs' game will end too late for this update). Next up for 'Nova is big, bad #1 seed Georgetown.
Tonight's Tournament Action
Numbers before team name are tournament seeds.
Big Sky Final: #2 Northern Arizona (21-10) vs. #1 Portland State (22-9). Lumberjacks vs. Vikings. That sounds like much better television than the new American Gladiators. As the top seed, Portland State is playing at home in the Rose Garden, so if a good crowd shows up, this could be a great one to watch. The Lumberjacks are putting it all on the back of Kyle Landry, who dropped 21 points on Weber State to get them to the final conference tourney game of the Big Sky season.
NEC Final: #4 Mount St. Mary's (17-14) vs. #3 Sacred Heart (18-13). If you think you're having fun with Oral Roberts' bid, imagine what you could do with a Mount Saint Mary's win tonight. The Mountaineers are led by 14 ppg-scorers Chris Vann and Jeremy Goode, and are in the midst of a four-game win streak. Sacred Heart once boasted an eight game streak that had them atop the NEC in mid-season, only to go all inconsistent on us, or "tank". And we know what happens when you tank.
SWAC Quarterfinals: #1 Alabama State (19-9) vs. #8 Texas Southern (7-24). Chief Kickinstallionsims update: The 7'1" All Name First-Teamer had by far his best game of the year in a 103-83 rout of Jackson State to end the regular season. He scored 22 points and grabbed 6 rebounds to propel Alabama State into the SWAC tourney as a clear #1 seed.
Pac-10 First Round: #10 Oregon State (6-24) vs. #7 Arizona (18-13). OK, it's time to stop enabling the Wildcats. They know Lute is coming back next season, and they're playing a team that managed to go 0-18 in the conference. For the love of all that is holy, try and look alive out there, Zona.
MAC Tournament. Speaking of Motivational Platitudes, the suits who run the MAC tournament have sort of given up on happy talk. After years of catchy slogans pumping up the fantastic mid-major conference, they've grown tired of trying to get students to give up spring break for basketball in Cleveland. Sons of Nev report that this year's slogan is "This time... be there". It's the beach or Bowling Green, which would you choose?
See you again in the morning with recaps of the night's tournament action. If you have a Motivational Platitude you'd like coaches to try out, send it to me at stormingthefloor@gmail.com.