Giancarlo Stanton hit his 38th home run of the season last night, an arcing 438-footer to the centerfield bleachers at Nationals Park. It marked his career-high home runs in a season, and there are another 50 games in the Marlins' season.
This is the Stanton we should have had the last few years. His many, many injuries—including, but not limited to, a fastball to the face—have prevented him from playing a full season since 2011, and even then he was playing through injuries.
This season may be the first that we actually get full-strength, full-health Stanton, and it is fun as hell. He's making his best contact in the zone and is connecting with 70 percent of overall pitches, which is far from the best in the league, but is the best he's even done. More importantly, he's stopped trying to chase as many balls.
Anyway, can I interest you in a 477-foot home run?
G/O Media may get a commission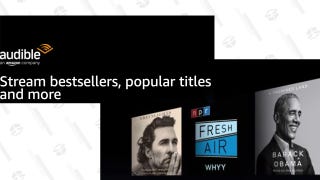 FREE
Audible Premium Plus 3-Month Free Trial
He's putting up his highest-ever slugging percentage (.615), his highest OPS (.985) and OPS+ (157), and his second-highest OBP (.370). On average he's homering every 10.7 at-bats, which ties him with Cody Bellinger for best pace in the National League. He's hit five home runs in his last five games. He leads the majors in dingers. He might, if we're lucky, have a 50–home run season.
Stanton's rarely at the top of leaderboards outside the power categories. He's never finished a season with a batting average that even sniffs .300, he doesn't take a whole lot of walks, and his defense is Fine, if not a little bad for his position. But he does what we need him to do, and that, this year more than ever, is smacking big, towering home runs, that make you think, if not verbalize, your go-to expletives. He is the man who homers, and they're consistently goddamn marvels. Long live Giancarlo, may he finish the season strong, without injury, and shooting baseballs to the moon all the way through September.