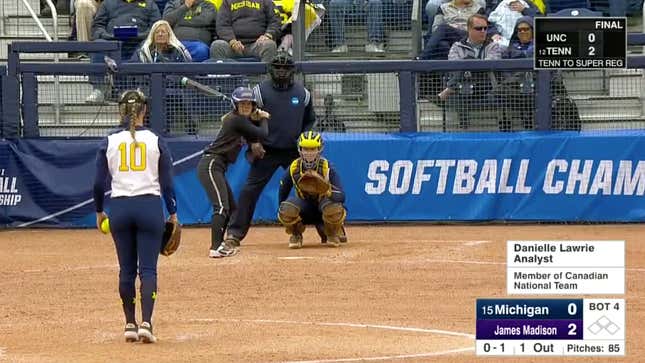 It brings me no pleasure to report this, but I am compelled to share with you an absolutely brutal exchange between play-by-play man Mark Neely and color commentator Danielle Lawrie that occurred during Michigan and James Madison's NCAA Softball Tournament game this afternoon.
How running an NFL team is like running a restaurant | Chef Emeril Lagasse
In the fourth inning, after JMU got its second dinger of the game, the broadcasting duo got into a discussion about U-M pitcher Meghan Beaubien. Beaubien was lights-out in the first game between these two teams, but with the Wolverines down 2-0, Neely and Lawrie talked about her tendency to be too hard on herself when she's struggling, and get too deep in her own head.
It was an interesting discussion, and both these announcers have been very good while calling this tournament. But what happened next made me want to hide under my desk. For context, Ken Ravizza is a sports psychologist who died last year. Take a listen:
Or read it:

Neely: Did you deal with some of those issues, at least early in your career?

Lawrie: I'm still trying to deal with them, Mark. (Laughs)

Neely: No pitcher is truly out of the woods in that department, are they?

Lawrie: I was fortunate. I got to work with Ken Ravizza, and he was one of the absolute best.

Neely: Who's still out there, doing what they do best—doing what he does best.

Lawrie: He passed away.

Neely: Yeah? Oh.
Lawrie recovered quickly, and as the game went on, any potential lingering awkwardness between the two was nonexistent. This has been my plea for you to watch Game 3 of the Michigan-JMU series later today.