It was right about when Lachlan Edwards shanked a punt that traveled 36 yards before bouncing out of bounds that Jon Gruden, perpetually optimistic Monday Night Football analyst, had finally seen enough.
Jokic? Embiid? The NBA MVP is obvious... right? | Keep it a Buck(et)
"How'd you like to be a Jets fan right now?" Gruden wondered.
It wasn't yet halftime.
The grim details of Colts 41, Jets 10 are irrelevant. Besides, bad teams have bad games, and the Jets had waved the white flag on this season weeks ago. But last night, the entire country got to witness the last gasp of the retreat, to gawk at the sad detritus left in its wake. Tickets on the resale market were going for $1. Gruden and play-by-play man Sean McDonough repeatedly referenced the inordinate number of empty seats, and they weren't shy about questioning the Jets' players' effort and obvious lack of interest. In the end, Todd Bowles was left alone at a podium, muttering over and over about getting his ass kicked.
This morning, the back pages of both of New York City's tabloids were calling for his head:
G/O Media may get a commission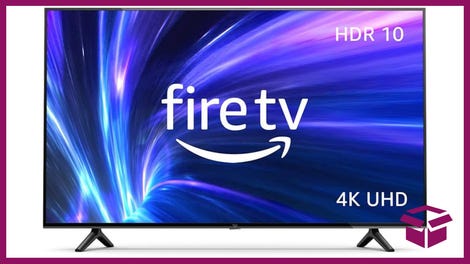 42% Off
Amazon Fire TV 50" 4K Smart TV
It's been just two years since the Jets' most recent housecleaning, when John Idzik's and Rex Ryan's forced Laurel and Hardy routine went crashing into the bandstand. Bowles and GM Mike Maccagnan were pitched as an antidote to all that—Bowles the no-nonsense disciplinarian who would reverse Ryan's indulgences, Maccagnan the bird-dog whose scouting acumen would succeed where Idzik's bean-counting had failed. The Jets even created an organizational structure that placed Bowles and Maccagnan on equal footing, with both men directly answerable to owner Woody Johnson. Now they're both perfectly aligned to take the fall together. Last night's no-show followed reports of veteran players flaunting Bowles by being late for meetings "all the time" (or skipping them altogether), while much of the roster Maccagnan assembled has grown gray hair overnight:

• Darrelle Revis. The freefall of his Hall of Fame skill level as a cover corner has been much discussed this season. Same with his noticeable lack of effort. But I watched Revis during training camp every day in the summer of 2015, and his competitiveness was captivating. At some point I figured he might snap out of whatever might be going on with him this season. Then I watched him whiff on this tackle against the Patriots in Week 12, and now I'm more convinced than ever that he's finished.
• Muhammad Wilkerson. Coming off a 12-sack season, his contract impasse lasted the entire offseason, and it seemed certain he would play this year on the franchise tag, especially with surplus (and younger, cheaper) defensive ends Sheldon Richardson and Leonard Williams also on the roster. The Jets hadn't even spoken to Wilkerson's people until just before the tag deadline, and then they came through with $54 million guaranteed at the last minute. Wilkerson has 2.5 sacks, with 1.5 of that total coming in the opener. He has since admitted to playing on a sore foot, but then he got benched for missing a walk through in addition to reportedly being late for other meetings. Wilkerson described the loss to the Colts as something on the order of a wake-up call. Good thing, too. It's only Week 13.

• Ryan Clady. D'Brickashaw Ferguson's retirement forced the Jets to fill a left tackle spot they hadn't had to think about for 10 years. Maccagnan traded for 30-year-old Ryan Clady, whose Pro Bowl potential came with some serious recent injury concerns; Clady lasted nine games before going on IR. Also, Nick Mangold, another mainstay on the offensive line, might be done for the year after having played in just eight games. Mangold will be 33 in January. And the Jets have no real experience backing up Clady or Mangold.
• Matt Forte. A versatile option as a runner and a pass catcher, Forte is averaging just 3.7 yards per carry and has only 29 catches. His 2017 cap number is $5 million, and it would cost the Jets $6 million in dead money if he were to be cut this offseason. Forte will be 31 on Saturday.*
• Ryan Fitzpatrick. LOL.
Which brings us to what's really been a 50-year problem for the Jets: They still don't have a quarterback, and this remains true even though Maccagnan has already used a pair of draft picks on the position. Imagine: The Jets have held active roster spots this entire season for Bryce Petty and Christian Hackenberg. Yet it took until last night's fartbomb for Bowles to finally hand the keys to Petty, who still couldn't make a lot of easy throws in garbage time. And Hackenberg, on whom Maccagnan used a second-round pick, remains on layaway for a team that doesn't actually have better options.
The Idzik Era devolved into airplane banners, backstabbing leaks, and an unforgettably self-pitying (and long-winded) press conference. But the Jets might be worse off now.
Idzik's frugality left Maccagnan with nearly $50 million in salary-cap space from which to start over. And Maccagnan immediately put together a roster that won 10 games last year, but he broke the bank to do it. He brought back Revis and cornerback Antonio Cromartie, and he structured Cromartie's deal to allow the Jets to walk away this year with no cap implications. He brought back veteran MIKE linebacker David Harris. He signed free safety Marcus Gilchrist, left guard James Carpenter, and cornerback Buster Skrine. And he traded next to nothing to acquire Fitzpatrick and wideout Brandon Marshall. At the time, these were good moves! Maccagnan spent a fortune to bring the Jets into compliance with the league's cash-spending rules, and he was making a careful calibration between winning now and building stability for later, which is something he hopes to achieve through the draft. But other than his two first-round picks—Williams and inside linebacker Darron Lee—his drafts haven't yielded much to build on. There is little depth on the offensive line, and no edge rusher to speak of. What's left is an expensive, aging core, and with zero salary-cap space projected to be on the books for next year, a cap-related roster purge is coming. With or without Bowles, or even Maccagnan, the Jets will be starting over again in 2017, and this time there will be no quick fix. How'd you like to be a Jets fan right now?