Woohoo, soccer people. We're back.
You're reading this right here, right now, because we made it through the summer offseason, and Premier League soccer is back. This is a very good thing, because while it doesn't appear that England's top flight is the no-doubt-about-it best league in the world, it is definitely the most competitive and, dare we say, the most entertaining as well.
All of this is to say, before we get started, that I have no fucking clue what's going to transpire between now and the Premier League trophy gets hoisted in May. The reason why, besides May taking place in the future, is the parity in the top third of the league. Since Manchester City came under new ownership in 2008, the expectation was that they would join England's top four Champions League-qualifying teams—Chelsea, Arsenal, Liverpool, and Manchester United—in a true top five which would guarantee someone's heart would break every single year. And we haven't really had that yet.
Liverpool sucked for a long time, and it was awesome. Chelsea randomly came in sixth place in 2012 (but won the Champions League, somehow(?)). Last year, Manchester United finished seventh, and fell completely out of European competition. We've had us a fluky little period, but it finally looks like we're going to have a real, honest-to-God, five- (or six-) team race for the top four. These teams are in a transfer window arms race, and one that's not going to be settled until the window closes at 11 p.m. on September 1. Only then when we have a better idea of what to expect.
A bit further down the table, we'll also have a bunch of teams, slightly suckier but still pretty good, fighting for Europa League spots. But just as important, we've got a fat gaggle of baddish teams this year, which means that the struggle to stay out of the three-team relegation zone will be equal parts exciting and desperate and funny and sad. Here's your 2014-2015 Premier League Preview. Let's start off with the scrubs.
CLUBS THAT ARE SHIT
Leicester City are shit. West Brom are shit. Aston Villa are shit. Crystal Palace are shit. Queens Park Rangers are shit. Burnley are shit. Hull City are shit. Sunderland, similarly, are shit.
G/O Media may get a commission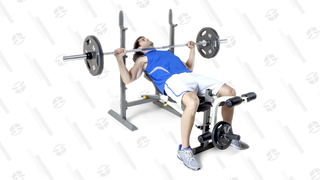 10% Off
Marcy Folding Weight Bench
This is the bottom third of the table, the worst of the bunch, and they're all bad teams. What makes them interesting is that they're all more or less equally bad, but have taken different routes to get there.
Leicester City were promoted after burning through England's second tier, winning the Championship by two points. They've got some flair in players Anthony Knoeckart and new signing Leonardo Ulloa, and of the three new Premiership sides, they're probably a better bet to maybe stay up than QPR and Burnley. QPR are also of note because their best player, Loïc Rémy, will almost certainly be gone by the end of transfer window, leaving them with a bunch of overrated and/or weak-ass dudes. They have a little bit of experience though, which should put them over Burnley. And they have Rio Ferdinand, who is very old and very slow and very bad, on account of being very old. But on paper, they have just enough experience and quality t0 finish out of the relegation.
Aston Villa are a weird side, because they're on the OK-ish side of being shit, and they brought in a bunch of OK-ish players this summer. Belgian striker Christian Benteke, however, is the only really good player on the club, and he popped his Achilles last spring. It's uncertain when or how he'll return to play.
Hull City aren't great, but they'll be playing in the Europa League this year! Great for the club, but not all that great for the club's chances in the Premier League. Here's hoping they get bounced early.
Sunderland and West Brom suck about the same, and the only difference between the two is that Sunderland have Jozy Altidore, who sucks but is American, by the grace of God.
PURGATORY IS A SMALL, WET ROCK IN THE MIDDLE OF THE SEA
This here section right here is the one where I'm going to try to tell you that all the teams that don't matter actually matter.
Southampton matter because Southampton make me sad. They were so good! And fun! And scrappy! They finished eighth place, and were both the pride and domestic soccering equivalent of England, and then this summer, they sold most of the players who made them that way—Rickie Lambert, Adam Lallana, Dejan Lovren, Calum Chambers, Luke Shaw—to other Premier League teams. I mean, what the whole, entire fuck?
They gave up any chance of maybe fluking a little European qualification, but now they're sort of bad. But they're not all that bad, so they're going to spend all year just kind of ... languishing.
They'll probably end up near Swansea City, who are a closet favorite of mine. They play great, attacking soccer, and might could maybe do something. Although they sent their best player Michu on loan to Napoli, they still have players like Ivorian striker Wilfried Bony as well as new signings Ecuadorian winger Jefferson Montero and attacking playmaker Gylfi Sigurðsson, late of Spurs. 35-year-old English manager Garry Monk will start his first full season as a manager, and we don't really know what he can do.
I'd be lying if I said Stoke really mattered, because they're a hard-working, quasi-attractive team whose best player is their keeper. But they're vaguely interesting, because they have Geoff Cameron, who's American! They also currently employ two prodigies who were supposed to Save Soccer and never panned out. The first is 24-year-old American Brek Shea. The second is Spaniard Bojan Krkic, who grew up at Barcelona, and was slated to be the Spanish Messi, but has led a career that more closely resembles the Spanish Freddy Adu.
For some reason, Newcastle have been doing this thing where they only sign French or French-speaking players, and it's been a pretty mediocre strategy thus far. They finished 10th last year, which sounds about right, and they'll probably finish just a little worse than that this season. They lost striker Loïc Rémy, who rejoined QPR on loan, but have a fun new French playmaker, Rémy Caballa, in from Ligue 1's Montpellier.
Add in a couple of roughnecks like Cheik Tioté and Moussa Sissoka, and the Toon might even take some points over top teams.
I got nothing for West Ham. They're boring, and bad, and would be completely anonymous if not for the signing of Argentine Mauro Zárate. Zárate's fun because he's basically Metta World Peace and Jason Terry and Zlatan Ibrahimović combined into one long-overhyped, underachieving journeyman forward who was once tipped to be one of the world's best players and still plays like he thinks he is. He's fun, kind of.
Tottenham matter because HAHAHAHAHA Tottenham fucking suck. I mean, they're alright, but just alright, and selling off Welsh god Gareth Bale to Real Madrid for all of the money and their collective dick in their hand was an unbelievably grave error, one bound to haunt them for a few years, at least. After a disappointing finish last year, Spurs have made almost no effort to improve this year, while other clubs around them have gotten stronger. But but but, they signed DeAndre "Young Cock" Yedlin, and they should provide a good springboard for the young American to move to a big club when he joins in 2015.
THE CLUSTERFUCK AT THE TOP
6) Everton
Everton were always a defensive, gritty, overachieving side under manager David Moyes, and when he moved to Manchester United along with midfielder Marouane Fellaini, there was a question of how good this team would be under new manager Roberto Martinez. They turned out to be pretty fucking good.
Everton had the third-best defense in the league last year, all while playing one of the most exciting styles in the league. Behind their strong back four is American hero Tim Howard, and their outside backs, Leighton Baines and Séamus Coleman, also contribute on offense as well. They're all back, but what you should be most pumped for is the continued maturation of young Lion Ross Barkley, who when healthy is basically cocaine in white boy form.
Beyond him, Everton are sneaky-stacked going forward. Belgian Romelu Lukaku, on loan at Everton from Chelsea last year, was an absolute stud, and the striker scored 15 goals from 31 matches. He was a lot of the reason Everton pushed for a Champions League finish last year, and this year, Everton pried him from Stamford Bridge for around £31 million this season. They also permanently added Gareth Barry on a free transfer, on loan with the Toffees from City last year.
Basically, this team isn't much changed from last year, and that's bad news for the rest of the Premier League.
5) Manchester United
So. Last year was not awesome. After Sir Alex Ferguson's retirement, Moyes was hired to run the shop. Moyes sucked a lot, and United sucked a lot, and when the dust settled, the defending Premier League champions finished seventh, and put in some incredibly terrible performances on the way to purgatory.
The Red Devils got Moyes the fuck out of Manchester, then brought in Louis van Gaal, an erection of a man, by all accounts, who also happens to be a spectacular manager. This past summer, van Gaal managed the Netherlands in the World Cup, and as God is my witness, almost Did It with a 5-3-2 formation, United's Robin van Persie, Arjen Robben, and a whole, whole lot of guys no one has ever heard or thought much of.
United have been wowing this preseason, but preseason doesn't count, and so far, they have spent most of the transfer window pump faking. They let go of aging left back Patrice Evra, and brought in 18-year-old replacement and possible star-in-waiting Luke Shaw for a hilarious £33 million. They also brought in attacking midfielder Ander Herrera from La Liga's Athletic Club for nearly £32 million.
But they need more. Outside of RVP, Wayne Rooney and Juan Mata, they don't have a single really great outfield player. As it stands, their defense, even with Shaw (who, mind you, is out injured), is a wet paper bag consisting of Phil Jones, Chris Smalling, and, like, Johnny Evans. C'mon, son.
You gotta think they're bringing more players in before the transfer window closes. If they don't, they're going to suck a lot again. If they do, however, bring in some help, last season could be all but forgotten. If there's anything we learned from last year, it's that sometimes missing Europe games, and playing fewer matches then your elite opponents could be a blessing in disguise. And this brings us to...
4) Liverpool
Randomly, Liverpool almost won the whole goddamn league last year. Which reminds us:
"Yakety Sax" aside, they came in second to City, because Uruguayan Luis Suárez is a warlock and for prolonged periods last year looked like maybe the best player in the world, finishing the season with 31 goals and 12 assists. Then he bit someone in the World Cup, got his ass banned from the sport for four months, and then rolled out to Barcelona for over £70 million.
So...no more Suárez.
After finishing seventh and out of the year prior, they rode Suárez to the top of the table last season in Brendan Rodgers's groundbreaking 5-3-2 and lit everyone up, scoring a whopping 101 goals in the season. Now, though, they have to switch their tactics. Liverpool will likely switch to a more conventional 4-2-3-1. Their main man up top is now Daniel Sturridge, who is almost definitely the truth, and coming off a 20-goal season, and the best English striker in years, but thrived as Suárez's sidekick. Around him, the Reds will have to fill in gaps.
The attacking trio of Raheem Sterling, Philippe Coutinho, and one of two new boys Adam Lallana or Lazar Markovic will have to both score and provide a lot of goals to make up for Suárez. Captain Steven Gerrard and Jordan Henderson are both very good players that will defend and provide goals, and Dejan Lovren should pair well with 24-year-old beast Mamadou Sakho in the center of defense.
On paper, they look good enough to contend, but so did Tottenham after they got rid of the heart and soul of their squad. Liverpool need one more great player. In any case, two questions will decide their fate: First, can they make up for the loss of the Premier League player of the year? And second, how will Liverpool fare with a heap of Champions League matches added to a grueling domestic campaign?
3) Arsenal
Around this time last year, I wrote a story about how one time I had to take a really big, wet shit, and my passive-aggressive roommate didn't buy toilet paper, so I had to waddle to the bodega and buy one roll of toilet paper. The moral was that I'd spent more on that one roll than Arsenal had all summer on players, on improving. Manager Arsène Wenger obviously read it, because a few weeks later, he went out and bought Mesut Özil for £44 million, and it looked for an uncomfortably long time like the first-place Gunners were about to Do It.
Then the spring came, as it is wont to do after the winter, and the Gunners's bodies and Premier League fell apart, as they are also wont to do. No one was surprised; everyone who was watching has seen this movie before.
This year, though, feels different. For a time last year, central midfielder Aaron Ramsey felt like the best player in the galaxy, and then he broke down. He's back this year, though, and so far in preseason from an all-action role in the center of the park, he's dominating the ball, a demon on defense, making runs behind opposing defenses, and scoring, as he did against Manchester City('s B team) in the Community Shield last week. They'll need him to be the shit again.
What's important is that the core of this Arsenal squad is largely unchanged. German Per Mertesacker and Frenchman Laurent Koscielny are one of the league's top center back pairings. Left back Kieran Gibbs is another year older and experienced. Theo Walcott is almost back from blowing out his knee last year, as is the rest of Arsenal's revolving door of mostly smallish, scrappy, more or less interchangeable midfielders. There's captain Arteta and Flamini and Cazorla and Özil and Ox and Podolski and Rosicky and Wilshere—who appears less dope by the day—and Campbell and Diaby, for a couple weeks. We know these guys. We know how they play: short passing meant to dominate possession as they decide who gets to shoot.
The story, though, has been this summer's transfers. The Gunners bought Calum Chambers, who could turn into a star, but will be a high-level utility man until then, subbing in across the back line, and in the midfield if they need. Frenchman Mathieu Debuchy also comes in as a perfect replacement for Bacary Sagna, who jumped ship to play sometimes for City next year.
Center forward Olivier Giroud, if we're honest, wasn't really good enough to lead a line that was serious about winning the Premier League, and young backup Yaya Sanogo was maybe going to go the whole season without scoring. (He didn't score.) So Wenger went and got some help with the £33 million purchase of Alexis Sánchez from Barcelona.
Sánchez is dope. He's really fast, and quick, and versatile, and scores a lot of goals in a lot of ways. He can play on the left, or the right, or up front with Giroud, or instead of him. He is supposed to be the answer to Arsenal's lack of depth and goals up front, and he can fill the hole. The Gunners are inarguably better this year; the question is just if the Chilean is enough to propel Arsenal to the top.
No, of course not. Arsenal probably need an upgrade at center forward, a holding midfielder better than Arteta, and more center back cover than Chambers. If they make it happen in the next two weeks, they could win the whole thing. If they don't, there's always a chance to repeat in the FA Cup.
2) Manchester City
Manchester City are finally as stacked and scary and great as everyone dreaded they would be when they were injected with that Abu Dhabi money six years ago, and last year, captured their second Premier League title in the three years, besting Liverpool by two points when all was said and done.
The reason why they won the league was because of the ridiculous exploits of Ivorian midfielder Yaya Touré, who did almost literally whatever he wanted all season long. Manager Manuel Pellegrini built the team around Touré last year, and his midfielder delivered, scoring 20 goals and recording nine more assists in 36 appearances. He consistently looked the best midfielder in the world, and he's expected to lead this team to glory once again.
Touré is this team's engine, but it'd be disingenuous to say he doesn't have a whole lot of help. City's spine is one of the strongest in the world. Vincent Kompany, the best center back in the world, will look to have another strong season, David Silva is a dainty demon who pulls the offensive strings, and World Cup runner-up Sergio Agüero, when healthy, is one of the best strikers in the world.
City have been among the biggest spenders in the world for a while, and so it was expected that they would go out and spend metric tons of money this summer, because that's what they do every summer. Instead, they had a quiet, semi-measured, and ultimately super good transfer window. Without losing anyone of note, hey brought in Sagna in from Arsenal on a free transfer, bolstered their midfield by swapping out the shitty Javi Garcia for FC Porto defensive midfielder Ferndando, and also brought in Fernando's teammate, freakish center back Eliaquim Mangala.
They're better than last year, and in a perfect would, they'd be favorites to repeat again. But Africa exists, and thusly, every two years is the Africa Cup of Nations. Touré will be expected to compete, and he could miss up to six matches starting in January. City haven't really done anything to account for his absence, and his loss could be pivotal in the title race.
1) Chelsea
As hard as we try, we just can't look past the Blues to hoist the Premier League title. This is José Mourinho's second season in charge of the club, and as the best manager in the league, he's a pragmatic force of nature unto himself. Last year Chelsea finished third in the league, just four points shy of City, and did so with far and away the league's best defense, and without a complete team.
Mourinho's only real slip last year took place before the season even began, when he let Lukaku go on loan to Everton, leaving him with a three-headed striking dud of Samuel Eto'o, Fernando Torres, and Demba Ba. The trio scored 19 goals between them all year, fewer than Suárez, Sturridge, and City's Touré netted themselves.
Mourinho fixed that this season. He shipped out Brazilian center back David Luiz for over £43 million, and used the funds to bring in Diego Costa from Atlético de Madrid.
The Brazilian-born Spaniard was one of the top strikers in Europe last year, netting 27 goals in 35 La Liga appearances, and though he had a miserable World Cup, he's been scoring at will this preseason, and is big and strong enough to adapt to the rougher English league. He's unbelievable, and not even the best signing of the summer.
That honor would go to the signing of Barcelona midfielder Cesc Fàbregas. The 27-year-old Fàbregas, once Arsenal's captain, was bought by his boyhood club back in 2012, and was widely expected to take over the puppeteering duties from Barça's Xavi. But the Spanish giants forgot, or something, and sold the Spaniard back to the Premier League.
Fàbregas is one of the best midfielders in the world, and he'll return easily to the Premier League. Surrounding Cesc are studs: Belgian winger Eden Hazard could turn out to be the league's best player, and there's also midfielder destroyer Nemanja Matić, and Oscar, and Ramires, and ageless scumbag John Terry in defense, and the return of Belgian keeper Thibaut Courtois, who has blossomed over the last few seasons into one of the best in the world. Also, legendary Chelsea striker Didier Drogba is back to see out his career at Stamford Bridge.
Mourinho plays a defensive side that frustrates and ultimately shuts out a lot of opponents, and the club looks poised to do that again. To offset their transfers in, out went deadwood like Ba, and Frank Lampard, and Ashley Cole. This isn't the flashiest of rosters, but it's the most resolute, and with added offensive star power, Chelsea should be the favorites to win the Premier League, and push for the Champions League, as well.
Sound off in the comments below.
And as I said before, I don't know shit. Arsenal, for example, might just win it all.
Photo Credit: Getty