My wife and I got stuck in traffic on the way back from Western Massachusetts Sunday afternoon, which almost prevented us from seeing kickoff of the Patriots' 21-26 victory over those lucky (and terrifyingly good) Packers. But rather than risk missing the beginning of the game—or the whole game, or our unconceived child's college graduation—while crawling through turnpike traffic in our very trepid Ford Shrug, we decided to pull off in Worcester to watch the game at a bar.
The first place we tried is a high-end beer bar that doesn't have TVs. Now, I'm the sort of counterfeit dandy who loves to complain about TVs in bars until I need one, so that joint got put on permanent probation, and we wound through downtown Worcester certain we'd find a proper wing-and-beer place before kickoff. And we did, but it wasn't easy. Worcester has a lot of wide, straight boulevards lined by tall, empty buildings, and not enough of them had Patriots flags or Miller Lite signs in their first-floor windows.
We ended up finding a perfect bar right before kickoff, but not before several nervous minutes grousing about the town's lack of entertainment options. (Note: I have no real idea how much fun there is to be had in Worcester; I'm not knocking the place so much as I'm whining that it didn't happen to be laid out for my optimal convenience the one day I went.) We realized that though we'd both grown up within a couple dozen miles of it, neither of us had been there as adults, other than when our friends tricked us into seeing shitty jam bands right after college. I believe it was String Cheese Incident for the lady and Deep Banana Blackout for myself, or perhaps it was the opposite, because who could remember, because what's the difference?
We Gordons do not care for hippie things, musical or otherwise. This is why I had deep misgivings about reviewing Boulevard's Long Strange Tripel. I love Boulevard beers—they're in my mythical Top 15 American breweries, and the Saison-Brett is a contender for Drunkspin beer of the year—and Belgian-style tripels are among my favorite breed of beer. But look at that hippie-bullshit label design, not to mention the Grateful Dead pun name. Any bias I might have had toward the style and the brewery is more than balanced by my disdain for the gross lifestyle the packaging seems to promote.
But further investigation revealed that the beer is named in honor of a long-serving employee named Trip, and I'm willing to believe this man is both long and strange, or at very worst he is the lone hippie on the staff. For the sake of objectivity in this review and my own personal enjoyment of future Boulevard beers, let's pretend that this hippie bullshit is not hippie bullshit.
G/O Media may get a commission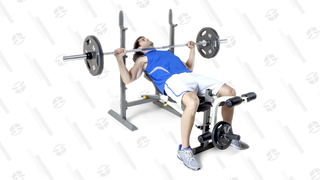 10% Off
Marcy Folding Weight Bench
Tripel ales are so-named because they traditionally employ about three times as much malt as a regular trappist beer. This leads to higher alcohol content (9.2 percent in this case) as well as a broader range of flavors. Long Strange uses pale malt, Munich malt, malted wheat, and flaked outs, along with a little dose of dextrose and Magnum and Styrian Golding hops. The resulting brew is great.
It pours deep gold, with a huge white head that eventually recedes to leave a thick island of froth in the center of the glass, surrounded by a lacy bubble moat. The aroma features lemon, orange, and cloves, with the citrus holding its own against the spice, and moderate banana and underlying wheat bread and pepper, with just a hint of wood. It's very citrusy for a tripel, which makes it fresher and brighter than most. The banana essence grows as the beer opens up, along with the cloves and fruit. The sweet malt stands up to the Belgian yeast, and the hops are deep in the background, to be sure, but they make their presence known.
Boulevard Long Strange Tripel is a great beer from a great brewery, especially if you can will yourself into denial of its dubious cultural associations. It costs $9 per 750-ml bottle, which is about the going rate for an American tripel (referring to straight versions, not barrel-aged and otherwise adulterated bottles that can cost up into the $20s), and if Drunkspin makes good on its threat to introduce some sort of fake-official star-rating system in the future, we'll retroactively award this one a very high grade.
---
This is Drunkspin Daily, the Concourse's adequate source for booze news, reviews, and bullshit. We'll be highlighting a beer a day in this space; please leave suggestions below.
Will Gordon loves life and tolerates dissent. He lives in Cambridge, Mass., and some of his closest friends have met Certified Cicerones. Find him on Twitter @WillGordonAgain. Image by Jim Cooke.
The Concourse is Deadspin's home for culture/food/whatever coverage. Follow us on Twitter.