Some photos with no backstory are making the rounds, showing what appears to be an Indianapolis police sniper checking out his post in the rafters of Lucas Oil Stadium in the hours or days before the Super Bowl, a post that would be manned when the game began. Yes, we know there's nothing surprising about trained marksmen working the biggest sporting event of the year. We also know it's pretty damn cool to see what the Super Bowl snipers are working with.
It's standard operating procedure to have an invisible law enforcement presence at any high-profile event, let alone one with the attendance and attention the Super Bowl receives. And remember, there are all kinds of politicians and other assorted rich people around. You never know what could happen, though the imagination conjures up increasingly insane and horrifying scenarios, and also the criminally underrated Black Sunday. It's just never a bad idea to have a sniper rifle around.
It's no secret that the Super Bowl is staffed by sharpshooters. "We've got a lot of places for snipers in here," Jerry Jones enthused to CNN about Cowboys Stadium before last year's Super Bowl. In 2009, Ashton Kutcher noticed (and filmed) a pair of them across the street.
We're actively trying to figure out where these photos came from and for what purpose they were taken. They've started to circulate on Facebook, and we found them posted on a 4chan board, though it's impossible to tell where they originated. But the details are right: the IMPD patch, the end zone design, the giant Roman numerals on the glass of Lucas Oil Stadium. So we're labeling them "plausible" and will update when we can trace them back a little further.
UPDATE: Here's more on the photos. They're 100 percent real.
G/O Media may get a commission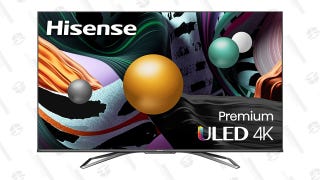 Save $350
Hisense ULED 65" Android 4K HDR Smart TV