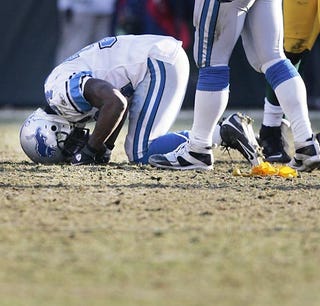 Got an image you'd like to see in here first thing in the morning? Send it to tips@deadspin.com. Subject: Morning crap

A chilly day. Head down in agony. A lost shoe. A penalty flag. Thanks to Lions running back Kevin Smith for this brilliant interpretation of "Season Of Loss." The Lions were rendered Winless in the frozen tundra yesterday afternoon, stifled by the Packers mediocrity and their own ineptitude. Even glass-half-full coach Rod Marinelli couldn't find a rainbow after yesterday's 17th consecutive defeat going back to last December.

"The record speaks for itself, and my feelings about it will be kept to myself. I thought this team tried hard all year. They gave it their best and I gave it my best, but sometimes your best isn't good enough."

Lions show heart but make history at 0-16 [Detroit News]