This was to be the year that officially consecrated a new Real Madrid dynasty. After historic European success—back-to-back Champions League trophies, making for three such titles in four years—and the arguably even more Herculean feat of beating out Lionel Messi's team for status as La Liga champions, the world's most famous club came into the season with incredible momentum and hopes of pressing their advantage into what promised to be an even longer era as world soccer's dominating force. Unfortunately for Madridistas, this was not to be.
Real's season couldn't have started any better. In the Spanish Supercopa back in August, Madrid crushed Barça in a two-legged tie that felt like a metaphor for both club's diverging trajectories. Real had lost a few key cogs in what had been one of the strongest top-to-bottom squads ever assembled, but had replaced them intelligently with relatively cheap, young prospects who had every chance of achieving stardom. This made for a youthful roster still dripping with high-end talent, one that was savvily recruited by a club president who had foreseen the exponential growth of transfer fees for top players and devised a smart workaround by focusing on bringing in the world's hottest talents before they'd fully blossomed and become prohibitively expensive. The club appeared all set to maintain its momentum as Spain's and Europe's preeminent team in both the short and long terms.
They had soon-to-be five-time Ballon d'Or winner Cristiano Ronaldo to keep them dominant now; prime-age players like Isco and Toni Kroos and Casemiro to aid Ronaldo's cause while also continuing the winning tradition once started to fade; and a superstar in the making in Marco Asensio, who scored twice in a couple of star-making performances in Real's dazzling 5-1 aggregate Supercopa victory. Asensio looked potentially able to take Ronaldo's place as the club's singular talisman after the Portuguese icon was gone. Everything was looking way up.
Barcelona, for their part, were by all appearances going in the opposite direction. Their star of the present and future, Neymar, had just forced his way out and joined Paris Saint-Germain in one of the most shocking, humiliating transfers sagas ever. In a panicky response, Barça's leadership at that time cast about this way and that for big-name, expensive replacements, and their questionable efforts to acquire their chosen Neymar substitutes, pissed off half of Europe. Barça, too, had attempted a gradual squad rebuild process that resembled Real's strategy of hoarding inexpensive young talents and hoping a few of them came good, only none of their gambles looked like it would be paying off any time soon. The Barcelona starting lineup was getting old, the bench was thin, and their present and future prospects looked uncertain at best.
If you've paid any attention at all to the first half of the Spanish soccer season, you'll know that things did not turn out at all as anyone expected. Madrid's seemingly promising present has crashed and burned, while Barcelona are soaring. Real are currently a staggering 19 points (with one game in hand) behind Barça in the league table, right now occupying a perfectly deserved fourth-place spot. Just yesterday, they were ousted from the Copa del Rey in the quarterfinals by tiny Leganés after a two-leg tie in which Real were comprehensively outplayed in both matches. And with a pair of difficult Champions League Round of 16 matches against PSG on the horizon, Madrid could very well find their once-promising season completely over just halfway through the campaign.
G/O Media may get a commission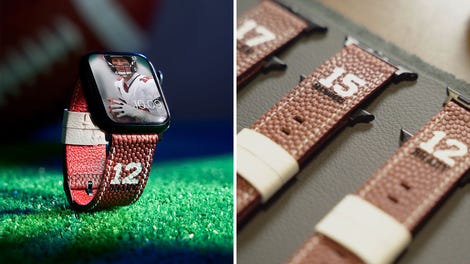 Official NFL PRODUCTS
Official NFL Apple Watch Bands
That Madrid have problems is obvious. What exactly those problems are, why they've emerged after two wildly (if a little bit misleadingly) successful seasons, and, most importantly, how to fix them are much more difficult questions to answer. For as much creative talent as exists at the club, Real have a strangely difficult time creating good goal scoring opportunities. Their primary attacking strategy revolves around crossing the ball, with a heavy emphasis on the play of their full backs. When all of Real's players were fit, healthy, and in form, this same strategy led the Blancos to conquer Europe twice and best Barcelona and everyone else in Spain last season. Marcelo, Daniel Carvajal, and Luka Modrić are phenomenal at curving in perfect aerial balls from out wide into the penalty area, and their header-genius teammates like Ronaldo, Gareth Bale, Karem Bezema, and Sergio Ramos are just as great at nodding those balls past keepers. It's not the most poetic attacking strategy, but it's one of proven efficacy as demonstrated by the club's La Liga-UCL trophy haul last season.
However, Real's cross-first philosophy hasn't worked nearly as well this year as it did in the prior campaign. This is in part down to medium-to-long term injuries Bale (like always), Benzema, Marcelo, and Carvajal have suffered this year, as well as the continued physical decline of Ronaldo. When those players have been out, which has been often, the team looks unsure of how to go about scoring goals. When those players have been in, the crossers have often been asked to do too much, isolated on the wing in both attack and defense, and the headed goals that once flowed so effortlessly have dried up. On top of that, the team misses the established, elite talents of James Rodríguez and Álvaro Morata, as none of the younger guys who've been handed their minutes have mirrored those ex-Blancos' production. In both number and quality, Real's opportunities on goal have deteriorated.
Manager Zinedine Zidane has thus far found no solution. Even more to the point, it seems like he's not even trying to. For the vast majority of the season, Zidane has stuck with the tactics and formation—the 4-4-2 diamond—that he settled into during height of last season's successful run. By sticking with the same strategy, same formation, same players, and same heavy rotation policy, he's attempted to keep the good times rolling, even when given concrete proof that things were not working as well as they should.
The thinking here makes sense. If getting the ball out wide via the full backs and a perpetually moving Isco, sending a high ball into the box, and waiting for one of the forwards to hit it into the back of the net worked well before, it's not crazy to trust it'll work again. It's clear Zidane believes the problem isn't in his process or his personnel—multiple reports during the summer and winter transfer windows have said club president Florentino Pérez has repeatedly come to Zidane with plans to spend money on new players, only for Zidane to turn him down in favor of sticking with the players he has—and that things will go back to normal if everyone just believes. The problem is that if Zidane's trust isn't vindicated soon in the form of much improved performances, he could find himself out on his ass before any possible turnaround starts.
The case for Zidane being a legitimately good manager—besides the overwhelming success on the pitch, of course—has always centered on his deft navigation of the players' egos. Because he was a superstar player at the club, he has a unique credibility in the locker room and the boardroom. This allows him to understand what his players want (mostly, freedom from managerial meddling and pestering) and gives him the confidence to let the players do their thing without fear of the club's famously ... hands-on president trying to micromanage things. The rap against Zidane has been that anyone could have won the titles he won when armed with literally the greatest squad ever, and that the squad's talent and experience papered over the manager's lack of any real tactical nous. His detractors' arguments that Zidane is little more than a clueless caretaker lucky to have players who can do all the work themselves are certainly overly uncharitable and wrong, but Real's current predicament and the manager's inability to find a way out of it does seem to support the notion that he's more Luis Enrique than Pep Guardiola.
The Leganés loss was bad, but it wasn't an outlier. Real have only won three of their last eight matches in all competitions, with the first loss in that run coming in a December Clásico when Barcelona came into Madrid and ransacked the place in a 3-0 beatdown. It would take a Real miracle and/or a Barça tragedy for Madrid to win the league at this point, they've just bombed out of the Copa against a team currently in just its third ever season in the Spanish top division, and with that daunting PSG tie coming up in just a couple weeks, it wouldn't at all be a surprise to see this club spending the majority of the 2018 half of thinking more about a possible radically new-look future than its failed present—a future that very well might not involve Zidane, Benzema, Bale, or even Ronaldo. Regardless of what happens against PSG, it's a safe bet that there will be significant change in Madrid sooner than later.
But Real Madrid still have all the money in the world, more prestige than any sports team on the planet, and a president maniacally obsessed with being the best. The risk of any sustained decline here is pretty small. And hell, it wouldn't be all that crazy if Ronaldo got back to top form, Bale stayed healthy, and those two forwards drove the club to a third consecutive UCL trophy. Nevertheless, for a club that just a couple months ago was on the top of the world and could rightfully believe they might stay up there for good, their once stable and secure position is all of the sudden under much more threat than anyone would've foreseen.