Your morning roundup for Jan. 4, the day we thanked Apocephalus borealis. Photo via Mocksession. Got any stories or photos for us? Tip your editors.
Ohtani has the WBC, but will Mike Trout ever lead the Angels to a championship? | Agree to Disagree
What we watched: The offensively challenged Sugar Bowl. Denard Robinson's performance was a new level of awful for victorious college football: 9-for-21 for 117 yards, two TDs (both of which should have been intercepted), and one interception, plus 13 yards rushing on 13 attempts. Sure, Michigan may have won, but they can count their blessings and thank a third-string kicker, a botched fake punt, and an offensive lineman with good hands. The Wolverines' performance wasn't gritty, and they didn't fight through adversity; they stumbled into victory thanks to a Virginia Tech team ever-so-willing to give it away.
G/O Media may get a commission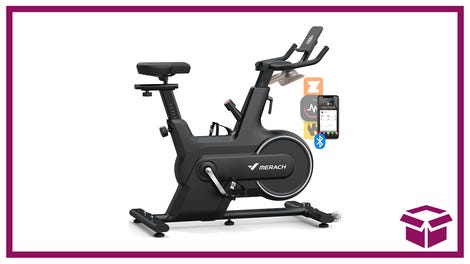 14% off + Coupon
Merach Indoor Cycling Bike
What we're watching (all times EST, unless noted): Washington at Orlando in NBA basketball at 7 (NBATV). Duke at Temple (ESPN2) and Marquette at Georgetown (ESPNU) in men's college basketball at 7. Boston at New Jersey in NHL hockey at 7:30 (NBCSN). Tennessee at Memphis at 8 (Fox Sports Net). West Virginia vs. Clemson in the Orange Bowl at 8:30 (ESPN). Texas at Iowa State in men's college basketball at 9 (ESPNU). Houston at Los Angeles Clippers in NBA basketball at 10:30 (NBATV).
Read Me
Your job's not so bad compared to this: "Nearly all these laborers are in desperate need of a job, especially as the events of March capsized an economy just beginning to emerge from years of recession. Some are reportedly offered salaries of around $80 a day; others, in very dangerous spots, $500 an hour. Though most are allowed to put in no more than two hours a day at the plant itself, the whole process-of being bused to the area, clothed, checked, briefed, and checked again-takes up eight hours every day. Many leave their inns at four A.M. The courage and self-sacrifice involved in such a commitment would win admiration anywhere, but in Japan they carry a special charge; duty and obedience are the country's sovereign virtues. Nearly every Japanese myth speaks of some heroic figure who risked death rather than let down his lord or his group. Some have likened the Fukushima 50 to the 47 ronin, the leaderless samurai who ultimately had to commit suicide, but only after avenging their fallen master. Others might recall Benkei, the loyal retainer who died on his feet after protecting his lord, Yoshitsune. Six days before Gale meets the workers, I happened to run into a 69-year-old artist from Tokyo, Shinsuke Notomi, who comes from a high-ranking samurai family. 'Many people still observe Bushido,' he says, referring to the samurai code. 'The more you feel, the less you say. You should be ready to die every day.'" [Vanity Fair]
This Date In Deadspin History
Jan. 4, 2009: Peyton Manning: Still A Choker?
Elsewhere
Mike Francesa will retire soon, maybe: "Mike Francesa is leaning toward leaving WFAN when his contract expires in March 2014, the station's longtime afternoon drive time host said Tuesday. Speaking after a show on which he hinted on the air he was mulling his future, Francesa initially said it was '50-50, at best' that he would return, then added, 'I'm even saying I'm leaning toward leaving.'" [Newsday]
Dedicated to your craft: "Good thing the 13-time Grand Slam champ upped her fitness regimen as part of her bid to come back from being sidelined for the better part of a year after her victory at Wimbledon in 2010. 'I just decided if I can be fit, that can be a new level in my game, because I've always been — I think — a halfway decent player,' Williams said. 'So I thought, 'OK, what haven't I done? I've never really been fit.' I'm still not super fit, I always have cream sodas at night. But I've been doing some running. I hate running, but I've been doing more running, distance running.'" [ESPN]
Your Action Figures Fighting Interlude:
Useless awards: "Because the world can never have enough awards shows, the NFL is bringing you its very own. 'NFL Honors' will be a live, two-hour NFL Network special on February 4th, the night before the Super Bowl. Alec Baldwin will be the host. [...] The show will see some significant awards presented, though. The AP's MVP award will be announced that night, as well as Coach of the Year, Rookie of the Year, Comeback Player of the Year and the Walter Payton NFL Man of the Year. There are also some sillier awards, like the Fantastic Finish or Fantasy Player of the Year." [Shutdown Corner]
Putting the student in student-athlete: "Ryan Garvey, son of Dodger and Padre all-star Steve Garvey, won't be playing baseball at USC after all. Despite attending one semester there on a baseball scholarship, the former Palm Desert High School star transferred to Riverside Community College for the spring semester earlier this month. He plans to play baseball for RCC in the spring and enter the Major League draft in June. Ryan Garvey said his goal is to spend more time developing his baseball skill. 'I passed all my classes, I'm eligible, it was great, but I was studying from 9:30 to 6 every day and I was more worried about school than baseball, and my thing was to go there to play baseball,' Ryan said. 'I love 'SC, it was one of my dream schools from the beginning, but my main goal is to be a professional baseball player and I felt I was more focused on school than sports.'" [mydesert.com, via Big League Stew]
Send stories, photos, and anything else you might have to tips@deadspin.com.