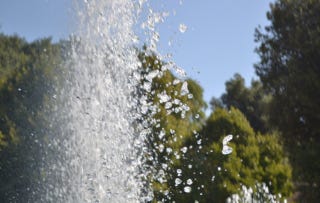 Another week, another onslaught of people seeing phallus in unlikely places, capturing it on film and sending it in. Like that fountain that Luke S. saw in Siena, Italy, a few days back.
Or that coffee creamer that led ToddReesingsTurfFacial to state, after seeing it on mostexerent's Tumblr, that "You say coffee dong, I say ejacu-latte."
How about the Tropical Storm condong, as pointed out by Kevin L?
Pin and fairway on the 17th at Bridgestone via Ian Baker-Finch's Twitter (per tipster Tom S.).
Some pervy penal deformity courtesy of a BYU sports show (and tipster B.C.).
The start of an asthma swimmer's failed route (numerous tipsters).
An Illinois company's questionable-when-the-d-and-b-look-close-together logo (James).
A double-ender at Disney (Ray S.).
And even on the roof atop Deadspin and the rest of the Gawker family (H/T Megan).