It seems have if unintentional dongs have now infiltrated the medicinal world. Here, Joel S. provides a festering diddy from a Mucinex commercial.
Erin "didn't notice my festive little reindeer until I was packing away my ornaments." Sure she didn't.
For some reason, Peter S. was checking out the yarn candlesticks on Camilla Fabbri's Family Chic site. He saw a dong.
G/O Media may get a commission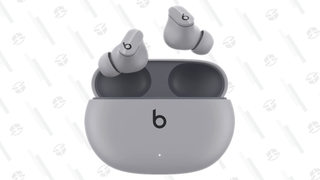 Shaun D. took this pic during a recent trip to Mexico. "The resort we stayed at had Mayan symbols inlaid in the walkways and tile all over the grounds. This one was my favorite, I call it 'El Príncipe Alberto Dong.'"
Kristin "saw this in a vintage store on Minneapolis, so I guess it's an unintentional hipster sweater dong that's ironically happy to see you."
This "Sud Dong" is provided by tipster Dan who, "while drawing a bath for my 2-year-old daughter, this suddy monstrosity appeared. My wife snickered and got the camera for me."
Pat D. saw these signs on Top Chef and felt it necessary to share.
"Always Winning" maintains this "Shadong" is unintentional. Too perfectly lit to be that, though.
Bill decided to send for dong-implied photos of Human Rain Delay Mike Cosgrove because "My parents are very much Cleveland Indians fans as well as season ticket holders. I guess one of the promotional things the Indians do is give out bobblehead dolls. Therefore, every year for Xmas my brother and I receive at least 1 bobblehead. Well this year we received former player (and manager) Mike Hargrove. When I lifted the box I saw what was to me an unintentional Dong shot on the front, I flipped it to the side and there was another and on the other side another. It was as if they were begging for a submission, so here it is." And here one of them is.
Phil saw this in Japan. Whatever this is.
Alan sent this in from wherever. Whatever it is.
Tipster Graham L. draws your attention to this pint glass from The Brick. Per Graham, "It's the oldest bar in Washington State, located in Roslyn, WA in the middle of the Cascades. Great place to stop for a beer/bit on the way back to Seattle from a weekend out east." He knows not why they chose a dong for their logo, but recommends you stop by if ever passing through Roslyn. You can get a free beer for throwing a quarter into a spittoon or something like that.
Dave from Indiana shares this tridong display, explaining it as such: "I was visiting relatives and saw this on their kitchen counter. It's from a workbook their son uses at Sunday school."
Finally, so as not to be misogynistic, Lars E. III presents "Yam Vag," in declaring that he's "never seen a more vag like tuber in my life," while ...
... Chicagoist came correct with some weather b00bz.