Thomas Müller got his face jacked up on the final play of Germany's 2-2 draw against Ghana. With stoppage time winding down, Germany had a free kick and as Müller attempted to head the kick in for a final desperation try, he swung his face right into John Boye's shoulder.
The rear angle really gives you an idea of how gnarly it was. It looks like he drives his eye socket and nose right into Boye's shoulder.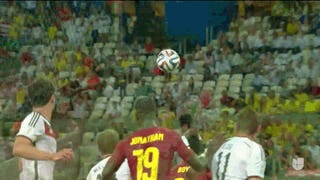 Both men remained on the field for some time, but Müller definitely got the worst of it. While it wasn't nearly as bad as Alvaro Pereira getting knocked out, FIFA will have to keep its eyes on injuries like this.
This was just a couple of days after Müller absolutely drilled a fan in the face with an errant shot during practice.
[Univision]