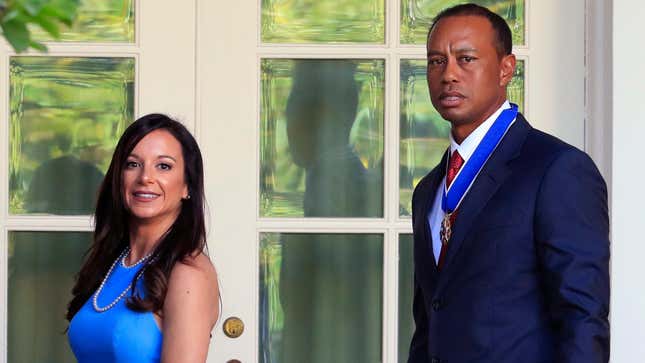 It says a lot about society that I'm unsure how Tiger Woods fans view the latest alleged drama between him and his ex-girlfriend, Erica Herman. You'd think allegedly having a lawyer break up with a girlfriend, dating an employee, and threatening to fire her unless she signed an NDA would further tarnish Woods' already egregious record of treating women, but there are probably a few bros who view it as a power move. So, let's make a ruling right now: This is shitbag behavior.
Who asked for a Charles Barkley & Gayle King CNN show? NOBODY! | The SEO Show
We've all worked at, or frequented, bars where the owner creeps on his employees. It's a disgusting look and something you'd expect out of a guy named Craig in his mid-50s who opened a TGI Fridays as an excuse to get away from his wife and harass young women.
That's just one of many despicable allegations revealed in documents filed by Herman in her case to get the NDA voided, and we'll see how many more of these stories get leaked as Woods' people have a hearing Tuesday to try to halt the proceedings and settle the dispute between the golfer and his ex-employee/girlfriend via private arbitrator.
However, I'm going to skip the usual diatribe about Tiger because it's been penned many times. Instead, I'm going to rank the alleged breakup methodology among the worst ways to end a relationship — and work the "Tiger is an overt misogynist" rant in that way.
Sending a proxy to do your dirty work is quintessential Logan Roy
There's no better way to test the loyalty of underlings than to have them carry out mass firings over Zoom, or have your girlfriend go to the airport under the guise of a weekend vacation only to be met by an attorney with a notarized letter ending the courtship.
Again, that's allegedly what happened, and Woods' lawyer J.B. Murray denied his client ever sexually assaulted or harassed Herman, calling her claims in court documents "utterly meritless."
Be that as it may, I've heard of breakup emails, text messages, voicemails, faxes, carrier pigeons, telegrams, and song lyrics. Ghosting is an option as well, and while it's not ideal, it's more respectful than getting the message delivered from an indirect source. That would be a power move if it wasn't so incredibly spineless to sprint away from confrontation.
Be a human being, schedule a dinner, look her in the eyes, and be honest with the person you took to the White House to get your Presidential Medal of Freedom from Donald Trump. Don't trick her into thinking she's going to New Orleans for a fun weekend, and then have J.B. show up to play grim reaper.
Additionally, I have questions about what airport they were flying out of, and whether Herman was tipped off by the Spirit Airlines boarding passes. My assumption is Tiger takes his private jet everywhere, and the breakup was carried out at the PJ airport. It's also likely not the first instance of this happening at the Orlando Executive Airport. (The nice thing is there are multiple car services just outside, and no TSA security checkpoints, so it's a quick entrance and exit for all involved.)
Odds are that Tiger was onto the next conquest before Harmen even unpacked her bags from the mock flight/real breakup, and if that poor cart girl is reading this after being subjected to more feminine hygiene-related comedy at Justin Thomas' expense, don't sign the NDA, never agree to take separate transportation to the airport, and find someone better, and actually deserving of being your boyfriend.